Liberal Party Leadership: Intrade Shares Show Trudeau With 75% Chance Of Winning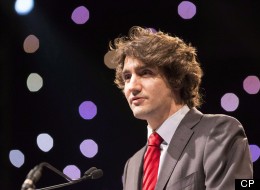 Traders in an online marketplace are giving Justin Trudeau a 75-per-cent chance of winning the Liberal party leadership following Sunday's debate.
Intrade, which allows people to buy shares in future events, showed perceived front-runner Trudeau leading second-place Marc Garneau 75 per cent to 10 per cent, respectively.
Martha Hall Findlay came in third, with traders giving her a 5-per-cent chance of winning. All other candidates had less than a 5-per-cent chance.
Intrade's data is not a scientifically accurate opinion poll, but reflects public expectations of future events in much the same way the regular stock market reflects public expectations of corporate performance.
Nine leadership candidates faced off in Vancouver Sunday night in the first debate ahead of the Liberal convention in April.
The Canadian Press reported the debate as a civil affair that did little to shift momentum away from front-runner Trudeau.
Polls have repeatedly shown Trudeau is the candidate most likely to lead the Liberals to an election victory, following their unprecedented fall to third place in the 2011 vote.
A poll in September found a Liberal party with Trudeau at the helm would take 39 per cent of the vote — just barely enough to eke out a majority government.
But recent movements in public sentiment suggest Trudeau's appeal may be falterin. somewhat with a poll in December showing the Liberals tied with the Conservatives at 31 per cent, if Trudeau were Liberal leader.
Liberal Leadership Candidates
Here are the remaining candidates for the leadership of the Liberal Party of Canada.

Age: 40 Occupation: MP for Montreal-area riding of Papineau Website

Age: 58 Occupation: Liberal MP for Vancouver Quadra, former B.C. Liberal environment minister Website

Age: 53 Occupation: Former Liberal MP for Willowdale and 2006 leadership candidate Website

Age: 50 Occupation: Lawyer, former Montreal Liberal MP Website

Age: 57 Occupation: Lawyer, professor Website

Occupation: A retired Lieutenant-Colonel in the Canadian forces and mediator. Website