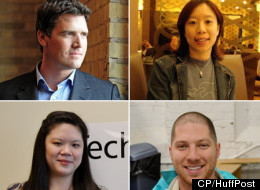 WATERLOO, Ont. – When June Tran heard rumbles that Research In Motion would lay off nearly one-third of its workforce last summer, she quietly collected her belongings. The 27-year-old solution architect suspected she'd get a pink slip after seven years with the company.
Michael Litt left RIM on his own terms in 2007. At age 20, he was a software product manager with the company as a University of Waterloo co-op student. Now 26, Litt is co-founder and CEO of one of the most buzzed-about startups on the Waterloo tech scene.
Dennis Kavelman, a founding RIM executive, retired from the smartphone maker in 2010 after 15 years with what he says was a "change-the-world company." The 42-year-old has since jumped into what is being touted as Waterloo's next big tech innovator.
Su Low worked as a logistics co-ordinator at RIM before she was laid off after being there for just over a year. Now, the 28-year-old makes former colleagues feel comfortable when they walk into a job centre set up for Waterloo Region's more than 3,000 dismissed RIM employees.
These are just some of the thousands of former employees in the region RIM calls home who have felt the fortunes and falls of the global smartphone giant on an intimate, personal level.
As insiders in the thriving and interconnected Waterloo tech community, many ex-employees are rooting for RIM's revival and a successful launch of the make-or-break BlackBerry 10, which makes its debut on Wednesday in a massive worldwide marketing blitz.
About three out of every five employees laid off at RIM in the past year worked in the Waterloo region. But many are not moping or resentful, they are flourishing; perhaps a testament to the company's reputation as a breeding ground for ingenuity.
RIM, RIM EVERYWHERE
RIM's influence is pervasive throughout the twin cities of Kitchener and Waterloo, located about 100 kilometres west of Toronto: a city park, a hospital wing, a university think tank and a cutting edge physics institute are some of the beneficiaries of RIM or its founders, Jim Balsillie and Mike Lazaridis, who were ousted from the company last year and replaced with CEO Thorsten Heins.
More than half of the company's 16,500 employees – about 9,000 – worked in Waterloo region before last year's layoff of 5,000 global employees as the company scrambled to find $1 billion in annual savings. About 3,000 of those cuts were in the Waterloo region.
Story continues under gallery.
Waterloo Awaits BlackBerry 10 Launch
The Waterloo region is eagerly awaiting the launch of Research In Motion's new BlackBerry 10 operating system and smartphones. Wednesday's launch has been touted as a make-or-break moment for the company.

"People used to say to [former RIM co-CEOs] Mike (Lazaridis) and Jim (Balsillie) 'Why is RIM in Waterloo and they'd say, well why not?' We got the smartest people in the world here, we've got extraordinary talent here. "Now I think we're seeing a lot of other global players who are recognizing that, that's why there are so many companies ... walking the halls of the University of Waterloo trying to find great talent and that's why companies like Google decided they were going to make a major investment in this community."

Currie runs the HyperDrive incubator program, which helps to fund startups. Communitech was started by tech entrepreneurs like Tom Jenkins of OpenText and Jim Balsillie of RIM. "There's a great tech community here. It's very supportive of one another, [there's] a real sense of community," he says. "I wouldn't say RIM started things, but they were a big accelerant. This existed to some degree before RIM, but they have been a huge supporter and also a big influence on the region. I think overall there's a real buzz in the region and some real support and a little bit of hope out there as far as the launch of BB10."

VeloCity Garage provides support for University of Waterloo students and alumni who need free space and mentoring to kickstart their startups. The program is designed to encourage students -- some of whom in earlier days would have gone to work for RIM -- to venture out on their own. "What we were starting to see is that people had an intense desire to become entrepreneurs, but they didn't know how to do it, and they're not supposed to know how to do it," Kirkup says. "The reality with entrepreneurs is you don't know what you're doing, you only start to learn by doing it. There's not a teacher or a class that really truly teaches entrepreneurship."

The beautiful building has been converted into a technology cluster, housing tenants including Google, Communitech and Desire2Learn.

Kik.com is a smartphone messaging program founded by Ted Livingston, a former University of Waterloo student who participated in the VeloCity program when he founded the company. "For us Waterloo is the mobile-centric city in Canada. We have access to a tremendous base here of very talented, very smart students as well as a lot of very talented, very smart more experienced people, so for us Waterloo was really the only choice," says Heather Galt, Kik's vice-president of marketing, who spent 11 years at RIM. "Especially in [its] heyday RIM was a big attractor to this city. I think the universities were another big attractor to the city, bringing a large number of people from all over the world."

"Waterloo is a community. Many of our friends and some of our family members work for RIM, and we wish them the best. They are a great partner and neighbour to us," says Majzoub, whose company, OpenText, is a globally known information management firm. "A lot of companies are looking [to] the success of that launch because they would like to launch [their own] innovations. There are a lot of companies in the Waterloo area that build applications or other technologies [for] mobile platform and RIM is one of them, so they want that platform to be successful because it creates new opportunities for their smaller businesses and for the ecosystem they work in."

Hynes, who runs a jobs centre for former RIM employees, says she's discouraged that traffic levels at the centre are slowing down. "We do know that there are people that we haven't reached yet," she says. "We do hear from people almost on a daily basis now, though, about those who have found jobs and we can really tell that a lot more people are finding placements ... And a lot of the people who we're hearing from are finding jobs in startups or small companies."

Halloran is an admitted BlackBerry addict who believes the BB10 will make her job easier. "[RIM has] been a really generous corporate citizen to our community at large," she says. "That has been instrumental in helping us create a really good quality of life for our citizens and to be able for our non-profit organizations, our social agencies, our universities to really benefit from the generosity of the two co-founders and the company itself."

The mayor of Waterloo's twin city is making an exception to rules forbidding corporate banners on its sign posts, in order to allow RIM to fly its flag throughout the city in celebrate of the release of the new BlackBerry 10. "The principals of the company and the company itself have added so much to the community in a philanthropic way, so this seemed like a very small gesture, but a very important symbolic gesture that the community is behind this company as it relaunches," he said.

The owner of this popular hangout for Waterloo tech workers admits he's not a BlackBerry user, but, he says, "I'd like to see RIM do well, and I'd like to see the city do well, and I know when RIM is doing well, it does affect a lot in this city."

Ivan Lukianchuk (right), founder of game startup WillPwn4Food, is seen hard at work at the Communitech incubator hub.
But while Waterloo may be a RIM-built community – "ecosystem" is the preferred buzzword here – the region's tech sector is undergoing such swift organic growth that its proponents insist Wednesday's BB10 launch is incidental to their success.
The Waterloo region is home to some 1,000 tech companies that generate $30 billion in annual revenue and employ 30,000 people in a community of about 550,000. In fact, 18 per cent of the workforce in Kitchener-Waterloo is employed in the tech industry.
The burgeoning sector has sparked rejuvenation in the community now dotted with construction cranes, new condos, boutiques, gourmet coffee shops and upscale restaurants.
RIM's prominence may be fading, but few in the Kitchener-Waterloo tech corridor dispute the importance of the company and its founders, Balsillie and Lazaridis.
"They probably account for some of the reasons that we're seeing this wave of startup culture in Waterloo, Ontario and Canada, because I think that Mike and Jim showed people in this country that you can think big about your ideas," said Iain Klugman, CEO and president of Communitech, a Kitchener-based tech incubator that Balsillie helped found.
"You look at the CV of a lot of the (people behind) great startups in the Waterloo region, and they spent time at RIM."
Many RIM alumni are considered hot commodities, ripe to be scooped up by other players in Canada's tech sector.
THE RECKONING
Take June Tran, the seven-year RIM veteran hired straight out of Conestoga College and laid off in August.
She landed a job in her field within a week of her termination at RIM.
That didn't make it any easier for Tran, who still refers to the company using the inclusive "we," although she has been gone for six months.
Tran was with RIM during its peak, when it was on a massive growth and hiring spree. The company paid for her to fly business class to Singapore and elsewhere for training just as it would fly employees from around the world to Waterloo.
"As I saw RIM grow, we had a number of funds ... they may not have used their funds in the most wise area," she said of the company's rapid growth.
Story continues under video.
Tran believes there may have been some lapses during RIM's rapid expansionary period that led the company to promote young employees faster than their experience may have warranted and also to hire multiple people in overlapping positions, sometimes causing redundancy.
Following a wave of turnover at RIM's executive level, a streamlined push toward launching the BB10 and the ouster of Balsillie and Lazaridis, Tran said she had a good idea what was coming next.
"That's where they made the cuts, to make sure we had enough money for this BlackBerry 10 launch," said Tran, who had moved to a new position and was one of the most junior employees on her team right about the time Thorsten Heins took over as CEO.
"I had an idea. I wasn't surprised, I already started kind of putting my stuff together so if it did happen, it wouldn't take too long to grab my stuff."
She was one of the lucky former RIM employees who found a job right away.
Many others are still looking for work through a centre set up by the Ontario government, the City of Waterloo and Communitech to help laid-off RIM employees.
Su Low is the administrator at the makeshift job centre set up last August in a small office at Waterloo's City Hall. These days, traffic is sparse – just a few job seekers each day coming in to check in or meet with a career counsellor.
But in the first few months after the layoffs hit last summer, the place boomed, Low said, with employees streaming in to console and catch up with one another.
Although traffic has slowed, Low will remain in her position, greeting former colleagues until the centre closes this August.
Having someone who knows what former RIM employees are going through and who knows the company as well as they do helps put clients at ease, she said.
"I think everyone that gets laid off there – it's like a huge family."
A DEBT TO RIM
At least some of RIM's former employees are happy to cut their family ties, choosing to use their experience to forge a new path through the tech sector.
When Michael Litt left RIM after eight months, he was in pursuit of a Silicon Valley job but was soon pulled back by the allure of Waterloo – the city where he founded his startup – and its abundance of computer engineering talent.
The exuberant 26-year-old created video marketing and analytics startup Vidyard when he was in his fourth year as a University of Waterloo student and worked out of the VeloCity incubator, a free space the university sets aside for young entrepreneurs at the Communitech hub.
Litt's company of 16 employees grew too big for the VeloCity space and has moved into a house just across the road. Vidyard has 15 open positions, 30 per cent of them for engineers. Salaries in Waterloo can be one-third the cost of similar positions in Silicon Valley, he explained of another incentive to move back to the area.
He and the entire Waterloo community owe a huge debt of gratitude to RIM for its role in fostering the region's startup culture, Litt said. RIM brought a new cosmopolitan vibrancy to the area, complete with quality restaurants, higher paying jobs and new real estate developments, he said.
"RIM invented the mobile Internet – all these startups, they would have happened eventually in some regard, but the concept of receiving messages wirelessly and browsing the Internet wirelessly, it all originated up the street," he said, gesturing toward RIM headquarters.
Litt also cites RIM's corporate generosity, including the millions that Lazaridis and Balsillie have injected into research in the area. One donation, in particular, has touched his family and allowed his father to get world-class cancer treatment.

"There's a cancer clinic in town that Jim Balsillie donated a bunch of money to. It's world renowned, and fortunately I'm here and my dad is actually being treated in that facility, so in that regard they have made this community something wonderful."
As RIM helped build the community, it also nurtured a workforce of tech-savvy talents full of energy and drive. When RIM retrenched, some of that workforce moved on to emerging companies that offered the same growth and adrenaline so key to the BlackBerry-maker's early success.
Dennis Kavelman watched RIM grow from a startup with a handful of employees to a global conglomerate employing tens of thousands during his time as chief financial officer and chief operating officer.
When he left RIM in 2010, he waded into Toronto's venture capital market, but after a year found himself back in the Waterloo tech bubble as COO at Desire2Learn, a rapidly growing e-learning company.
"I looked for quite a long time for the next 'change-the-world' story, which I think RIM was for a very long time when it was creating the wireless communication thing, and it was actually ironic that it was in Kitchener-Waterloo that I found the next thing after moving out," he said.
"Kitchener-Waterloo is an interesting town, it has a way of dragging you back in … and I think the same reasons that RIM grew up in Waterloo are the same reasons that Desire2Learn did."
Kavelman points to the plethora of young talent coming out of the city's two universities and college; smart and energetic graduates ready to step into the tech workforce.
When RIM and OpenText, a global business information management company, were at their height at the end of the last decade, "they sucked up every new grad that came out of university," he said. That changed when RIM started cost-cutting and OpenText focused on global growth.
"It really encouraged people to open their own businesses. There were a lot of ex-RIM folks and OpenText folks who had done it already and wanted to do it again, so they joined with some of this young talent and you had a bit of a perfect storm."
Kavelman's Desire2Learn is in high growth mode and looking to take on some of those young people who have been through "hyper growth" at RIM, but he is also rooting for his former employer, still one of Waterloo's biggest success stories.
BIRTH OF BB 10
If Litt and Tran are any indication, young RIM alumni also still believe in the company and hope for a successful launch of its latest BlackBerry 10 software, which they had a hand in developing.
Tran, who lives in Waterloo with her RIM-employed husband, still can't bare to abandon her BlackBerry for another device and is eagerly awaiting the release of new RIM phones.
"I still live in the Waterloo community, and a lot of people are still cheering us on, supporting us ... well supporting RIM," she said, still referring to herself as part of the company.
"Whenever we go out, people always ask (my husband) 'so how is this device really going?' ... As long as there's chatting about it, I think it's one step better than where we were at before."
Litt, who still has dinner with Balsillie between regular business trips to Silicon Valley, said he has a BB10 phone on order to support the community business and believes the device will help RIM get back in the game (though he currently uses an iPhone, which he calls a "best-in-class device.")
"I've got high hopes for it and high hopes for the impact on the community as a result."