Justin Trudeau Boxing Before Liberal Leadership Event (PHOTOS, VIDEO)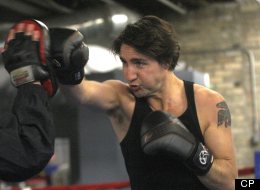 Look who's back in the boxing ring.
Federal Liberal leadership contender Justin Trudeau got a few punches in on Friday at Winnipeg's Pan Am Boxing Club while in town for the Liberal leadership pseudo-debate on Saturday, according to the Winnipeg Free Press.
Trudeau, who started boxing 20 years ago and continues "on-and-off," put his skills on display last March when he bested Conservative Senator Patrick Brazeau in the 'Thrilla On The Hilla' charity boxing match.
"I was glad to do it, glad to raise as much money as we did, but I will not be in any boxing matches any more. I've got work to do," he said after the fight.
Check out photos from his workout below.
Prime Minister Justin Trudeau steps into the ring as he visits Gleason's Boxing Gym in Brooklyn, New York on April 21, 2016.

Trudeau trains with kids from the "Give A Kid A Dream" program that works to provide mentorship to disadvantaged youths through the sport of boxing.

Trudeau spars with professional boxer Yuri Foreman at the Gleason's Boxing Gym.

Liberal party leader Justin Trudeau trains at Paul Brown Boxfit gym in Toronto on Aug. 6, 2015.

Trudeau trains with Paul Brown, owner of Paul Brown Boxfit, in Toronto.

Federal Liberal leadership candidate Justin Trudeau trains at Pan Am Boxing Club in Winnipeg on Feb. 1, 2013.