Kate Middleton Baby Bump: Chi Magazine Publishes Pics Of Pregnant Duchess In A Bikini Kate Middleton's baby bump is making headlines around the world this morning, thanks to Chi magazine.
The tabloid paper from Italy, which published pictures of a topless Duchess of Cambridge last September, has gotten their hands on paparazzi shots of Kate in a bikini while on her babymoon in Mustique with Prince William. The images clearly show the Royal baby bump -- something the soon-to-be mom has been actively trying to keep out of the public eye.
Early this morning, St. James Palace released a memo to media saying they're disappointed with this new breach of the couple's privacy.
"We are disappointed that photographs of the Duke and Duchess on a private holiday look likely to be published... This is a clear breach of the couple's right to privacy."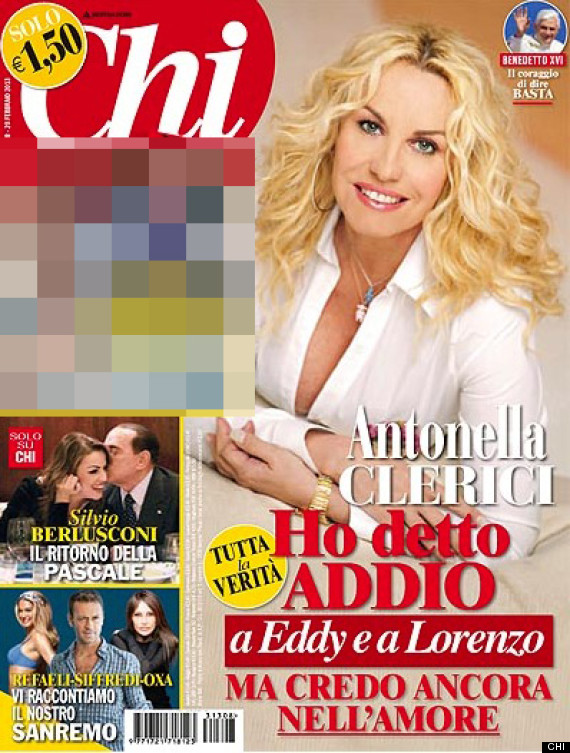 The magazine, which the BBC reports is owned by Silvio Berlusconi, has put the bikini pictures of Kate on the cover of their latest issue. You can check out the images for yourself over at The Daily Beast or Mondadori.com.
There are also reports, the Australian magazine Women's Day will publish the photos later this week.
Sweet Pea: Duchess Kate, Of The People
Kate, Duchess of Cambridge visits Assyakirin Mosque on day four of her and husband's Prince William Diamond Jubilee Tour of the Far East. On September 14, 2012 they toured Kuala Lumpur, Malaysia. (Photo by Chris Jackson/Getty Images)

Prince WiIliam poses with Kate as they leave the King Edward VII hospital in central London, on December 6, 2012, four days after Kate was admitted for treatment for acute morning sickness. (LEON NEAL/AFP/Getty Images)

Kate took part in a day of activities and festivities to mark the occasion of St Andrew's Day at St Andrew's School on November 30, 2012 in Pangbourne, Berkshire, England. The Duchess visited the Pre-Prep School for under-5s, unveiled a plaque to officially open a new artificial turf playing field and met members of the school's hockey team, which she played for during her time as a pupil at the school (1986-1995). The Duchess also toured the school privately and watched the school's Progressive Games which are traditional games played indoors by teachers and students on St. Andrew's Day. (Photo by Arthur Edwards - WPA Pool/Getty Images)

Kate took part in a day of activities and festivities to mark the occasion of St Andrew's Day at St Andrew's School on November 30, 2012 in Pangbourne, Berkshire, England. The Duchess visited the Pre-Prep School for under-5s, unveiled a plaque to officially open a new artificial turf playing field and met members of the school's hockey team, which she played for during her time as a pupil at the school (1986-1995). The Duchess also toured the school privately and watched the school's Progressive Games which are traditional games played indoors by teachers and students on St. Andrew's Day. (Photo by Arthur Edwards - WPA Pool/Getty Images)

Duchess of Cambridge plants a tree as she leaves after her visit to the Treehouse, part of the East Anglia's Children's Hospices, in Ipswich.

Duchess of Cambridge being presented with flowers by Stephanie Woods during her visit to the Treehouse, part of the East Anglia's Children's Hospices, in Ipswich.

The Duchess of Cambridge meets Dorothy West, 96, during a visit to Peterborough City Hospital in Cambridgeshire, as part of an official visit to Cambridge.

Kate and William try cookies as they visit 'Jimmy's', a night shelter, on November 28, 2012 in Cambridge, England. (Photo by Paul Rogers - WPA Pool/Getty Images)

An Australian athlete tries to present a cuddly Kangaroo to Catherine, Duchess of Cambridge, which she declined (but was then accepted by Prince Harry.) The royals visited Team GB accommodation flats in the Athletes Village at the Olympic Park in Stratford on Day 4 of the London 2012 Olympic Games on July 31, 2012 in London, England. (Photo by John Stillwell - WPA Pool/Getty Images)

Duchess Kate takes part in a camp fire with children as she visits the 'Expanding Horizons' Primary school camp at Margaret MacMillan house in Wrotham, Kent, on June 17, 2012. (David Parker/AFP/Getty Images)

Catherine, Duchess of Cambridge visits Peterborough City Hospital during an official visit to Peterborough on November 28, 2012. (Photo by Mark Large - WPA Pool /Getty Images)

Catherine, Duchess of Cambridge meets pupils as she visits Manor School as she pays an official visit to Cambridge with Prince William on November 28, 2012 in Cambridge, UK. (Photo by Chris Jackson - WPA Pool/Getty Images)

Kate laughs as she receives flowers from two-year-old Lola Mackay - who refused to let go of them - during a visit to the CRI Stockton Recovery Service on October 10, 2012 in Stockton-On-Tees, England. (Photo by Paul Ellis - WPA Pool/Getty Images)

Catherine, Duchess of Cambridge takes part in a ball throwing exercise with Richard Armstrong (L) and Michael Bell (R) from Percy Hedley school, as she visits Newcastle Civic Centre on October 19, 2012 in Newcastle Upon Tyne, UK. (Photo by Paul Edwards - WPA Pool/Getty Images)

Prince William and wife Kate play a reaction game in the new gym during the official launch of The Football Association's National Football Centre at St George's Park on October 9, 2012 in Burton-upon-Trent, England. (Photo by Chris Jackson - Pool /The FA via Getty Images)

William and Kate drink coconut milk from a tree planted by the Queen in 1982 on September 18, 2012 in Tuvalu. Prince William, Duke of Cambridge and Catherine, Duchess of Cambridge were on a Diamond Jubilee tour representing the Queen taking in Singapore, Malaysia, the Solomon Islands and Tuvalu. (Photo by Arthur Edwards - Pool/Getty Images)

William and Kate plant coconut trees on September 18, 2012 in Tuvalu. Prince William, Duke of Cambridge and Catherine, Duchess of Cambridge were on a Diamond Jubilee tour representing the Queen taking in Singapore, Malaysia, the Solomon Islands and Tuvalu. (Photo by Arthur Edwards - Pool/Getty Images)

William and Kate visit Nauti Primary School on September 18, 2012 in Tuvalu. Prince William, Duke of Cambridge and Catherine, Duchess of Cambridge were on a Diamond Jubilee tour representing the Queen taking in Singapore, Malaysia, the Solomon Islands and Tuvalu. (Photo by Arthur Edwards - Pool/Getty Images)

Kate dances with the ladies at the Vaiku Falekaupule for an entertainment programme on September 18, 2012 in Tuvalu. Prince William, Duke of Cambridge and Catherine, Duchess of Cambridge were on a Diamond Jubilee tour representing the Queen taking in Singapore, Malaysia, the Solomon Islands and Tuvalu. (Photo by Arthur Edwards - Pool/Getty Images)

Kate paints with a child during a visit to The Rainbow Centre on day 2 of the Diamond Jubilee Tour of the Far East on September 12, 2012 in Singapore. Prince William, Duke of Cambridge and Catherine, Duchess of Cambridge were on a Diamond Jubilee Tour of the Far East taking in Singapore, Malaysia, the Solomon Islands and the tiny Pacific Island of Tuvalu. (Photo by Mark Large - Pool/Getty Images)

Kate gives the thumbs up during a visit to The Rainbow Centre, a children's learning centre, on day 2 of the Diamond Jubilee Tour of the Far East on September 12, 2012 in Singapore. (Photo by Mark Large - Pool/Getty Images)