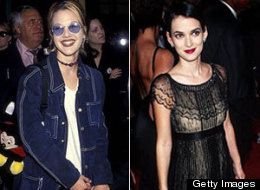 Remember a time when "The O.C.'s" Mischa Barton was the darling of the fashion world? No? Well the former fashionista is attempting a career (and style) resurrection, with the help of her upcoming movie, appropriately titled "The Resurrection."
Despite her career lull, (her TV show "The Beautiful Life: TBL" got cancelled after only two episodes in Sept. 2009), Barton still gets invited to fashion shows.
But she's not the only former red carpet mainstay who is struggling to stay relevant in the fashion world.
From Winona Ryder to Alicia Silverstone, we take a look at our former style crushes and how they're doing now.
Barton was the star of a hit TV soap, "The O.C." (2003-2007) and as a result, was embraced by the fashion gods. She was the face of Keds shoes, attended the Vanity Fair Oscar Party in 2005, was front row at Chanel, partied with Marc Jacobs and looked beautiful at Cannes.

Despite not having starred in a hit TV show since "The O.C.", Barton still hits up fashion events as if she's still a big star. She wore an odd-looking fascinator at the Melbourne Cup last November, attended the GQ Men of the Year Award in a frumpy purple skirt and now attends various gallery parties and store openings. Her handbag line, Mischa Barton Handbags, is still going strong. We think.

Minogue worked with world-famous designers such as John Galliano and Jean Paul Gaultier for her stage and screen outfits.

The pop star is releasing a book called Kylie/Fashion, commemorating 25 years of fashion throughout her storied career.

Like Barton, Bilson was also the star of "The O.C." and a fashion maven, although not quite as popular as Barton. Her style was more beach bum fun rather than Barton's glamorous party girl.

She's dating Canadian actor Hayden Christensen ("Star Wars"), and is the star of "Hart of Dixie." Thankfully, she doesn't wear bell bottoms on the red carpet anymore and opts for flirty '50s cocktail dresses and colourful gowns.

While it's debatable that Hilton was ever a style "star," she certainly was everywhere on the red carpet back when she was on the reality TV show "The Simple Life" with her then-bestie, Nicole Richie. Hilton preferred midrift-baring tees and tank tops and thigh-skimming skirts that left nothing to the imagination.

Hilton's star has been eclipsed by former friend, Kim Kardashian, but she still manages to show off her (lack of) style with skintight bodycon dresses, bunny ears and fur stoles. Some things never change.

Meester's star was bright when she starred on The CW's "Gossip Girl." She stole the show at the MET Costume Gala in 2009 in an outrageous Louis Vuitton look. In 2011, she was chosen as Missoni's face for their Spring/Summer campaign.

"Gossip Girl" is over and it seems like Meester's presence in the fashion world may be nearing an end. Last year, she endorsed Phillipine clothing brand Penshoppe's "All Stars" campaign but she has been keeping a low profile so far in 2013.

She dated Johnny Depp, was best friends with Gwyneth Paltrow and wore a sheer lace gown to the Oscars in 1997.

Her career still hasn't recovered since she stole from Saks and her wardrobe has suffered accordingly.

She was the flower child who embraced flannel shirts, baggy jeans and dandelions in her hair.

She fronts a beauty line and prefers Alexander McQueen over grunge.

"Clueless". Enough said.

Nothing can compare to her Cher days.