What do you do when it's your girlfriend's birthday and she's several thousand miles away and recovering from brain surgery? A phone call, a card or a singing telegram just won't do.
If you're Canadian Kyle Hartman, you wrangle up a dozen celebs and get them to wish her a happy birthday and a speedy recovery. In the video, which Kyle posted on YouTube on Feb. 4, everyone from Aerosmith's Steve Tyler to Kim Kardashian took a moment to wish Kyle's Australian girlfriend, Emily, a happy birthday.
"Hang on to him. He's a good guy," says Entourage star Adrian Grenier in the video, and we couldn't agree more.
Kyle and his girlfriend Emily (pictured below) have a pretty remarkable story. They met in 2008, had a long distance relationship until Emily decided to move to Canada in 2011. Sadly months later she was diagnosed with a brain tumour and was forced to fly home to Australia for surgery and treatment.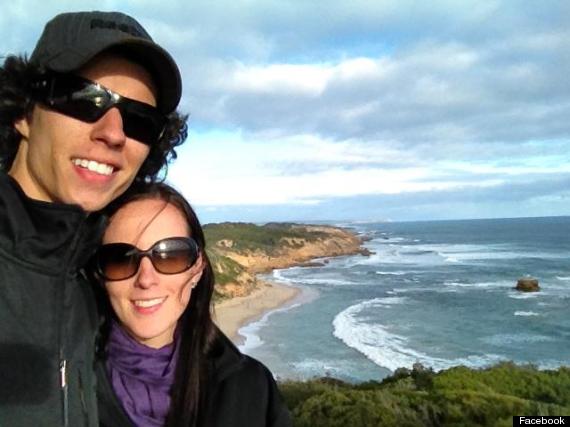 Kyle documents their relationship in his touching donation page for the Canadian Cancer Society. So far he's raised $1,600 but we think he's got a shot at raising a bit more.
"Like I always tell Emily: No matter where we are, by her side is my favorite place to be. We had beaten the whole long-distance relationship thing once, and we'll do it again," Kyle writes.
Kyle is even growing out his hair and will be lopping it off to raise money to fight cancer.
Also on HuffPost:
Loading Slideshow
By the Time You Read This Blog...

I'm a 22-year-old and this isn't my first bout with cancer. I am now in my seventh iteration of the most crucial battle of my life. Being the most popular guy at the hospital is a lot like being the coolest guy in prison; a hard earned position you would rather not be in.

How to Avoid Caregiver Burnout: 7 Tips for Caregivers of Young Adult Cancer Patients and Survivors

Caring for a person with cancer can be extremely rewarding, but it can be exhausting as well. A diagnosis of cancer during adolescence and young adulthood interrupts a person's life and comes at a time when they are trying to complete the life steps that are necessary for transition into adulthood.

Finding Meaning Through Adventure for Young Adults With Cancer

For young adults, cancer comes at a time when life is sweet and our awareness of our mortality is the furthest thing from our minds. A host of unique psychosocial challenges make it even more important to seek life, meaning and purpose, to reclaim it from cancer.

A New Field of Medicine: Adolescent and Young Adult Medicine

Ownership begins with patients taking control of their health and starting with the simple questions to their physicians, "Did you know there is an adolescent and young adult cancer segment called AYA?"

My Cancerously Single Life

In the rom-com of life, I'm free, I'm single and I'm happy (cue saxophone music), even though I have this horrible new quirky best friend called "Cancer."

The Things I Wish I Were Told When I Was Diagnosed With Cancer

You will be different. You will never have the same sense of self. You should embrace this. Your old self was probably really great. Your transformed self will be even better. Give into what is happening and trust it.

How I Date After Cancer

Compared to other risky activities I've engaged in (read: chemo), dating isn't too scary, but it is complicated.

Top 10 Movies To Watch During Chemo

The two to three hours spent in chemo are absolutely no fun. There was a Silver Lining though, when I reminded myself that I could watch feel-good, no-brainer movies either on my laptop or iPad.

Open Me Up And Look Inside

Every day, I have the choice to let myself be defined by the disease, or to live in spite of it. And every day I have the choice to retreat into what was, or to accept what is.

10 Things Not To Say To A Cancer Patient

The oncology world is overdue for an etiquette guide. There's no script for what to say to someone with a life-threatening illness, but if you can avoid saying these 10 things, you're off to a good start.

On Living Your Life Twice (With Help)

I've been sick since I was 10 months old. When I was diagnosed with cancer in college, the trauma of the illness just added another layer to something I already knew. Living your life twice is no easy feat. But that's what I am trying to do.

Missing Her Vote -- But Not Her Voice...

Recently, a woman wrote me in honor of her daughter, Elizabeth Blue. Her story is at once heartbreaking and strengthening and it seemed at this of all times, it must be shared.