Tegan And Sara can add another feather in their cap now that the Canadian sister act have appeared on the cover of The Advocate's new "40 Under 40" issue.
"We are so thrilled to be on the cover of The Advocate for their 40 under 40 issue!" the duo wrote on their site yesterday. "There is just something so exciting about seeing yourself on a newsstand, it really never gets old. Especially when you are on the cover of a magazine that you truly respect and enjoy, included alongside some amazing peers!"
The magazine shows the tandem with "Tegan & Sara: With their latest chart-topping album, the out twins are finally getting themselves the cred they deserve" as the caption.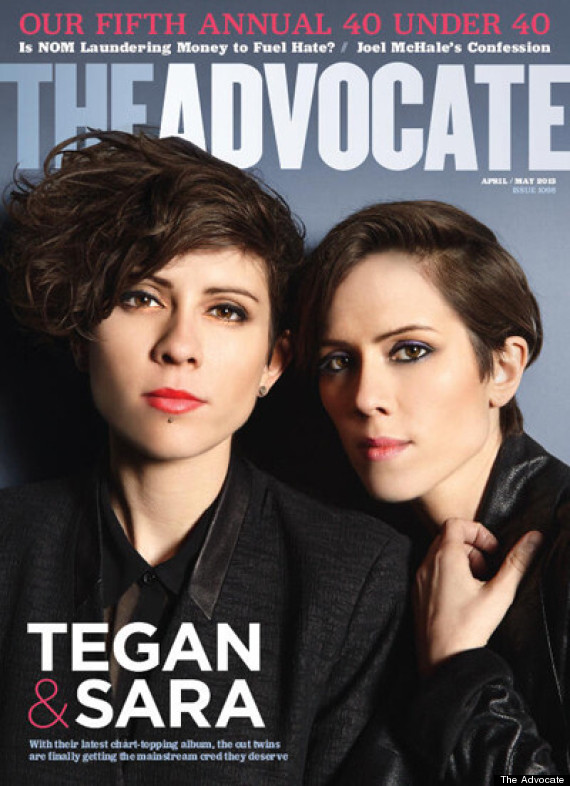 "When I was younger, I thought that 40 was when you had it all figured out," Sara says in the interview. "You're not over the hill, like you're going to die, but that seemed old to me. Now we're seven and a half years from being the age my mom was when we graduated high school. It's astounding to me."
The article speaks about the band's new album "Heartthrob," being in a band in their 30s as well as how they dealt with questions about their sexuality early in their careers, including a conversation with manager Elliot Roberts which they say was very encouraging.
"He just said, 'Be yourselves,'" Tegan tells the publication. "'If you're gay, you should be comfortable, you should talk about yourselves. These are your experiences and your stories and your songs. And be authentic and being transparent with people is what's going to connect them to you.' And so off we went... I'm so glad that Elliot said that, because if he had said, 'Let's play that down, let's get you on dates with Tobey Maguire and Leonardo DiCaprio,' I actually probably would have been straight then, if he'd said that."
Tegan And Sara will play at Coachella next weekend before a string of dates with Stars in the U.S. From there the group head to Australia for another leg of dates before a European jaunt. An extensive North American tour with Fun. begins at Toronto's Downsview Park on July 6.
Loading Slideshow
Tegan And Sara


They've come a long way, (baby). Since forming in 1995, Calgary's Tegan And Sara have gone from proving themselves to critics and audiences to becoming darlings of Canadian indie. Now, they're top 40 favourites, landing high on charts thanks to their dance track, "Closer off the just-released <em>Heartthrob</em>. That's a far cry from their guitar-centric ballads once featured on <em>Grey's Anatomy</em>.

Martha and Rufus Wainwright

Infighting and drama be damned! Montreal's Martha and Rufus Wainwright do Canada proud through not only their own careers but the supportive dynamic between them. You want proof? One listen to one of their duets, or Rufus' song "Martha," and you too will aspire to be a Wainwright.

Kings Of Leon's Nathan, Caleb and Jared Followill

Before Twitter feuds with <em>Glee</em>'s Ryan Murphy and pigeon-gate of 2010, the Followill brothers just wanted to make music. And so they did, along with cousin Matthew Followill, who joined them on their journey to success and infamy. The Kings Of Leon gang's been on hiatus since late 2011, but with murmurs of a new album this year, we're bound to be privy to even more family bonding.

Heart's Ann and Nancy Wilson

Despite the rotating lineup of backup musicians, sisters Ann and Nancy Wilson have been the Heart — hi-oh! — of the group, acting as the primary singer-songwriters since the group's 1960s inception. And with the group having toured as recently as last year -- and blown Led Zeppelin themselves away with their "Stairway to Heaven" tribute -- we don't exactly see anything about that changing.

Carl, Dennis, and Brian Wilson from the Beach Boys

While Dennis was the sole surfer of the Beach Boys, and Brian was the true musical genius, Carl provided lead vocals for tracks like "Good Vibrations." However, the brothers' relationship defined "complicated." After cousin Mike Love attempted to take control of the band in the wake of Brian's mental health problems, tension led to arguments over royalties that eventually consumed the group. Still, a reunion tour last year saw Brian Wilson take the stage again — though Carl and Dennis passed away in 1998 and 1983, respectively, so they sadly couldn't be there.

Wendy and Carnie Wilson

Speaking of Wilsons, sisters Wendy and Carnie — daughters of Brian — joined forces with Chyna Phillips in 1990 to form Wilson Phillips and revel in all sorts of girl power. The good news: thanks to 2011's <em>Bridesmaids</em>, the group's hit "Hold On" is back on our radar. The better: the band is back at it, having released not only a new album, but a reality series last year. A reason to believe indeed.

Noel and Liam Gallagher

The picture of familial bliss, Oasis' Noel and Liam Gallagher make even the most dysfunctional families look like Norman Rockwell paintings. After several blowouts that saw their fair share of publicity, the Gallagher brothers allegedly still haven't spoken since 2009. But we'll always have "Wonderwall."

The Jonas Brothers

Throughout the late 2000s, Kevin, Nick, and Joe Jonas — The Jonas Brothers — provided the squeaky-clean boy band fodder for girls too young to remember Nick and Aaron Carter drama, or too old for the stars of <em>The Suite Life Of Zack & Cody</em>. Since then Kevin has gotten hitched and scored an E! network reality series, while Joe will live forever in the lyrics of ex-girlfriend, Taylor Swift.

Kylie and Dannii Minogue

The proof of Kylie and Dannii Minogue's shared DNA begins at the careers defined by perfect pop hooks and terrific beats, and ends at... well, it doesn't. And while Kylie has recently announced she'll be taking a break from music, we don't doubt that one magical day, these sisters will work together.

The Bee Gees

Thanks to disco trailblazers Barry, Maurice, and Robin Gibb of the Bee Gees, both dance music and boy bands of the future got a boost through the trio's harmonies and penchant for falsetto. However, while Maurice and Robin sadly passed away in 2003 and 2009, Barry will tour the world this year in support of<em> Mythology</em>, an album dedicated to the band's full musical legacy.

Hanson

One of the few '90s bands who've combined huge success with longevity, brother Zac, Isaac, and Taylor Hanson went from top 40 poster children (literally) to 30-something family men who continue cranking out Hanson fanbase-friendly hits. Take note, brothers Jonai.

Janet and Michael Jackson

Despite the controversy within the Jackson clan, Janet and Michael Jackson stayed close throughout both of their solo pop careers, even teaming up for "Scream" in 1994 following Michael's legal issues. Tragically, their relationship was cut short following Michael Jackson's death in 2009, and Janet — Ms. Jackson, if you're into pop culture references — has been accused of having delayed his burial so she could get her burial plot deposit back. Yikes!

Gregg and Duane Allman

Sometimes you can take band names literally. Other times, you find out that Duane and Gregg Allman joined forces with three other friends to form the iconic Allman Brothers. While co-founding member Duane Allman died in 1971, Gregg Allman went out on his own, and eventually married Cher. The band continues to play occasional shows -- with a rotating lineup, aside from Gregg as the one constant — and earned the Lifetime Achievement Grammy in 2012.

Richard and Karen Carpenter

From childhood, Richard and Karen Carpenter formed a musical alliance, dabbling in jazz in the mid-'60s before becoming The Carpenters — the 1970s pop icons they've been remembered as. Sadly, after years of battling anorexia, Karen died suddenly in 1983, while Richard announced this week plans for a tribute album and revival.

Brandy and Ray J

There are few things in life you can deny, and Brandy being related to Ray J is one of them. While Brandy braved scandal following a fatal 2007 car crash, it's been singer/songwriter Ray J to take the publicity cake after his sex tape with Kim Kardashian skyrocketed her to fame. (So technically, you can blame him for everything you see on E!)

Jonathan and Jordan Knight

Be still your boy band-loving hearts! By ushering in the new generation of pop music through New Kids On The Block through the late '80s and early '90s, Jonathan and Jordan Knight earned a special place in the hearts of countless teens, who have since grown into adoring adult fans. What can we say? They've got... the right stuff. (Please don't stop reading.)

Beyoncé and Solange

If "you go, girl" can be embodied by a checklist of tasks, the Knowles sisters have done them all. After Beyoncé went on to prove herself as a bankable solo artist post-Destiny's Child, younger sister Solange followed suit, having recently released <em>True</em>, a dance-tastic EP that saw a track featured on the current season of <em>Girls</em>. Who runs the world? Them.