Paul Martin Slams Harper's 'Immoral' First Nations Policies (VIDEO)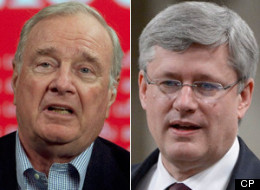 Former prime minister Paul Martin blasted Stephen Harper's First Nations policies at the Liberal leadership mini-convention on Saturday.
"The Conservative policy towards Aboriginal Canada is simply abysmal," Martin said in an interview with HuffPost Canada.
The former prime minister asserted that the Tories are not adequately funding the "youngest and the fastest growing segment of our population."
"That's discrimination," Martin said, referencing the disparity between funding for schools on and off reserves.
Martin also attacked the Tories on First Nations issues during a speech paying tribute to Bob Rae and praised the outgoing Liberal interim leader for taking a new job as chief negotiator for First Nations in Ontario on issues of sustainable development.
You can see all of Martin's comments and other videos from the Liberal leadership showcase above.
The Liberals will now have a bit more than a week to pick their leader. Pundits have already begun to dissect today's speeches, in particular Trudeau's. It also remains to be seen whether this exercise has revitalized the Liberal Party.
Thanks for reading and following along. Check back Huffpost.ca/politics for continuing coverage of the political scene.