Parents, you may want to think about who has their hands in your kids' pockets.
A new (and creepy) PSA by France's non-profit association Innocence En Danger (Innocence In Danger), features both a male and female being groped by a hand disguised as a cellphone, according to Ads of the World.
Both ads also include the tagline, "Sexual predators can hide in your child's smartphone."
In general, the organization works in 29 countries to bring awareness of protecting children from sexual abuse. In this campaign, the focus is on sexual predators that "hide" in your child's mobile devices. The ad was designed by advertising agency Herezie in Paris, France.
In Canada, charitable organization Little Warriors has a similar mission to raise awareness and end sexual violence. In their 2011 annual report, the organization found one in three girls and one in six boys will experience an unwanted sexual act before their 18th birthday. On top of this, 95 per cent of victims know their perpetrators.
What do you think? Are these campaigns offensive or appropriate? Let us know in the comments below:
LOOK: A full size photo of Innocence In Danger's new campaign: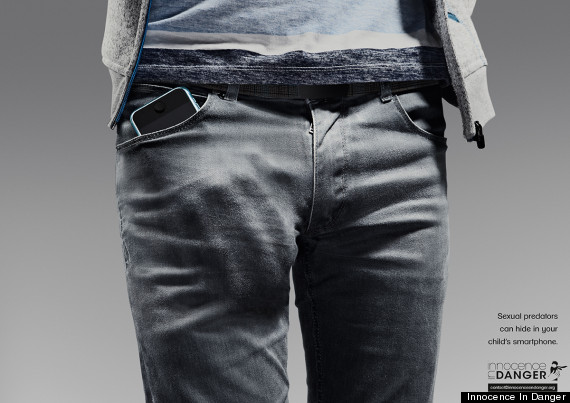 Earlier on HuffPost:
Loading Slideshow
Your Brain

Major cell phone releases guarantee a debate over technological superiority. And in the health community, the debate over cell phones' link to cancer is re-ignited. In a <a href="http://cleantechnica.com/2012/09/14/iphone-5-is-it-green/">Clean Technica blog </a>questioning the environmental friendliness of the iPhone 5, commenter vetxcl outright rejected the idea: "Smart phones emit more cancer causing radiation than other phones. This is a smart phone. Since it causes cancer, it is not green. It's that simple folks."

Emotional Health

Does the thought of losing your cell phone make you panic? If so, join the club. In June, the digital security company Lookout surveyed 2,097 people, and revealed that 94 percent feared going without their mobile devices. (73 percent felt "panicked" when it happened.)

Eye Health

The iPhone 5 is a multi-tasker's dream. More like a pocket-sized computer, you can listen to music, review documents, and even analyze your facial attractiveness with a finger scroll. But unlike a computer, this device is smaller than the size of your hand. Those tiny fonts in bright screens can make you squint and strain your eyes, a problem that affects almost 70 per cent of American adults according to a new survey by the Vision Council, an organization that represents manufacturers of optical supplies. This can lead to computer vision syndrome, an eye condition that can lead to dry eyes, difficulty focusing, and even double vision.

Chronic Pain

Two-time U.S. texting champion Austin Wierschke, 17, can type up to six characters per second, but one expert says that those fast fingers may lead to chronic pain later on in life. "When you're typing on a device with speed and repetition, you may cause pain and inflammation," says Dr. Dean Fishman, chiropractic physician and owner/operator of the Text Neck Institute in Fort Lauderdale, Fla. He originally coined the phrase "text neck" to describe the stress and pressure that can be triggered by mobile browsing and sending text messages.

Germs

Your cell phone follows you everywhere — and for 75 per cent of Americans that includes the toilet – but are you keeping it clean? One study found fecal matter on 1-in-6 cell phones in Britain. That ick factor might make you cringe, but it can get you sick, too. Fecal matter can spread E. coli bacteria, which can cause diarrhea, urinary tract infections, and even kidney failure, which can be deadly. Bacteria can also spread to your skin and trigger breakouts.