Junos 2013: Best Music From And About Saskatchewan Ever (VIDEOS)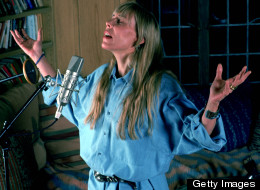 Oh, Canada. How nice and democratic you are. Other nations have their big music award shows in their biggest or most glamourous city. But instead of basing the Juno Awards in, say, Toronto, Montreal or even St. John's, NF (seriously, they throw the best parties out there on The Rock), organizers rotate the location each year. Hopeful cities bid to host the Juno Week of festivities, which has grown to include concerts, autograph sessions, an art exhibition and a hockey tournament. It's kind of like the Olympics, only with less drug testing.
This year's winning host city is Regina, Saskatchewan. Saskatchewan is better known more for Regina's own football team the Roughriders and the RCMP than rock 'n' roll. But some of the country's most beloved music artists, from Buffy Sainte-Marie and Joni Mitchell to The Sheepdogs, have called it home.
So in an effort to drum up some hometown-slash-provincial pride in advance of this year's Junos, here's a timeline of notable moments in the history of music from and about Saskatchewan.
Saskatchewan Music History
Saskatchewan-born singer-songwriter Buffy Sainte-Marie was already well established on the coffee house and campus circuits by the time her debut album "It's My Way" and its peace anthem "Universal Soldier" made her Billboard Magazine's Best New Artist for 1964. But it was a return visit to her birthplace on the Pipot Cree reserve for a pow wow that truly ignited her passion for writing of the stories of Native Americans in her music. As a regular cast member on "Sesame Street" in the 1970s, she got a lot of attention for breastfeeding her son Dakota Starblanket Wolfchild on TV, but taught kids a lot more than just that, like how to play a mouth bow harp. Buffy Sainte-Marie was inducted into Canadian Music Hall of Fame in 1995 and has won three Junos.

OK, this band is actually from Winnipeg, Manitoba but no talk of Saskatchewan music could skip over the ultimate prairie tune, surely the only rock hit in history to shout-out Moosomin, SK. Pearl Jam covered the song live when they rolled through town in 2011.

In the category of "hard rock band formed in Regina who got the Hell out then got somewhat famous" there are two notable entries. Streetheart did win a Most Promising Group of the Year Juno award in 1980, but it was the headbangers in Kick Axe who ended up on a compilation album for Playboy. Their 1984 debut "Vices" remains a Canadian heavy metal classic. The "On The Road To Rock" video is amazing.

Blues rocker Colin James was born in Regina with the name Colin James Munn — his mentor Stevie Ray Vaughan suggested he shorten it if he wanted to get ahead in the music biz. It worked: James' self-titled debut album nabbed him the award for Most Promising Male Vocalist at the 1989 Junos. Since then he's won six more, released over 10 records and performed for Queen Elizabeth II when she visited Saskatchewan in 2005. "Just Came Back" video (official)

The video for this single, off the Saskatoon college rock band's third album "Snow In June," had all the hallmarks of the era: cheezy narrative, moderately-successful lip-synched live performance and a hot female model. Except, as the lyrics and Claymation effects revealed, she was a "model from Hell." It scored heavy rotation on MuchMusic and a Juno nomination for Best Video. The Pikes broke up in 1993, reformed in 2000, and in 2012 were inducted into the Western Canadian Music Hall of Fame.

While many Canadian music upstarts were still trying to sound like the next Nirvana (or, worse, the next Live), three twentysomethings from Saskatoon formed a soulful, blues-based jam band named after a mason jar. Touring Western Canada built their first fanbase and a major label debut album filled with rock radio-ready singles went gold and earned them a Juno nomination for Best New Group. They've also opened for The Rolling Stones in the past. In 2011, Big Sugar's Gordie Johnson joined the band on bass.

The pop singer, born in Moose Jaw, was a fan favourite on the second season of Canadian Idol. (The same year that gave us Jacob Hoggard of Hedley.) She ultimately landed in the show's No. 2 spot but has gone on to record an album of standards, a Christmas album and a collection of traditional Ukrainian folk songs. Her next release, "Prairie Winds," will be out in June.

Joni Mitchell put together "Songs Of A Prairie Girl," a compilation of previously released material about Saskatchewan, to coincide with the province's Centennial. The singer was born in Alberta but considers her hometown to be Saskatoon, where in the '60s she spent her teenage years, learned to play music and got her first paid gig before moving on to fame as a folk music star in Toronto and beyond. In the lyrics about its rivers and plains, dive bars and old cars you can hear just how much heartfelt nostalgia Joni has for the place she's called full of "long, cold winters, with a hint of short but glorious summers." A Canadian Music Hall of Fame inductee, she's been nominated for multiple Juno Awards and won three, including a nod for Producer of the Year in 2008.

Wherefore art thou, indie rock? It might seem the new wave of Canadian music has skipped over Saskatchewan, were it not for the welcome appearance of Rah Rah. The earnestly energetic six-piece (which includes violin and accordion) from Regina has achieved critical acclaim for three albums, and fun performances where the players switch up instruments and throw balloons in the crowd.

Arguably the best meat-and-potatoes prairie rock band since The Guess Who, the pride of Saskatoon swept last year's Junos, winning Best Single, Best New Group and Best Rock Album for "Learn & Burn." Their most recent self-titled album was produced by Black Keys drummer Patrick Carney. They've been touring since 2006 but it was winning a contest to appear on the cover of Rolling Stone magazine in 2011 — becoming the first independent act to do so — that made The Sheepdogs a household name across Canada. Expect them to score big at this year's awards, too.