Junos 2013 Red Carpet Photos: The Best And Worst Dressed Of The Night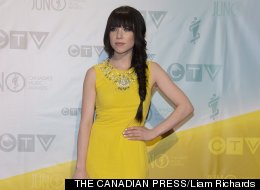 They came, they saw, they faltered.
Celebs celebrated the best in Canadian music at the 2013 Juno Awards on April 21 in Regina, SK., but despite the obvious talent the artists have, most of them still don't know how to style themselves for the red carpet.
Take Métis singer Janet Panic, who might incite a PETA rally for wearing silver antlers and fur tails on her head at the Junos Gala on Saturday night.
Luckily, there were some exceptions; "Call Me Maybe" hitmaker Carly Rae Jepsen wore a chic blue and white watercolour look at Saturday's Junos Gala, where she beat Justin Bieber for Pop Album of the Year and wowed us in a gorgeous yellow mullet dress at the Juno Awards red carpet.
We just hope host Michael Bublé doesn't present the show in the nude.
Check out the best and worst looks of the 2013 Juno Awards:
2013 Juno Awards Red Carpet
Little Carly Rae is all grown up! The "Call Me Maybe" hitmaker looks striking in a vibrant yellow mullet dress with an embellished neckline and mermaid hair. She has saved the night!

Who cares about Michael Bublé, look at his gorgeous wife! Luisana, who is pregnant with the couple's first child, shows off her ample cleavage in a sexy lace gown with a high slit. Bublé on the other hand, knows better than to show up his wife and sticks with a classic tux.

Singer Emily Haines takes rocker chic to a new level in cute leather shorts and a revealing sequined blazer.

The Canadian singer looks great in that nude dress but those purple shoes have got to go.

We know that Nicole is a comedian, but we don't get the punch line.

These guys look like they're ready to hit the bar.

Like father like son! Jim and Devin cut striking figures in casual dress suits. Don't tell Devin but his dad dresses better than him.

Tom is workin' it!

The boys of Marianas Trench sure clean up nice!

We really can't say anything bad about K.D. Lang. She is flawless!

We want to be around these two the whole night. Anyone who can wear a leopard-print collar is cool in our books.

Maybe the Juno-nominated songwriter chose this dress when she wasn't wearing her glasses. That would be the only explanation for wearing this multi-colour horror.

The sheer dress is cute but why do the leopard heels have toe caps that blend into the carpet?? The "Shut Up and Dance" singer needs to take a trip to the Holt Renfrew shoe department.

The Canadian pop singer is going to the Junos and then has a hot date with a flamenco dancer.

Singer Martina Sorbara is wearing not one, but two spring must-haves: leather and crop-tops!

Ben looks quite dapper in a checkered blazer and pink button-up!

Rocking her trademark black bangs, the "Call Me Maybe" hitmaker rocked a chic watercolour blazer with matching short shorts and a button-up blouse at the Junos Gala on April 20. The black pumps and pointy clutch made the whole outfit a bit more sexy. We love this new grown-up Carly!

We realize that the Métis singer is paying tribute to her heritage but still, silver antlers and fur tails will not win you style points with us or PETA.

Is Nicole auditioning for the circus? Seriously, is she?

The colour is a bit dull but the floral baby doll looks pretty on country singer Crystal Shawanda. Sometimes playing it safe pays off.

Marlowe, who's in the children's pop band Marlow & the MiX, is wearing too many trends at the same time. In short, it's a trainwreck.

Lime green looks so pretty next to singer Victoria's red hair! This lace '50s style dress is super cute and fun. But those shoes have got to go.