Saudi Arabia has launched its first public campaign against domestic abuse.
The ad features a woman in a black burka with only her eyes revealed — one of them bruised and bloodshot. The powerful photo includes the caption, "Some things can't be covered — fighting women's abuse together."
Run by the King Khalid Foundation, the campaign focuses on raising awareness and finding more legal protection for battered women in Saudi Arabia.
The foundation also says domestic abuse in the country is much more common than reported, and many victims don't receive justice or an outlet for support.
In 2012, Human Rights Watch's World Report noted that Saudi Arabia failed to protect the rights of 9 million women and girls, adding that women in the country were banned from travelling, studying, or working without permission from male guardians. The country is also the only nation that doesn't allow women to drive.
But even with these barriers, the women of Saudi Arabia have seen slow change. In 2011, women were given the right to vote and run in municipal elections...in 2015. Just recently, Saudi Arabia's King Abdullah announced women he would appoint to the nations's consultative Shura Council, similar to parliament, according to Time Magazine.
What do you think of this campaign? Let us know in the comments below.
The Full Advert: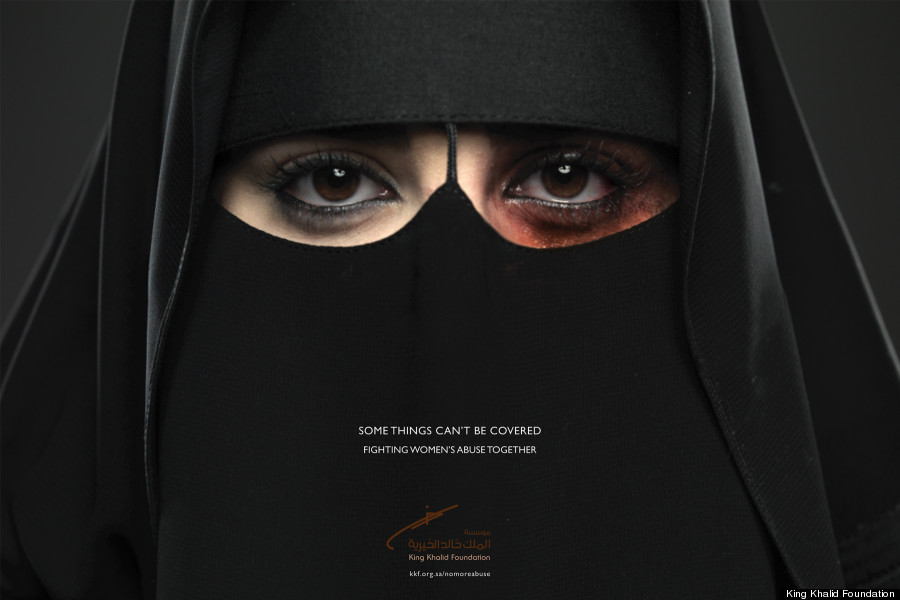 Also on HuffPost:
Loading Slideshow
Honor Blackman

<a href="http://www.womensaid.org.uk/page.asp?section=00010001001000060002&sectionTitle=About+the+ACT+campaign " target="_hplink"><em>Women's Aid</em></a> won an award for their domestic violence awareness campaign, which saw celebrities including Anna Friel, Fern Britton, Jemma Kidd and Honor Blackman made-over to appear as if they had been beaten.

Clare Wood

In September the <a href="http://www.homeoffice.gov.uk/media-centre/news/clares-law-pilot" target="_hplink">Home Office began piloting a Domestic Violence Disclosure Scheme, known as Clare's Law</a>. It was so named to honour Clare Wood, who was strangled and set on fire by her ex-boyfriend. It proposes to give women "the right to know" if a partner has a history of domestic violence. The scheme came into being after campaigning to protect women from Michael Brown, the father of the murder victim.

Lauren Luke

Self-taught make-up artist <a href="http://www.youtube.com/user/panacea81" target="_hplink">Lauren Luke</a> appeared before her YouTube subscribers in July looking battered and bruised. While the bruises were fake, <a href="http://refuge.org.uk/lauren/ " target="_hplink">the video, made in collaboration with UK charity Refuge sent a clear message to women across the globe: "65 per cent of women who suffer domestic violence keep it hidden. Don't cover it up." </a>http://www.youtube.com/watch?feature=player_embedded&v=d-XHPHRlWZk

Keira Knightley

Atonement actress <a href="http://www.womensaid.org.uk/domestic-violence-press-information.asp?itemid=2062&itemTitle=Keira+Knightley+stars+in+powerful+domestic+violence+campaign+for+Women's+Aid&section=0001000100150001&sectionTitle=Press+releases " target="_hplink">Keira Knightley starred in a 2009 Women's Aid ad</a> which saw her punched and kicked to the ground. Shot by Atonement director Joe Wright, the clip was deemed "too violent" and was censored before it was shown on TV.

Chris Brown

An 'unofficial' campaign was carried out against singer Chris Brown, who found his latest album, <em>Fortune</em>, slapped with stickers reading: <a href="http://www.huffingtonpost.com/2012/09/14/chris-brown-warning-stickers-do-not-buy-this-man-beats-women-hmv_n_1884927.html" target="_hplink">"WARNING: Do not buy this album! This man beats women!"</a>

Here's Barbie as you've never seen her before - as a model of domestic abuse. A student artist has painted black eyes, bruises and blood onto the perfect faces of the iconic dolls. The art project, It's A Matter Of Trust, has the tagline 'We shouldn't be taught that life is perfect.' Read more <a href="http://www.huffingtonpost.co.uk/2014/02/11/domestic-abuse-barbie-reality-violence-against-women_n_4765119.html" target="_blank">here</a>.

On the surface this newlywed couple look blissfully happy, but sadly reality tells a different story - one of domestic violence and abuse. Behind the smiles, beautiful flowers and white wedding gown, the groom is twisting his new wife's arm, which is battered and bruised from previous violent episodes. The powerful image forms part of a hard-hitting Norwegian domestic violence awareness campaign. Read more <a href="http://www.huffingtonpost.co.uk/2014/04/08/domestic-violence-campaign-awareness-norwegian-_n_5111105.html" target="_blank">here</a>.