We never thought there could be too much poutine in the world, but alas every hot food trend can go too far. For us, that realization occurred with the recent invention of the poutine doughnut. But it looks like Jones Soda Co. has gone one step further with flavored soda pop that tastes like Canada's symbolic holy trinity of ingredients — fries, gravy and cheese curds.
This limited-edition flavour, brought to you by the popular Seattle-based pop company largely known for its root beer, cream sodas and lemonades, will be available in select cities across Canada and most notably in Quebec, where poutine was supposedly invented in the 1950s.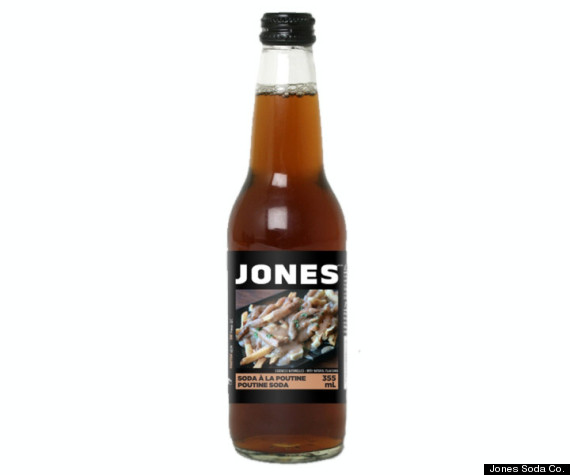 So what's wrong with exploiting this classic Canadian food? In case it's not obvious, it's pretty gross. Based on the reviews, Canada.com notes that it tastes as disgusting as it sounds.
We're not so sure this product is going to fly off the shelves, at least on the merits of taste alone. It might make a good Canadiana gag gift or souvenir though.
One Facebook user commented: "I don't want the pop, but I will take the poutine from the middle bottle's picture, that looks damn good."
For Jones Co., it's just good publicity, along the lines of other one-off novelty flavours such as turkey and gravy for Thanksgiving and the football-inspired field turf and perspiration flavours.
Loading Slideshow
Peanut Butter And Jelly Soda

Editors agreed overall that the peanut butter and jelly-flavored soda smelled a bit like jelly and had a slight peanut butter aftertaste, but it didn't exactly taste like a sandwich. Few were outright appalled by the taste, but no one loved it. "Tolerable in small doses," wrote one editor. "Not as bad as you might think."

Coffee Soda

The coffee flavor in this soda was definitely on the subtle side. Few of us were fans. One editor said it tasted "like bad coffee," and another noted some nutty undertones.

Pumpkin Pie Soda

Nearly everyone agreed that the pumpkin pie soda smelled strongly of cloves, but the pumpkin flavor wasn't really there. "Would be good mixed with winter cocktails," wrote one editor. "I don't want to drink pumpkin pie -- not even at Starbucks," wrote another.

Buffalo Wing Soda

The general consensus across the board was that this was one of the weirdest soda of the bunch. It scored lowest in flavor at 2.3 out of 10 possible points. It didn't really taste like buffalo wings, either. "I would never guess what this is," one editor wrote. It did, however, have a discernable spiciness on the nose.

Bacon Soda

Bacon soda? More like bacon bits soda. At least that was our impression. Many editors made note of a strong burnt flavor in place of the smokiness we'd expected. One editor's pain says it all: "Winced. Really not a fan." It scored low on taste, with 2.5 points out of a possible 10.

Sweet Corn Soda

We were all pleasantly surprised by the sweet corn soda, which got high marks on both drinkability and how closely it resembled canned corn in taste. One editor called the flavor "uncanny," (pun intended?) adding, "I think I could drink a bottle of this!" Another editor, however, couldn't get over the color, noting that it "looks violently yellow."
Also on HuffPost: