Kim Kardashian's baby bump was front and centre Saturday as she promoted her Kardashian Kollection fashion line at a Sears in Houston, Texas.
The reality TV star, pregnant with her and Kanye West's first child, owned the red carpet in a figure-flattering black dress that hugged her incredible curves and emphasized her growing belly. Her sisters Khloe and Kourtney were also on hand, looking just as chic.
Kim, whose exact due date remains a mystery, seems to have finally grown accustomed to her changing body. For a while she sported some downright awkward maternity fashions, from odd-looking voluminous shapes to frumpy ensembles. Now she looks better than ever – and more importantly, "she's finally feeling great about her pregnancy," Khloe recently said. Good for you, Kim! But we wish you would ditch the heels, if only for the sake of comfort. She tweeted a photo of her swollen feet yesterday, complete with a painful-looking imprint of her high heel's straps.
What do you think of Kim's latest maternity look?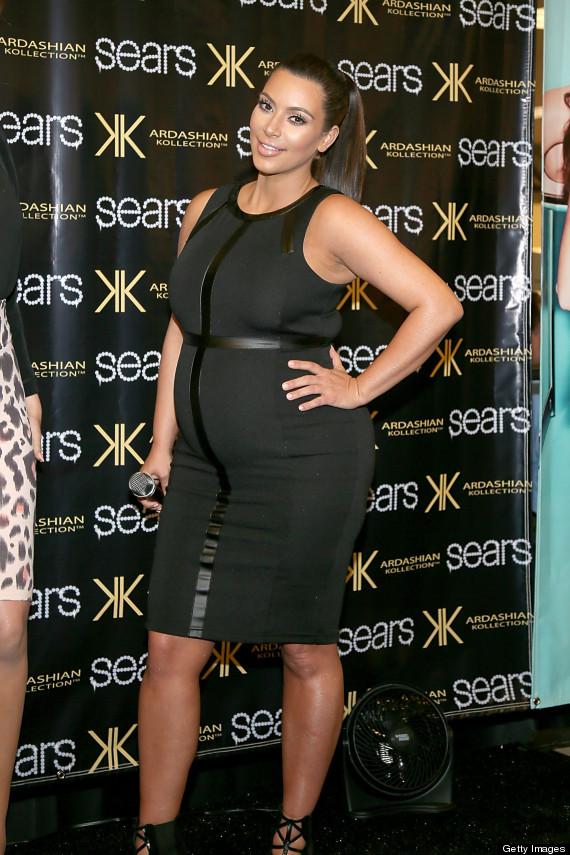 Earlier on HuffPost:
Loading Slideshow
Kate Middleton

I'm 6 months pregnant.

Kristen Bell

I'm 7 months pregnant.

Holly Madison

I'm 3 months pregnant.

Busy Phillips

I'm 2 months pregnant.

Shakira

I'm 8 months pregnant.

Kim Kardashian

I'm 6 months pregnant.

Shiri Appleby

I'm 9 months pregnant.

Lily Allen

I'm 5 months pregnant.

Jamie-Lynn Sigler

I'm 4 months pregnant.

Halle Berry

I'm 3 months pregnant.

Fergie

I'm 3 months pregnant.

Jenna Dewan

I'm 9 months pregnant.

Malin Akerman

I'm 5 months pregnant.