Cameron Diaz's Cape At 2013 Met Gala: Celebrities Embrace Fashion-Forward Trend (PHOTOS)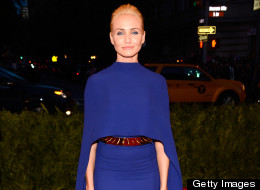 You know a trend is super hot when both Cameron Diaz and Chelsea Clinton are embracing it.
At the 2013 Met Gala on Monday, celebs including Diaz, Clinton and Aubrey Plaza stood out from the other attendees by sporting unusual-looking capes.
Cameron looked stunning in a cobalt-blue Stella McCartney column dress that featured a long cape which trailed the ground at the back and reached her waist at the front. Scary spiked belt aside, Cam's dress was more Galadriel from "Lord of the Rings" than punk couture, which was the theme of the Gala.
"Parks and Recreation" actress Audrey Plaza had no problem embracing her wild side in a shiny silver Marios Schwab mini with a cute cape that came to just above her knees and wrapped around her arms.
The aforementioned Chelsea Clinton (who is looking a lot like her mom, Hillary) didn't go full-on cape but wore a black satin capelet over a dove-grey Burberry dress.
Slowly but surely, celebs are realizing that the cape is a powerful style statement.
"Great Gatsby" actress Carey Mulligan wore an androgynous Victoria Beckham tuxedo cape in April and Beckham herself sported a cape in the summer of 2012; proof that it doesn't have to be the dead of winter to wear the trendy garment.
What do you think of capes?