Mother's Day Gift Ideas: Moms Tell Us What They REALLY Want For Mother's Day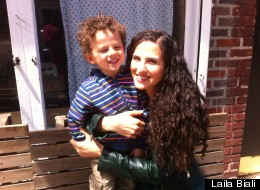 If you really want to know what to get your mom for Mother's Day, just ask.
On Sunday, May 12, you could get your mom a thoughtful gift, make her something last-minute or cook up your own brunch, but to get to the root of what moms really want, we asked Canadian mothers to send in their wishes.
ALSO: Check out our ultimate Mother's Day Gift Guide
Besides the obvious much-needed hours of sleep and relaxation time, the consensus seems to be that moms just want their kids to stop fighting, be happy and have a wonderful year.
So what do you REALLY want this year? Join the conversion and add in your own photo and blurb below or send it to us at arti.patel@huffingtonpost.com.
What Moms REALLY Want For Mothers Day
Angie Seth, Toronto, Ont. "I am a Mother of three beautiful children (18-year-old, 3-year-old old and 1-year-old) who I cherish every day. My wish is almost the impossible: to ensure they will always be safe, happy, successful, healthy. That they will always follow their dreams, laugh every day, love to their fullest, and to take care of each other. A good night sleep for Mommy would be nice too! Happy Mother's day to all those heros out there!"

Cindy Cheung, Montreal, Que. "A morning full of snuggles in bed and be showered with hugs and kisses all day long!"

Ange Peters, London, Ont. "I'd like to start the day with a breakfast that didn't come out of a blender and end the day being in bed at 9 p.m. with not single thing on my to do list for Monday morning"

Andree Lau, Richmond, B.C. "Since I'm incapable of sleeping in anymore, I would really like a luxurious brunch at a great restaurant with my great family. The best Mother's Day gift would be a stall-free toddler bedtime that doesn't take hours."

Kaila Beattie, London, Ont. "For Mother's Day I would love a lazy day at home to enjoy some board games, but with NO FIGHTING."

Tehani Mott, Mississauga, Ont. "What I REALLY want for Mother's Day is a vacation with my family!"

Naomi Silver, Toronto "I am a first time mom who's excited to celebrate my first Mother's Day after many years of extensive fertility treatment. Our little girl is truly a miracle and I am so looking forward to Mother's Day. In the past it was the most painful day and I would hide under my pillow but this year I intend to lavish my baby with endless kisses and celebrate motherhood which is the one thing I have enjoyed most in my life. I don't need gifts or fancy brunches, having my little daughter to squeeze and kiss is priceless."

Makini Smith, Whitby, Ont. "What I really want for Mother's Day is breakfast in bed and a clean house with no kids fighting!"

Claire Cameron, Toronto "I want to hold the damn remote."

Aliya Jiwan-Thawer, Toronto "Aside from being able to sleep uninterrupted for hours, what I'd really like is an entire week without having to cook or clean, be able to leave the house without food or boogers on my clothes and some kind of potion that can make the guilt of being a busy working mom magically disappear."

Bj McCullough, Kanata, Ont. "The greatest blessing of just ONE day of complete family togetherness. Life is busy, my greatest love is motherhood, I love my kids as BIG as the world. One day with no agenda."

Ghidei Mahmoud, Toronto "Continued health and success of my children."

Heather McDonald, Toronto "I would like it to be Mother's DAY not just Mother's MORNING. I would like to be spoiled all day with homemade gifts and smooches from my sons. I would also like a romantic poem written by my husband, read aloud, telling me how he would be lost without me."

Sarena Seidman-Kornblum, Toronto "A pastry brunch at city bakery in NYC with my son and husband, followed by some family time in Central Park!"

Barroso Homes, Toronto "What I really want for Mother's Day is to sleep in (for once), take a long bath (in silence) and then enjoy/share a beautiful breakfast with the two most wonderful and loving children ever. They are truly my 'sunshine' and I could not bare to think I would spend a moment of Mother's Day without them."

Courtney Lewin, Richmond Hill, Ont. "What I really want for Mother's Day is homemade cards or special homemade gifts from my sons, a nice bouquet of flowers and to spend the day with the people I love the most in this world."

Lindsay Collins, Toronto "I'm running my first 10k on Mother's Day this year and I want my daughter to be at the finish line. I want a moment or two without all the chaos of 'family' to just enjoy being with my kids and my amazing husband. I also want a solid picture with my mom and my kids - with everyone's eyes open, no one with food in their mouth and clothing covering all inappropriate parts. Nothing fancy necessary here; a cell phone picture will do."

Shawna Newbery, Ottawa, Ont. "Couch time and cuddles. Better than a croissant any day."

Tiffany Collins, High Level, Alta "I'd really love to be able to go to B.C. so my children could meet their grandparents!"

Christine Flynn, Toronto "This Mother's Day I'm wishing for the three B's - a Break from work, and some time spent with my three Boys (my hubby and my two sons) on the Beach where we spend the summers, near Lake Huron."

Laura Cheng, Toronto "For Mothers Day I would LOVE one night of uninterrupted sleep (even if this requires pumping milk and sleeping alone), a relaxing uninterrupted bath and a nice meal with my family at a restaurant we have never been to."

Brett Liske, Regina, Sask. "What I really want for Mother's Day is a glimpse into the future to see my children as joyful and wise people, having traversed through life's trials successfully. This glimpse would give me great joy and peace, knowing that they will be ok.

Maria Cianfrano, North York, Ont. "What I would love most for Mother's Day is TIME. Whether it be more time with my family or more time for me. Of course, during my "me" time I'd love to have a mani/pedi :)."

Charlotte Anna Singmin, Toronto 'For Mother's Day I want for my son to grow up surrounded by love and sunshine, in a world that is peaceful and just. Oh and anything in a little turquoise box would be nice..."

Rebecca Zamon, Toronto "I would love for my two-month-old son to allow me to get eight straight hours of sleep — and maybe let me in on what he's thinking. But mostly I'm just thrilled to be celebrating my very first Mother's Day with my beautiful, healthy boy."

Erica Zamon, Toronto "My Mother's Day would be perfect if it could include a couple of hours of pampering and some relaxation time — as well as the chance to enjoy the day with my husband and son, and our extended family."

Laila Biali, Brooklyn, N.Y. "For Mother's Day I would like to be carried in a hammock through Prospect Park while I catch up on some reading, and then deposited at a local day spa to enjoy four hours of quiet, vanilla-scented bliss. Dinner with the boys afterwards would also be nice -dine-out only, of course."

Bhairavi Patel, Richmond Hill, Ont. "I know boys will be boys, but if they could do a little less fighting and show more love towards each other that would be the best mother's day gift ever!"