BC Election Platforms Leaving Urban Millennials Behind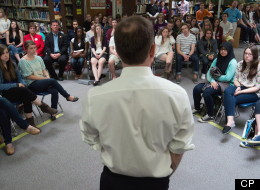 The needs of young, urban British Columbians are being left behind this election and poor voter turnout from the last is partly to blame, according to one University of British Columbia professor.
In 2009, Elections BC logged a record low 51 per cent voter turnout rate after decades of decline. The stats were even worse for the under 35s: of eligible voters that year, only 27 per cent of 18-24-year-olds and just 34 per cent of those aged 25-34 showed up at the polls. A stark contrast to the 72 per cent of 65-74-year-olds that voted.
"When they don't show up, those organizing the platforms all across the parties have less reason to reshape their platforms to address the needs of young people," says Paul Kershaw, professor of population health at UBC.
"We've created this vicious cycle," he explains. As a result, young people "aren't showing up to the ballot box much because platforms aren't speaking to their issues."
At UBC, Kershaw leads Generation Squeeze, a campaign focused on shining a light on the government spending imbalance between retirees and young Canadians.
"Our budgets provincially are literally pitting the health of grandparents against the well-being of their kids and grandchildren," he says.
In B.C. Lieutenant Governor Judith Guichon's Throne Speech, an additional $1.5 billion was announced to supplement medicare with no additional funding to support the province's younger generation.
In new research released today, Kershaw shows the B.C. government is spending an average of $45,000 on each retiree and up to $12,000 on each young person annually.
It's a funding gap that is of growing concern to the province's largest demographic since the baby boomers, he insists, adding that "meaningful budget allocations" to young Canadians are lacking where they're desperately needed.
This election, the B.C. Liberals have proposed a $230-million increase in education and social service spending while the NDP have tabled a $533-million boost. Green Party and B.C. Conservative platforms are missing family policy cost estimates.
The problem is not increased spending on retirees, Kershaw points out. The concern lies in the ability of the province's younger population to successfully carry the weight of increased spending to sustain the health care system.
Millennials today are twice as more likely to have post-secondary education, but they're making on average $4 less an hour today than someone in 1976. As a result, they're being squeezed most where cost of living is highest: in cities.
Tuition fees, student debt and affordable housing are well-reported concerns to urban millennials, but they are issues that are, for the most part, absent from current B.C. election platforms.
Education and the rising cost of post-secondary tuition were missing topics from the agenda of the televised B.C. leaders' debate that drew in 1.4 million viewers on April 29.
Since the B.C. Liberals gained power 12 years ago, tuition fees and student debt levels have jumped dramatically: former Liberal premier Gordon Campbell eliminated the province's $80-million student grant program and lifted the cap on tuition fees.
In 2001, the average debt of a B.C. student was $18,500. Today that number has jumped to $27,000.
Story continues below gallery
The Canadian Millennial: Survey Says
The Huffington Post Canada and Abacus Data surveyed 1,004 Canadian millennials from across the country on a variety of issues. Here's what we found:

We asked 1,004 Canadian millennials to rank the biggest challenges facing their generation.

2% rank the decriminalization of marijuana as No. 1 or 2.

5% of millennials rank internet regulation and online privacy as one of their top two issues.

7% rank bullying as the first or second biggest challenge.

8% of millennials rank retirement security No. 1 or 2.

11% of millennials say access to quality health care is one of the generation's top two challenges

20% of millennials rank pollution and environmental protection as No. 1 or 2 of the biggest challenges faced by this generation.

20% say affordable housing is in the top two.

24% of millennials peg the cost of education as their first or second choice for the generation's biggest challenge.

27% say the cost of food, gas and consumer goods are in the top two.

32% of millennials chose "student debt and personal debt" as the first or second biggest challenge.

We asked 1,004 millennials between the ages of 18-30 what it takes to be a good Canadian citizen.

15% of millennials say it takes being active in political parties...

28% of millennials say donating money to charity makes a good citizen..

35% of millennials say that being active in social organizations is important to citizenship..

63% of millennials say being informed about current events is important..

64% of millennials say being able to fluently speak one official language is important..

74% of millennials say a good citizen is someone who always votes in elections.

81% of millennials say good citizens honestly pay their taxes.

43% of millennials rank the availability of quality jobs as their first or second choice.

We asked 1,004 Canadian millennials what were their generation's biggest health challenges

3% say pollution

4% say sexually transmitted infections

7% say disease

11% say poor nutrition

16% say obesity

17% say addiction

19% say mental health

26% say lack of physical activity

Some views from 1,004 Canadian millennials on marriage and family..

18% of millennials are in a common law relationship

66% of millennials are single

15% of millennials are married

63% of unmarried millennials say yes 13% say no 24% say they are unsure

65% of unmarried women say yes 13% say no 22% say they are unsure

61% of unmarried men say yes 13% say no 26% say they are unsure

33% agree 67% disagree

12% of millennials surveyed have children 88% do not

64% of millennials say yes 12% say no 24% are unsure

Huffington Post Canada's series on millennials, Asking Y. Visit it here.
In the 2009 provincial election, the three parties running for leadership all made explicit promises related to tuition fees. The B.C. Liberals pledged to continue to cap fees in relation to inflation, the NDP promised a tuition freeze and the Greens pledged a 20 per cent cost reduction.
Despite those efforts to engage young voters, two-thirds still didn't show.
Four years later, B.C. Liberal Leader Christy Clark has made no public pledge to renew the party's commitment to cap tuition fees; NDP Leader Adrian Dix has tabled a $100 million needs-based education grants plan; Green Party Leader Jane Sterk has re-committed her 20 per cent reduction promise from the last election. The B.C. Conservatives' education platform only specifies "rural post-secondary education, job and skills training."
In Vancouver, the average monthly rent rose from $898 in 2007 to $1,047 in 2012, despite city efforts to prioritize more affordable housing.
Though the province committed $3.2 billion in funding over the past decade into affordable housing, strict eligibility requirements bar low-income, single millennials from qualifying for any subsidies to offset rising city rents.
Vancouver West-End NDP candidate Spencer Chandra Herbert agrees that housing is one of the top issues his constituents and friends raise with him.
"There's been a real challenge seeing ourselves succeed in the future and seeing that we have something to be optimistic about because of increasing costs, environmental challenges that are staring at us in the face," says Chandra Herbert. He identified environment and affordability as the "huge issues" facing millennials today.
When asked about what the plan the NDP have in store to ensure that jobs will be available for urban millennials after graduation, Chandra Herbert pointed to the party's efforts to boost the province's film and TV industries because there are "lots of young people in creative economy jobs."
Affordable rental housing in Vancouver and Victoria is very hard to find and prospects for millennials to own a home are even bleaker, notes Jamie Biggar, co-founder of Vancouver-based Leadnow, an independent organization dedicated to mobilizing Canadians to have a say in democratic issues.
Biggar is a part of a millennial cohort using technology-based campaigns to engage voters. PowerVote BC is a Leadnow initiative collecting pledges to vote on May 14 to send a "really powerful message" to the parties and indiviual politicians that young voters are paying attention and have a huge opportunity to shape policy.
"Many of us expect to live a more insecure and less prosperous life, unlike our parents did," he says.
"It's the first time a generation's felt that way in Canada in living memory."