Meet Nigel Wright, The Man Who Gave Mike Duffy $90,000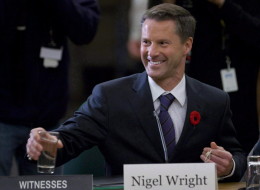 Who exactly is Nigel Wright?
That's the question many Canadians were likely asking Wednesday when they learned Prime Minister Stephen Harper's chief of staff footed the bill for Sen. Mike Duffy's improper housing expenses.
A Harvard-educated Bay Street lawyer and banker, Wright took a leave of absence from a managing director gig at private equity giant Onex Corp to become Harper's right-hand man in 2010.
Wright, 49, was apparently recruited for the position because Harper wanted the economy to be top of mind in the Prime Minister's Office.
A 2011 profile in The Walrus described him as a man who has reached the top of both the business and political world without making enemies.
READ THE FULL STORY FROM THE WALRUS
Duffy and Wright are friends, a source told The Canadian Press, and Wright offered the money as a gift when he learned Duffy was having financial difficulties.
But what else is there to know about the enigmatic (and apparently generous) man behind Stephen Harper?
Check the gallery below to learn more.
6 Things To Know About Nigel Wright
It is believed that Wright was earning more than $2 million in salary and bonuses with Onex before becoming Prime Minister Stephen Harper's chief of staff. He made around $300,000 working on Parliament Hill.

Along with John Baird, Jason Kenney, and James Moore, Wright was one of four "single, white males" profiled in Maclean's magazine in 2011 as holding immense power in Harper's inner circle. Moore has since tied the knot, and Baird has since resigned.

Wright would apparently run a half-marathon each morning before starting a 14-hour work day at Onex. He kept that pace after he began working in Ottawa. He is said to be fond of telling a story of once being surrounded by several snarling dogs during an early morning run - a perfect metaphor for politics.

Wright was a speechwriter and policy adviser to former prime minister Brian Mulroney. He was also policy co-ordinator for Kim Campbell's leadership campaign.

Wright considered joining the Anglican priesthood as a young man. He is currently a subdeacon at St. Thomas's Anglican Church in Toronto.

The federal ethics watchdog cleared Wright of conflict of interest allegations in January, 2013. Ethics commissioner Mary Dawson investigated Wright after it was reported he was lobbied on three occasions by Barrick Gold Corp, despite deep personal connections to the company's founding family. Dawson found there was no violation of the Conflict of Interest Act.

UP NEXT: Highlights From The Wright-Duffy Police Documents

Sen. Mike Duffy sent an email to Nigel Wright following a news story referencing a Senate matter. (Continued)

On March 1, Duffy's lawyer Janice Payne emailed former PMO legal adviser Ben Perrin for an update.

In an March 8 email, Wright told Chris Woodcock the party would not be paying the Duffy cheque.

On May 9, Wright responded to an email forwarded by Ray Novak from Sen. Linda Frum over concerns about protecting Tory senators.

On page 26 of the documents, the RCMP note "On February 15, there were e-mail discussions within the PMO about the Senate Rules committee and a proposed definition of residency, Nigel Wright e-mailed Benjamin Perrin."

On page 44 of the documents, the RCMP detail an email exchange between Tory Senator Carolyn Stewart Olsen and PMO staffers Chris Woodcock and Patrick Rogers.

Page 32 of the documents details a Feb. 22 email from Nigel Wright to staffers in the PMO, including lawyer Benjamin Perrin.

Page 45 of the documents details an email on May 14 from PMO staffer Andrew MacDougall to Nigel Wright and others. MacDougall says he has received inquiries from a journalist about Nigel Wright co-signing a loan for Senator Duffy to repay the money. Carl Vallee, PMO Press Secretary, writes: "Would the PM know the actual answer to the question? Just in case he asks us."