Singapore Airlines Turbulence: In-Flight Meals Go Flying (VIDEO)
Breakfast got served.
According to ABC News, an extreme bout of turbulence aboard a Singapore Airlines flight to London ended up splashing the in-flight meal all over the plane.
Alan Cross. a passenger on Singapore Airlines flight SQ308, captured the astounding aftermath of the upturned meals, posting a series of rather unappetizing images to Instagram.
No one seems to have availed themselves of the five-second rule.
Check out some of these images from the ill-fated feast, courtesy Toronto's Alan Cross: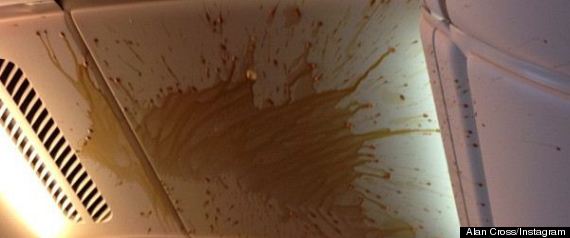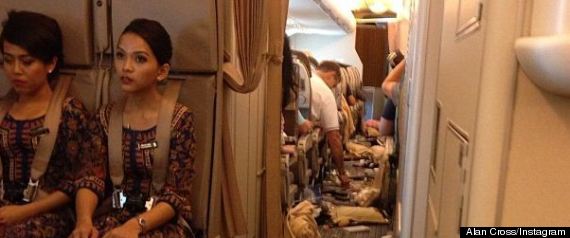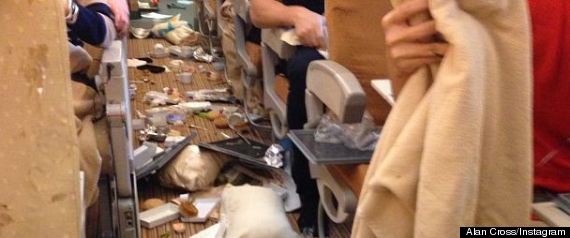 Following the incident, the airline released this statement:
"Eleven passengers and one crew member sustained minor injuries when the aircraft experienced a sudden loss of altitude and were attended to by medical personnel on arrival at Heathrow Airport. Seat-belt signs were on at the time and meal services had already been suspended."
Crazy Causes For Flight Diversions
It's a good idea to wait until everyone's fully seated on the plane before getting intoxicated. Justin Neil Frank, a 35-year-old Calgary man was arrested after forcing an Air Canada flight from London to Calgary back in August. CBC reports Frank was drunk when he boarded the plane and kept drinking throughout — that is, when he wasn't walking down the aisles claiming to be an oil executive (he works as a rig service electrician). He was later tied down to his seat with duct tape and straps and arrested by the RCMP when the flight landed in Edmonton.

In late August, a United Airlines flight en route to Geneva, Switzerland from Newark, New Jersey was forced to divert in Boston because of an... ordinary camera. Well, to be fair, police and airline crew thought the unclaimed camera could potentially be a bomb, which is why the 169 people on board had to be removed from the plane while bomb technicians disposed of the camera.

The most recent restriction to flying has been the limitation of liquids, gels and aerosols to containers no greater than 100 ml or 100 grams. Combine this with a prank call and you've got the fixings for a bomb scare. Last September, a passenger was victim of a bomb hoax when someone called police at Philadelphia International Airport informing them that a passenger was "carrying a dangerous substance", as reported by USA Today. The passenger's name matched with someone on board a flight bound to Dallas-Fort Worth International Airport. The plane was forced to return to Philadelphia where police arrested the passenger, only to release him after realizing he had done nothing wrong.

Back in January of 2010, a US Airways flight leaving New York and heading to Louisville, Kentucky had to divert to Philadelphia due to a misunderstanding over a teenager's prayer box. The 17-year-old Jewish boy was flying with his sister when he started using his tefillin, a set of small black boxes containing biblical passages that are attached to leather straps, attaching one box to his head and the other to his arm, according to Fox News. Crew members of the flight questioned the boy but weren't able to get a "clear response" and asked the plane to turn back to Philadelphia for a more thorough investigation.

What can only be interpreted as a big misunderstanding is also the reason why a partially blind 86-year-old-man caused a Spirit Airlines flight from California to Florida to be diverted to Houston back in July. The man, who only spoke French, became unruly and started swinging at passengers because he was "scared," reports Canada.com

Back in May, a French woman managed to divert a US Airways flight from Paris to North Carolina after claiming she had been surgically implanted with a device. Flight 787 landed in Bangor International Airport unexpectedly after Lucie Zeeko Marigot, 41, said she had something inside of her that was "out of control" and was travelling to the U.S. to seek medical help from President Barack Obama and the American people. Marigot was never charged by U.S. authorities but was sent back to France, according to U.S. Attorney, Thomas Delahanty II.

What was supposed to be a normal flight from North Carolina to Chicago resulted in a diversion after a fight broke out between two flight attendants on board a United Airlines plane. Raleigh-Durham International Airport received an early morning call from the pilot of Flight 1214, saying that there was an assault on board, according to News.com, when it was actually a verbal argument between two stewards. When the plane returned to North Carolina, the attendants were removed and the plane was restaffed.