Most Overvalued Housing Markets: Canada 'Vulnerable To A Correction,' OECD Says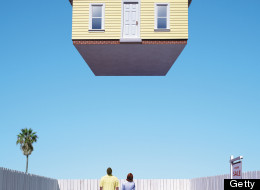 Canada has the third-most overvalued housing market in the developed world, the OECD says in a new report, and the latest market data released this week suggests that this is not changing.
The OECD's latest global economic outlook estimates that Canada's housing market is overvalued by 64 per cent when compared to rental rates, and by 30 per cent when compared to incomes.
That places Canada in a small group of countries "where houses appear overvalued but prices are still rising," the OECD said.
Belgium has the world's most overvalued housing market, followed by Norway in second place. The U.S. was listed as having the eighth-most undervalued market.
"Economies in this category are most vulnerable to the risk of a price correction – especially if borrowing costs were to rise or income growth were to slow."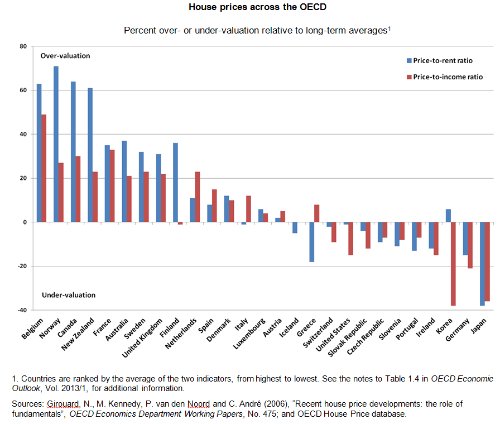 That doesn't appear to be happening, at least for the moment. Income growth in Canada picked up last year after a lacklustre 2011, and most analysts don't expect interest rates to rise until 2014 at the earliest.
But when they do (and that is a when, not an if), it could cause serious problems in the housing market.
According to a 2011 survey for the Canadian Association of Accredited Mortgage Professionals, even a one-per-cent rate hike could make payments unaffordable for more than one in 10 mortgage holders. A two-per-cent hike (which would leave interest rates still well below historic norms) would mean one in five Canadians could no longer afford their mortgages.
That's hardly the sign of a healthy real estate market. And Finance Minister Jim Flaherty's openly-voiced hope that Canada will see some house price declines doesn't seem to be materializing, at least not yet, and at least not outside Vancouver.
Story continues below slideshow
Wildest, Most Expensive 'Cottages' For Sale In Canada
This house in Rockyview County, Alberta, comes with five bedrooms and nine bathrooms on 13,000 square feet of living space. That includes a two-story library, a six-car garage and an 18-seat movie theatre.

Seven bedrooms in this 9,000-square-foot house in Pincher Creek, Alberta. The realtor describes the property as "perched nearly 900 feet above Highway 3 as you enter [the] captivating Crowsnest Pass." There are no fewer than four fireplaces on the property, and the sellers promise "world-class fly-fishing, skiing, and hiking."

Located just outside of Canmore, Alberta, this property features six bedrooms and 10 full or partial bathrooms on 7,500 square feet. "Features include the great hall with towering totem poles ... a hidden staircase leading to the stone wine grotto, massive wood-burning stone fireplaces, a two-storey library, an opulent kitchen, a lavish formal dining room, designer furnishings and fabrics, a passenger elevator, a 'Chauffeur's' quarters, a lower level theatre room and a large games room," the seller boasts.

This "fortress-like preserve" is located on one island in a chain of five about 20 minutes' boat ride from the Nova Scotia coast. The tide rises some 45 feet in that part of the world, and when the tide's out the island is surrounded by a red sand beach. The central residence has six bedroom and three bathrooms, and is linked by a network of walkways to "satellite bedroom cottages" spread across 10 acres of land.

This hybrid of an Ontario cottage and a James Bond supervillain's lair is embedded onto a rocky island in Georgian Bay. The open-concept octagonal cottage features six bedrooms, five bathrooms, a games room and three separate cabins.

Hudson might just qualify as a suburb of Montreal these days, but this palatial property's pool (complete with pool bar) and ice rink make it a great option for outdoorsy types. Ten bedrooms and six bathroooms in the main building.

Inspired by a Rockefeller country home, this log "cabin" north of Montreal was built from hand-picked trees to feature seven bedrooms and seven bathrooms on 10,000 square feet. The property features five fireplaces, a gym, a wine room and an entertainment centre.

Three bedrooms, four bathrooms and a five-car garage in this house in Montreal's cottage country that sits on 83 acres of land. The property features an inground pool and a cedar guest cottage.

Located on a 5-acre spur of land on Lac Tremblant, this cottage features four bedrooms and five baths in a 6,500-square-foot house. The property features a beach, a private dock and a tennis court.

St. Helen's Island in the cottage country north of Toronto features a five-bedroom, four-bath house with 6,400 square feet of living space. The property also features a two-bedroom guest cottage, a three-slip boathouse, a dockside gazebo, a wet bar, a water''s-edge stone patio and a fire pit.

This property called Idylwood features five bedrooms and four bathrooms on more than 6,000 square feet of living space.

This "spectacular gentleman's lakeshore estate," as the realtor confusingly calls it, features eight bedrooms and eight bathrooms on 8,600 square feet of living space. There is also a separate five-bedroom coach house. The property covers more than two acres and features 500 feet of beachfront.

The realtor boasts of this cottage's isolation -- there's a 2,200-foot long driveway that winds its way to the house, which sits on 124 acres and features 1,400 feet of lakefront. Four bedrooms and two bathrooms in this house. There's also a guest house, a boat house and a waterfall on the property.

The realtor describes this as "probably the finest lake shore home in the Okanagan," and with its own basketball court, boat house and boat house bar, it's certainly a contender. Six bedrooms and six bathrooms in this 7,500-square-foot "cottage."

Four bedrooms in this 5,000-square-foot house that promises "breathtaking mountain and lake views from every room." The property features a state-of-the-art media room and a custom landscaped waterfall.

This modernist "cottage" with a view of Whistler Mountain boasts five bedrooms and four bathrooms. The main floor terrace features a gas rock fireplace, BBQ and built-in benches. The house also has a hot tub gazebo and a gym.
Condo Market's 'Last Hurrah'
The latest data from the Toronto Real Estate Board shows house prices for existing homes in Canada's largest city rose in May from a year ago, even as total sales continued to decline — down 3.4 per cent, year over year, continuing a year-long slide.
The average selling price, however, was $542,174, up by 5.4 per cent from a year ago.
Even Vancouver, whose housing market even the optimists admit is a bursting bubble, saw sales rise one per cent year over year, though prices in the city are down 4.3 per cent from last year.
Meanwhile, building permits across the country soared in April, up 10.5 per cent from the month before, including a whopping 50-per-cent increase in the softening condo market.
But CIBC economist Emanuella Enenajor must have been looking at all the reports of over-building in the condo market, because instead of declaring a bounce-back, she suggested condo bust is just getting started.
"Construction [in condos] could be set for one last hurrah," she declared.
Overbuilding Everywhere
If economists aren't buying any sort of bounce-back in the market, particularly in condos, that can be largely attributed to perceptions that Canada has experienced an over-building of homes.
While many observers have long argued that Toronto's condo market is particularly overbuilt, a TD report this week declared that "overbuilding, to various degrees, has occurred across all markets."
The report said the recent slowdown in sales and construction "has moved back in line with household formation in most major markets" — but that was before this week's report of a large jump in construction starts.