Gay Athletes More Accepted Than Ever Before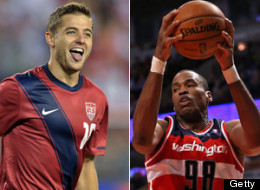 Growing up, Tom Chervinsky was never the athletic kid.
"I was always the kid who gravitated toward things like choir," said Chervinsky, 29. "That was more where I felt comfortable and where I felt safe, and it certainly didn't help that I didn't have any natural talent in sports."
At the age of 10, Chervinsky, who was born in Toronto, began to take notice of his sexual orientation.
"As I got older and more aware of the fact that I was gay, it became an extra barrier and another reason why I was nervous about team sports," he told The Huffington Post Canada.
"Not being good at sports would be an indication to people that I was gay, and that fear certainly helped to keep me away from sports and keep me away from that at recess, and trying to always find my way into the shadows."
While Chervinsky said he "managed to fly under the radar," it didn't stop some of his more "flamboyant" classmates from being ridiculed and bullied in gym class.
"Seeing that, knowing that was happening, certainly pushed me even further away from an environment where I thought that might become apparent," such as gym class and in the changing room, he said.
"I wouldn't go out and play sports, because I didn't feel like I could be a part of it, like I wouldn't be able to contribute, like I would be a laughingstock, and I didn't want to call attention to that."
Chervinsky came to realize he was gay when he was 12 years old. But 17 years on, the marketing and communications professional couldn't help but feel that he had lost out on a large and formative part of his childhood.
Having resisted playing sports for much of his life, Chervinsky wanted to challenge himself. Beyond the physical benefits of exercise, he said he wanted to go outside his comfort zone and challenge some of his "preconceived notions" about himself.
Shortly after Toronto's Pride Week, Chervinsky joined Muddy York Rugby Football Club in July 2011 after being approached by promoters for the club, a gay developmental team that plays in the Toronto Rugby Union — a heterocentric league — against teams across Ontario.
Chervinsky, who had never played the sport — he didn't even know what a rugby ball looked like — until two years ago, was pleasantly surprised by what he saw. He said other teams in the league were incredibly encouraging and supportive of them as a developmental team instead of reveling in how terrible they were in some matches.
"Another thing that really impressed me was I expected some homophobia, I really did, from the other teams, and I've seen none. I've seen absolutely none. I've seen assholes, but even their slurs had nothing to do with being gay. They were just pricks, and pricks on the pitch isn't uncommon."
Andrew MacDonald, director of media and marketing for Muddy York RFC (he joined the team in March 2012) echoed Chervinsky's sentiments.
"I didn't really know what to expect in terms of my first couple of games, but I was also surprised at the lack of homophobia," said MacDonald, whose previous involvement in sports was limited to swimming in his youth.
Story continues below slideshow
The kind of inclusiveness and acceptance MacDonald and Chervinsky found would have been difficult to imagine a decade ago, experts say, citing sport's entrenched discrimination, stigmatization of homosexuality and violence.
"We are currently in a wave of progress for gay rights," said Eric Anderson, a professor at the University of Winchester, England, whose research focuses on masculinity, sexuality and homophobia in sports.
"Attitudes in our culture are changing toward the positive at a remarkable rate."
Anderson, who became the first openly gay coach in the United States in 1993, said attitudes in sports that traditionally defined certain forms of masculinity as acceptable while denigrating other forms, have changed drastically over the past two decades.
"I have seen the culture move from 'it would not be accepted, there would be violence' as there was when I came out of the closet … to 'as long as he's good, we will tolerate him,' to 'nobody is bothered by this, and it's about time someone's come out," Anderson said in an email.
Amateur teams such as Muddy York may be at the forefront of these changing attitudes toward sexuality and sport, but professional athletes are doing their part as well, coming out to the public while still in their sporting prime. In the past, professional athletes have tended to open up about their orientation post-retirement, such as former NBA player John Amaechi, NFL running back Dave Kopay and MLB utilityman Billy Bean. In contrast, female athletes, including Billie Jean King, Martina Navratilova and this year's WNBA No. 1 draft pick, Brittney Griner, have all come out during their careers or, in Griner's case, before it has begun.
Jason Collins, currently a free agent who last played for the Washington Wizards in the NBA, came out publicly in April. It was a significant announcement that made Collins the first active professional athlete to come out among those playing in the "big" four North American sports of basketball, baseball, football and hockey.
"I wish I wasn't the kid in the classroom raising his hand and saying, 'I'm different.' If I had my way, someone else would have already done this. Nobody has, which is why I'm raising my hand," he wrote in Sports Illustrated.
A college classmate tried to persuade Collins, 34, to open up sooner than he did, when he was first traded to the Wizards from the Boston Celtics. But Collins feared the unwanted publicity and did not want his personal life to become a distraction for his teammates.
However, he found a way to show his solidarity with the gay community by donning the jersey number 98 while playing with the Atlanta Hawks during the 2011-2012 season. The number was a tribute to Matthew Shepard, a gay University of Wyoming student who, in 1998, died after being tortured while tied to a fence.
In the wake of Collins's disclosure, the National Hockey League said it had been preparing for years for the first professional hockey player to come out and wants to be one of the world's most inclusive professional sports leagues.
Paul Dennis, a player development coach for the Toronto Maple Leafs for 17 years, said perceptions of gay athletes have changed in part because traditional stereotypes are being challenged and the discussion on sports culture is evolving across society, popular culture and the media.
In contact sports, "there's always been this sports culture that the alpha male must prevail in order for the team to be successful," Dennis said in an interview with HuffPost Canada. "So there was this notion, this myth, that the gay athlete would be the antithesis of that athlete male."
Dennis, who also teaches sports psychology at York University, said that while he did not have group discussions on sexual orientation with players that he coached, there has been a significant shift in attitude.
"The younger players are incredibly more tolerant, they're more liberal, they're understanding, they're accommodating, everything that they're taught as youngsters to be accepting and respectful for not only their teammates but their opponents [too]," he said. "So that has trendsetted into respect and awareness and sensitivity towards others, regardless of their sexual identity. And I think they're coming into the league with that new attitude, and as a result, they're far more accepting."
Where once a player might have been excluded from the team because he or she was gay, athletes today are judged on how they perform — the amount of "athletic capital" they hold — in pursuit of the team's collective goal.
"It's the reality these days, and at the professional level in particular, coaches will accept anybody who is going to help their team win, and so will athletes," Dennis said, noting that there is no link between a person's athletic capabilities and his sexuality.
"And if an athlete happens to be gay, it doesn't matter, as long as they're a contributing force to the goals and objectives that the team sets."
Echoing NHL deputy commissioner Bill Daley's statement that he is not personally aware of any gay players in the league, Dennis said he, too, had not encountered a player that was gay during his career with the Leafs. He once did, however, meet a professional football player who struggled with his sexual orientation.
"He was reluctant to disclose anything more than that, primarily because he felt it was incongruous to be a football player and have doubts about his sexual orientation. I don't believe he was as worried about how he'd be perceived as much as how confused he was in his own mind."
For athletes competing at the top level, the need to balance their sexual identity with the demands of what is expected of them as an athlete can prove to be an almost insurmountable challenge.
Current LA Galaxy midfielder Robbie Rogers' burgeoning soccer career — he has made 18 appearances for the U.S. national team — came to an abrupt halt when he made the simultaneous decision to come out and step away from soccer shortly after being released by Leeds United in England in February.
"Gone is the pain that lurks in the stomach at work, the pain from avoiding questions, and at last the pain from hiding such a deep secret," he wrote on his blog, adding it was "time to discover myself away from football."
While Rogers told the Guardian in March that he didn't want to return to the "circus" that might follow him around if he continued playing, he told USA Today that he began to reconsider his decision at a LGBT youth forum held in Portland in April, four days before Collins came out.
"These kids are standing up for themselves and changing the world, and I'm 25, I have a platform and a voice to be a role model," he said. "How much of a coward was I to not step up to the plate?"
While Rogers, 25, described himself on his blog as a "free man" unshackled from fear of judgment and rejection, the disclosure was overshadowed by the fact that Justin Fashanu, the previous soccer player to come out in England, hanged himself four years after he retired in 1994.
No player in England has since said he is gay and carried on playing. Fashanu, who revealed he was gay in 1990, said he had not adequately prepared for the backlash of discrimination and resentment that followed his disclosure, and his career suffered "heavy damage" as a result.
Story continues below slideshow
History was made in October 2012 when active professional featherweight boxer Orlando Cruz of Puerto Rico came out. He said in a USA Today article, "I've been fighting for more than 24 years and as I continue my ascendant career, I want to be true to myself. I want to try to be the best role model I can be for kids who might look into boxing as a sport and a professional career." He continued, "I have and will always be a proud Puerto Rican. I have always been and always will be a proud gay man."

Jason Collins made history in April of 2013 by coming out, making him the first openly-gay professional male athlete in a major sport. Collins is a free agent who has played for the Washington Wizards and the Boston Celtics. "I never set out to be the first," Collins told ABC's George Stephanopoulos during an interview that first aired during "Good Morning America". "You're sort of waiting around for somebody else to, you know, raise their hand. I'm ready to raise my hand but, you know, you still look around like, 'OK, come on, guys.'"

Brittney Griner is the 2013 number one Women's National Basketball Association (WNBA) draft pick and newly Phoenix Mercury player. Though Griner said she was never hiding, she openly discussed her sexuality as a lesbian during an interview with Sports Illustrated in April 2013. The Baylor University basketball player signed an endorsement deal with Nike shortly after coming out.

The 27-year-old U.S. Olympic soccer player spoke frankly about her sexuality in an interview with Out magazine, saying she is a lesbian and in a committed relationship with a woman. While her statement may seem bold, the 27-year-old Rapinoe told Out's Jerry Portwood that she'd just never been asked directly. "I think they were trying to be respectful and that it's my job to say, 'I'm gay,' she said. "Which I am. For the record: I am gay." Rapinoe, who's been dating her girlfriend -- identified in the magazine only as an Australian soccer player -- for three years, also took time to chat about homophobia in sports and, more specifically, female athletes' perspective on the subject. "I feel like sports in general are still homophobic, in the sense that not a lot of people are out," she said. Still, she added, "In female sports, if you're gay, most likely your team knows it pretty quickly. It's very open and widely supported. For males, it's not that way at all. It's sad."

Although his coming out wasn't ideal when news broke that he was facing charges for assaulting a former boyfriend, former San Francisco 49er Kwame Harris spoke out against fellow 49er, Chris Culliver, who said he didn't believe gays had a place in the locker room, saying: "It's surprising that in 2013 Chris Culliver would use his 15 minutes to spread vitriol and hate. I recognize that these are comments that he may come to regret and that he may come to see that gay people are not so different than straight people."

In 2007, Amaechi -- who played at Penn State and spent five seasons in the NBA with Orlando -- identified himself as a gay man in his book "Man in the Middle." Four years later, Amaechi criticized Kobe Bryant after the five-time NBA champion used a gay slur during a game. "There's only one contemporary meaning for that," he said. "We have to take it as unacceptable as a white person screaming the N-word at a black person. I can tell you that I've been called a f--got fairly routinely, and yet people seem to hold off on calling me the N-word. We've got to mirror that progress."

Thomas's decision to confirm his sexuality while still an active rugby player was praised by LGBT rights advocates as a brave move. Though others have since followed suit, Thomas hoped people who eventually consider his sexuality as irrelevant. "What I choose to do when I close the door at home has nothing to do with what I have achieved in rugby," he told The Guardian. "I'd love for it, in 10 years' time, not to even be an issue in sport, and for people to say: 'So what?'"

The Prague-born tennis pro, who came out as bisexual in 1981, is credited with having "expanded the dialogue on issues of gender and sexuality in sports," according to ESPN. "Martina was the first legitimate superstar who literally came out while she was a superstar," Donna Lopiano, executive director of the Women's Sports Foundation, said. "She exploded the barrier by putting it on the table. She basically said this part of my life doesn't have anything to do with me as a tennis player. Judge me for who I am."

The Olympic diver, who took home the gold medal in 2008 in the ten meter platform, revealed his sexuality in an exclusive interview with The Sydney Morning Herald. Mitcham, then 20 years old, credited partner Lachlan with helping him battle depression and emotional burnout in the years before his Olympic triumph.

Glenn Burke became the first former professional baseball player to come out of the closet when he discussed his sexuality in 1982 in an Inside Sports magazine article and on "The Today Show" with Bryant Gumbel. The athlete was drafted by the Los Angeles Dodgers in 1976 to play in the outfield. Out to his family and friends, Burke was soon traded to the Oakland A's and rumors about his sexuality began to swirl. His glass closet case wasn't entirely welcomed in the locker room, and he left the A's shortly after his arrival in Oakland. Burke retired from baseball at the age of 27. "Prejudice drove me out of baseball sooner than I should have," Burke said in an interview with the New York Times in 1994. After that, Burke, who became revered in the Castro, played in Gay Softball World Series and may have even invented the high five, passed away from AIDS in May 1995 at the age of 42. See the full story here.

Balian Buschbaum underwent sexual reassignment surgery in 2008 after retiring from pole vaulting. Buschbaum was Germany's second best female pole vaulter and competed in the 2000 Sydney Olympic Games. After his operation, Buschbaum said, "Courage is the road to freedom. I woke up in complete freedom today. The sky is wide open."

Known as much for his colorful fashion sense as his slick moves on the ice, Weir faced intense media scrutiny over his sexual orientation before finally coming out in his recently published memoirs. "With people killing themselves and being scared into the closet, I hope that even just one person can gain strength from my story," Weir said at the time. "A lot of the gays got downright angry about my silence. But pressure is the last thing that would make me want to 'join' a community."

Unfortunately, the tennis pro's 1981 outing was not her choice; she was forced out when her former female lover sued her for palimony and nearly lost all of her commercial endorsements as a result. But her career was far from over, and in 2000, she became the first open lesbian ever to coach an Olympic team.

Heather Cassils is a Canadian performance artist, body builder and personal trainer now living in Los Angeles. Unlike other artists working in more traditional mediums, Cassils uses her body to investigate issues related to gender, mass consumption and the industrial production of images, among others. Her conceptual pieces, which have been performed in museums and galleries around the world, also highlight transgender or "genderqueer" themes, like in "Cuts: A Traditional Sculpture," for which she spent 23 weeks documenting herself building her body to its maximum capacity by following a strict weightlifting regime, consuming the caloric intake of a 190-male athlete, and taking mild steroids. She also starred in Lady Gaga's "Telephone" video. Earlier this year Cassils told The Huffington Post: "If you're not going to exist as your biologically-assigned gender or you're not operating [as a transgender person] on one end of the gender spectrum, then you end up in that in between space, inviting that scrutiny... I'm trying to push or create a kind of visual language for my subjectivity -- trying to create visual options. You can tap into people's psyches and have them imagine things that they don't yet have words for. I think that's very powerful. I'm trying to create a slippery language, one -- much like my body -- that doesn't fit."

In 1995, the Olympic diving hero (who became the first man in 56 years to win two gold medals in diving when he captured the platform and the springboard events in Los Angeles 11 years earlier) shocked fans when he decided to come out as both gay and HIV-positive on The Oprah Winfrey Show. "People who were close to me -- family and friends -- they knew about my sexuality," he said in 2006. "I just did not discuss my personal life, my sexuality with the media. That was my policy."

Richards is an ophthalmologist, author, and former professional tennis player. After transitioning in 1975, she was banned from playing in the U.S. Open by the United States Tennis Association (USTA) because only biological women were allowed to participate in the tournament. Richards fought the ban and a 1977 New York Supreme Court decision ruled in her favor. She continued to play until 1981. In the fall 2011, a documentary about Richards's life, "Renée," was released.

Three-time MVP Sheryl Swoopes was the first player to be signed to the WNBA when it was created. Not only was she a star on the court she was one of the first high profile athletes to publicly come out.

The Australian hockey champ, who retired this year, came out earlier this week in an emotional YouTube video, The Sydney Morning Herald is reporting. "I regret immensely that I wasn't strong enough as a leader, that I didn't step up when I was playing and share this about myself,'' he is quoted as saying in the video.

Chris Tina Bruce became the first transgender bodybuilding contestant to participate in a competition in San Diego in 2011. Bruce doesn't necessarily identify as male or female, rather as someone who sits in the middle of the gender spectrum. As a motivational speaker, fitness trainer and LGBT-rights activist, Bruce works to increase awareness of gender fluidity and was featured on National Geographic Channel's "Taboo: Changing Genders" in September 2012. Photo Courtesy of Flickr User Chris Bruce.

Originally from Quebec, the Canadian hockey champ decided to stop hiding her sexual orientation while still a freshman at Harvard University. "If they weren't going to accept me on the team," she told The Seattle Times, "I wasn't going to stay."

Formerly of the San Diego Padres, baseball player Billy Bean came out in 1999, five years after he retired. Now, however, he says he has regrets about ending his baseball career after just six seasons. "If I had only told my parents, I probably would have played two or three more years and understood that I could come out a step at a time, not have to do it in front of a microphone," he is quoted by Outsports as saying. "And I was completely misguided. I had no mentor. I think that's where the responsibility comes in for people who have lived that experience, and we take for granted that everybody's adjusted and gets it."

Former NFL player Wade Davis came out in 2012 after leaving the sport. When San Francisco 49er Chris Culliver spewed anti-gay remarks about gay players in the NFL just before taking the stage of Super Bowl XLVII, Davis spoke up against Culliver and said: "I thought, 'Wow, this is going to help us have this conversation during the biggest game of the year,' but then I also thought, 'Wow, there's a lot of players who are closeted in the NFL that are going to go deeper into the closet because of these comments."

The pro-golfer, who won 13 events during her 21 years, came out in a 2004 New York Times editorial. "You see, my sponsor, Olivia, is one of the world's largest and most respected companies catering to lesbian travelers, and this represents the first time a company like this has sponsored a professional athlete -- a gay professional athlete," Jones wrote. "Inherent in this sponsorship is my coming out. It's a bit of a curiosity, because I've never been in the closet. For more than 25 years, I've been very comfortable with the fact that I'm gay...I have never, until now, felt the need to discuss it in the news media."

The champion rider, who competed in six consecutive Olympics, says he's never had much of a problem with being open about his sexual orientation in the equestrian world. Still, as he he told Outsports, "I did not connect my social life to my work life for many years, and while I never ran away from the issue of my homosexuality, I must admit that I had no real interest in bringing attention to it, especially with the press...what changed everything was a combination of meeting my soul-mate Robert Ross, whom I was so proud to be with that I wanted everyone to know, and the AIDS epidemic which affected so many people dear to me."

The South African-born commissioner of World Team Tennis has also been the partner of Billie Jean King for more than 20 years. She also credits King with encouraging her to pursue her career. "I had an opportunity to hit tennis balls with Billie Jean King when she was in South Africa when I was 11," she said. "She encouraged me to pursue my dream, and I did."

Former World No. 1 tennis player, Amelie Mauresmo, was the first openly lesbian on the WTA tour since Martina Navratilova. At only 19, the frenchwoman surged into the 1999 Australian Open finals and with much speculation about her sexuality, Mauresmo also took the opportunity to come out to the national press after she jumped into her girlfriend's arms for making the grand slam final down under. Mauresmo is a two-time grand slam singles champion, winning the Australian Open and Wimbledon in 2006. She also holds an Olympic silver medal from the 2004 Athens summer games.

Kye Allums is the first openly transgender athlete to play NCAA Division I college basketball. He was a shooting guard on the George Washington University women's basketball team until he decided to no longer play. Allums is now busy speaking about his life around the country.

Esera Tuaolo, former NFL player, came out in 2002 in an interview on HBO's "Real Sports." The 6 foot 3 inch, 300 pound athlete became the third former football player to acknowledge his homosexuality after David Kopay and Roy Simmons in 1975 and 1992, respectively.

Ian Roberts is an Australian actor and former professional rugby league footballer. Roberts came out in 1995, making him the first professional Australian athlete and rugby footballer to publicly come out and continue to play in the league.
Soccer has been especially notorious for anti-gay sentiment, with some European leagues still struggling with widespread intolerance. One fan group for two-time defending Russian champions Zenit St. Petersburg penned a letter last year asking the club to refrain from signing black or gay players. "We're not racists, but we see the absence of black players at Zenit as an important tradition," the group said.
Although the LA Galaxy obtained his rights from the Chicago Fire in late May, Rogers initially felt it would be "impossible" for him to carry on playing after his disclosure. But on May 26, exactly 27 days after Collins came out, Rogers made history by becoming the first active, openly gay professional athlete in North America on his return to the playing field.
"It's an event I wasn't sure that I would ever see in my lifetime," said Robert Corb, who stood to give Rogers a standing ovation at the Home Depot Center when he came on in the 77th minute, with the Galaxy already leading 4-0 against the Seattle Sounders.
Corb, the director of the sport psychology program at UCLA and someone who has worked with LGBT athletes for 15 years, said in a phone interview that for years sexuality was not something athletes at a collegiate level discussed. Men didn't come out, and women, who some assumed were gay, didn't talk about it either.
"So thinking that far ahead that a professional athlete would be able to come out and still play, that seemed like a stretch," he said.
Corb said a young gay person between the formative years of 14 and 23 who aspires to become a professional athlete must develop a sense of sexual identity not only as a person, but also as an athlete.
"They've got this athlete identity and then they've got this developing sexual identity, not just of sexual expression but of sexual orientation, and so they're grappling with this and they're at odds," he said.
"If I'm an athlete, it's not okay to be gay or lesbian, and yet that's who I am and experience myself as, so I think it compartmentalizes that they're an athlete and a sexual being but those can't go together."
Corb said most gay athletes who come to him are suffering with a performance related issue. Others have left sports entirely in order to focus on themselves, but Cord said it all boils down to the individual athlete's choice.
"Sometimes they'll come to me feeling like it's not really a choice," he said. "They'll come with the attitude of 'If I'm going to stay on this team, I can't let anybody know how I feel or how I am as a person.' They don't think it's possible to be an athlete who is out. So the first step is to show them that it is possible, which has been difficult in the past because there were no role models."
After he became the first openly gay coach in the U.S. in 1993, Anderson's athletics team were routinely heckled as being "the fag team," and the coach even contemplated suicide to escape the intense isolation and despair he felt. In one event documented from Anderson's book, Trailblazing, which chronicles the adversity his track team faced when he came out at the age of 25 in Orange County, Calif., a football player from the same school approached a runner from the team and pounded his face with punches while sitting on top of him, hurling homophobic slurs, until the runner's jaw was broken.
Much has changed in 20 years.
"Today, young straight men absolutely do not have to be macho, tough, buff, warrior athletes to be respected," Anderson said. "One can still be buff, but one cannot be homophobic without peer disapproval. Masculinity for today's male youth is about social fluidity, getting on with one another and even sharing in 'bromances' with their best friends."
Muddy York rugby player MacDonald has also seen the world change dramatically from when he was young.
As a youth, he appreciated the significance of hockey to kids growing up, but the attitudes and mindsets ingrained in the sport reinforced values of aggression and physicality, while marginalizing those who didn't adapt to this image, he said.
"I was afraid of hockey," said MacDonald, now 28. "It was a rough game and there was this undertone of bullying and aggression and it frightened me, essentially. It put me off really wanting to participate."
In a study published in 2011, Anderson compared the responses of 26 gay male athletes on school-affiliated teams in the U.S. whom he had interviewed between 2000-2002, with an equal number of gay athletes interviewed in 2008-2010. Anderson found that group members who came out in the latter period "had better experiences" and "less heterosexism" after coming out, while maintaining better support among teammates.
According to Anderson, when a gay athlete comes out to his team today, his teammates appreciate him for opening up to them, which, in turn, changes the nature of banter within the dressing room. In addition, straight teammates feel special that this was disclosed, are more protective of their gay teammate and more open with him as a result.
"Thus, gay men in sport seem to promote, not detract, from team cohesion," he said.
Not only are teammates more accepting of gay athletes, so, too, are the sponsors of professional players.
As a case in point, Mark Tewksbury, the gold medalist who set a world record for the 100-metre backstroke at the 1992 Olympics in Barcelona, was bullied in high school with anti-gay slurs. Upon coming out in 1998, Tewksbury lost several lucrative endorsement deals.
In contrast, Collins's disclosure has been welcomed by his only current sponsor, Nike, which plans to capitalize on the potential marketability of his newfound status.
Jeremy Foreshew, a Toronto-based entrepreneur and managing director of GET Out! Canada, said it is nice to hear people like Collins come out with confidence, but "at the same time, talking about the gay player can be very divisive."
"It segregates that person into another category. … It puts pressure on the player, because now they have to justify themselves — if they can play well, then it's okay that they play, but what if the player all of a sudden is no longer good, now he's a bad gay player or is he a bad player?"
Foreshew said that just as gender lines and colour lines are no longer the narrative of sports, stories should be about the sport, not the individual.
"With sports, once we change that language, it's all about being the same, and not being about the same but different," he said.
Chervinsky lauds the emergence of role models such as Collins and Rogers for young people who may not be as involved in sport or who might be afraid to speak out.
"It's certainly indicative of a real sea change, and it's certainly inspiring," he said. A lot of my straight friends' reaction when they heard of some of these things was, 'Really? There wasn't any out gay players before?' because it's not something they look at, and it's not something they think about.
"So I think that as much as it's leading and helping, it's also an indicator of how far we've already come."