Edmonton Oilers Coach Fired Over Skype, Ralph Krueger Says He Was 'Blindsided'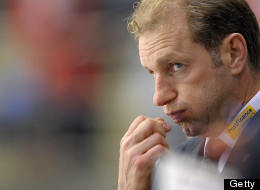 Edmonton Oilers former coach Ralph Krueger was broken up with in possibly the worst way over the weekend: he was dumped over Skype.
Krueger told the Edmonton Sun he was "blindsided" by a conversation with general manager Craig MacTavish over the online call and chat program.
Krueger explained he received a friend request from MacTavish while on vacation at his home in Switzerland Friday. He accepted the request and had a short conversation, no more than five minutes,in which he was informed thathe was fired as head coach, reports Canada.com.
"I'd never been fired in 24 years as a hockey coach and it was the first time I'd had a conversation with Craig MacTavish by Skype," Krueger told the Sun.
"I definitely did not see it coming," said Krueger.
Story continues after the slideshow..
Reaction To Krueger's Skype Firing
Edmonton really didn't fire their coach over Skype, did they? That's like breaking up with a girl over text messages. #Oilers

Not accepting any Skype calls from @Craigmactavish today #oilers

Who fires a head coach by Skype?? #Oilers @NHL

Oilers fired their head coach late over Skype. Stay classy Edmonton.

So it's true that Krueger got fired via Skype? The oilers are in jeopardy of becoming the NHL version of the Clippers. #NHL #oilers

The Oilers fired their coach over skype hahaha. I personally would have just sent him a facebook message

Maybe Ralph Krueger shouldn't accept any more friend requests from #Skype. http://t.co/wPb54AHe3j #You'reFired! #Oilers

Nomination for worst use of new technology? @EdmontonOilers coach fired via Skype. http://t.co/2fWeVL6Zhr

They tried to fire me on Saturday but I don't Skype! #Oilers

A little disappointed to hear that the Oilers fired Krueger over Skype. Could they have not had the decency to #livetweet it as well?

At the very least being fired by Skype is face-to-face, better than a phone call probably #Oilers #nhl

If Ralph Kruger was indeed fired by Skype, then the Oilers are more classless than I thought

Firing a coach by Skype...wrong? Or a sign of the times (technologically speaking)? #Oilers

A 5 minute Skype call is how Ralph Krueger got fired, another classy move by the Oilers, Par for the coarse in Etown #bringbackmess!

Wow talk about cold! Ralph Krueger has become the first coach in hockey history to be fired by #Skype. -Mike #Oilers http://t.co/17i09JyWQt

Got fired from my job today but my boss did it on Skype so it didnt hurt my feelings as much. #oilers

I wonder if every professional sports teams fire coaches over Skype, or if it's just the Edmonton Oilers.
Krueger was fired after just one season on the job, leaving behind a 19-22-7 record — 10 points out of a playoff spot.
"I've quickly come to the conclusion that it's a waste of energy to try to understand," Krueger told the Edmonton Journal.
MacTavish defended his decision to fire Krueger at a news conference Saturday.
"Philosophically, I differ somewhat with Ralph, and it doesn't mean my strategy is right or Ralph's strategy is right," he said.
"But I'm the general manager, and it's my job and my decision to make. That's why I've made that decision."
The unconventional firing raised plenty of eyebrows, but some see it as a move based on practicality.
To be fair, Krueger was at home in Davos, Switzerland. Not sure how many GMs would fly overseas for a 10-minute conversation.

— Mark Spector (@SportsnetSpec) June 9, 2013
Maybe it just me but who really cares how you get fired. Skype , in person , by phone or Hallmark card . Some media make it a big deal .

— Rick Tocchet (@RealRocket22) June 10, 2013
The Oilers are expected to introduce Dallas Eakins as their new head coach at a news conference Monday.