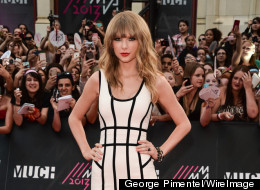 If we've learned anything from from the past decade, it's that the MMVAs 2013 red carpet is going to be one crazy event.
At the Much Music Video Awards we aren't likely to see sweeping Dior ballgowns a la Jennifer Lawrence at the 2013 Oscars or showstopping sexy thigh-high slits a la Jennifer Lopez at the 2013 Grammys or even urban-sophisticated cool a la Carly Rae Jepsen at the 2013 Juno Awards. (And that suits us just fine!)
What can fashion lovers can expect? Avril Lavigne showing off her bum crack, Justin Bieber sporting questionable outfits (and making the ladies swoon by bringing along his little brother Jaxon) and Katy Perry toting mini-Katys with her on the red carpet.
This year at the 2013 MMVAs, we see Taylor Swift, Demi Lovato, Avril Lavigne and more bring it on the biggest block party in Toronto.
Canada's First Couple Of Music went a big predictable in matching black outfits: Avril wore a sexy knee-length dress with a layered detail on her hip while Chad rocked a leather jacket and jeans. But Avril had the best accessory of the night: A spiked headdress! She really is a Punk Princess.

She's a good girl gone bad in a sexy body-skimming black and white number and strappy heels.

The singer wore Hervé Leger.

Well helloooo legs! The newly blond singer takes a risk in a very mini black dress. (Let's hope a slight wind doesn't cause a wardrobe malfunction!)

The former "Smallville" and "V" star proves that white is the new black in a hot thigh-skimming dress with sheer panels.

The Canadian "Arrow" star is handsome in a navy suit and classic striped tie. We love his vintage-looking shoes!

We love the Irish pop duo's fab (if a bit cheesy) style. Faux tuxes and Chucks? Yes please!

The "Glee" star turns up the sex appeal in a revealing LBD that not only shows off her chest but her undies too!

The Canadian "Pretty Little Liars" star vamps it up in a hot crop-top and matching skirt. Those gold capped shoes belong in our closets.

The "Africa" singer goes Full Metal Jacket in combat boots, camouflage pants and a leather jacket. (Don't forget the Gucci belt!)

The "Pretty Little Liars" star goes short and sweet in a bell-shaped mini and plum shoes. So cute!

The "Pitch Perfect" star hits the right note in a sexy but sweet sheer polka dot dress and pink clutch.

The Juno-award winning singer wears some much needed colour on the MMVA red carpet. A bold print maxi dress is the perfect outfit for a fun night.

We're not sure why the singer wore a ripped-up skirt but it works with those sexy leather sandal-boots.

The Juno-award winning Canadian songstress is sophisticated in a sexy LBD with a sheer cut-put and that infamous messy 'do.

The singer goes for a classic tanned blazer and hot black button-up and matching pants. Gotta love this wavy hair!

Loving the hair and the muscle shirt but we're on the fence on that jean vest.

The rock band channels their inner mermaid. (Don't they look great with boobs?)

"American Idol" winner Phillip Phillips goes dapper in tartan and a sleek blazer.

Down With Webster looking supa dupa fly complete with afros, hipster glasses and large chains.

Our favourite Ginger supports the Toronto Blue Jays!

Kardinal Offishall is straight up dope with the white sunnies, blue button-up and fun beaded necklace. But what's with the asymmetrical hair?

The rockers look too cool for school in coordinating blue outfits.