Madonna Instagram Photo: 'Like A Virgin' Singer Wears Chainmail Mask
Madonna is no stranger to controversy but the "Like A Prayer" singer may be pushing some buttons with her latest hijinks.
The ever-evolving star posted a photo of herself wearing a chainmail face mask, which some media organizations have pointed out looks like a niquab – a veil worn by some Muslim women as part of a hijab.
Madge, who was dressed for a photo shoot from an upcoming issue of Harper's Bazaar, captioned the pic: "The Revolution of Love is on…Inshallah [Arabic for 'God willing']."
So what was the polarizing diva trying to say? Was she just showing off some face bling or was the "Justify My Love" songstress making a comment about the oppression of women?
While we don't know what was going through the "Like A Virgin" singer's head, her fans seemed to have no problem with their hero's new accessory.
"Amazing...the Queen Of Pop never ceases to bring it!" wrote one ecstatic fan while another joked " Lady Gaga is noting."
This isn't the first time Guy Ritchie's ex has stirred the pot, so to speak. The 54-year-old was warned by Instagram to follow the company's guidelines which ban photos that show "nudity" or "mature content" and she recently came under fire for using weapons as part of her MDNA tour performances. (And oh yeah, she also likes to take off her clothes.)
When you think about it, the pop star has done worse things, right?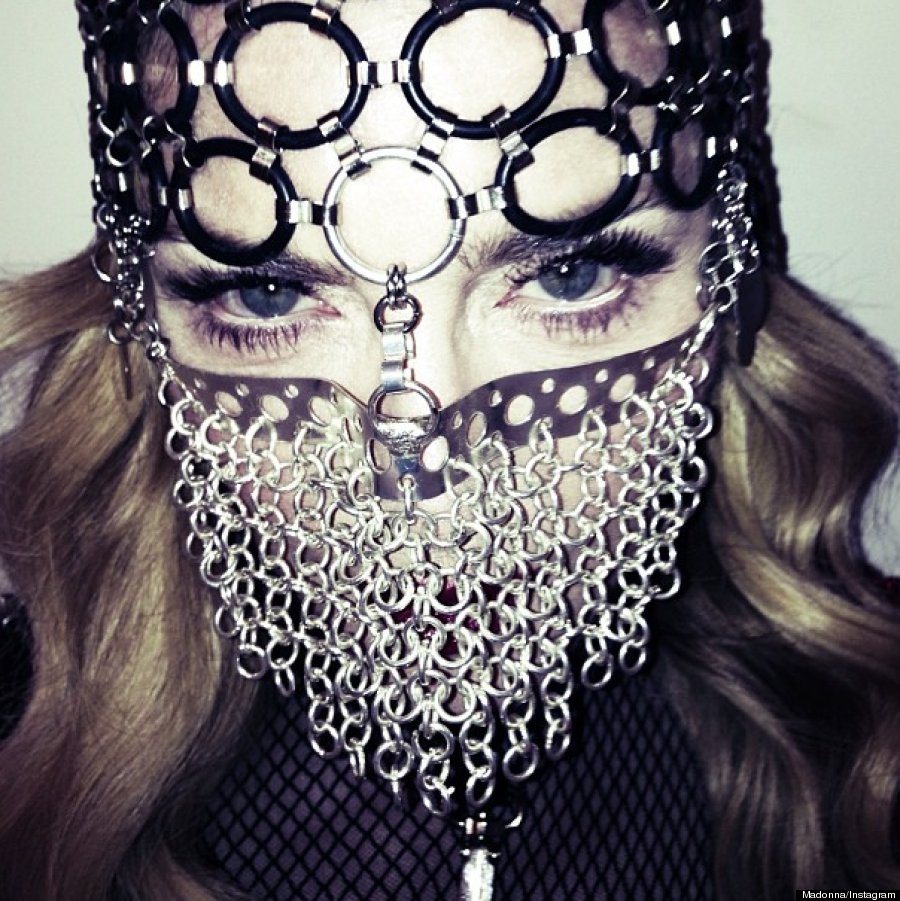 Madonna always loved to provoke:
Madonna Through The Years
Madonna, "The Virgin Tour", June 1985

Madonna performs at Live Aid, July 1985

Madonna on the cover of Playboy, 1985

Madonna performing in Paris, Aug. 1987

Madonna performs during her 'Girlie Show' in Bercy Omnisport Palace in Paris, Sept. 1993

Jan. 1990

Madonna on her "Blonde Ambition" tour, April 1990

Madonna blows the crowd a kiss after receiving the award for Best Female Video 07 September during the 1995 MTV Video Music Awards, Sept. 1995

1996 VH1 Vogue Fashion Awards

Madonna at Vogue Fashion Awards, Jan. 1998

Madonna, "Ray of Light" video, Sept. 1998

41st Annual Grammy Awards, Feb. 1999

Performing at 2000 MTV Europe Music Awards

Madonna, 'Drowned World Tour', July 2001

2003 MTV Video Music Awards -- The kiss that rocked the world.

Madonna, April 2003

Madonna reads from her new children's book "Mr. Peabody's Apples", Dec. 2003

Madonna's "Re-Invention" Tour, May 2004

U.K. leg of Madonna's "Re-Invention" Tour, Aug. 2004

Madonna performs at Live 8 London, July 2005

Madonna and her then-husband, Guy Richie, at the TIFF Gala Premiere of his film "Revolver", Sept. 2005

Premiere Of Madonna's Documentary "I'm Going To Tell", Oct. 2005

Awards Room at 2005 MTV Europe Music Awards, Nov. 2005

Madonna plays G-A-Y at Astoria, Nov. 2005

48th Annual Grammy Awards, Feb. 2006

Madonna plays Wembley Arena during her "Confessions" world tour, Aug. 2006

Madonna performs in Germany in the European leg of her "Confessions" world tour, Aug. 2006

Live Earth London, July 2007

"I Am Because We Are" Premiere at Cannes, May 2008

Madonna performs at Dodger Stadium, with a special appearance from Britney Spears, Nov. 2008

Madonna with daughter Lourdes at the New York premiere of "NINE", Dec. 2009

Madonna holds hands with her adopted daughter Mercy James as she arrives at the 'Raising Malawi Academy for Girls' in Chinkhota, Malawi, April 2010

Macy's "Material Girl" Collection Launch with daughter Lourdes and "Material Girl" model Taylor Momsen, Sept. 2010

2011 Vanity Fair Oscar Party with daughter Lourdes, Feb. 2011

Madonna attends the 'Alexander McQueen: Savage Beauty' Costume Institute Gala at The Metropolitan Museum of Art on May 2, 2011.