Gillian Anderson's 'The X-Files' Days Are Long Behind Her: Actress Goes Glam At Kensington Palace (PHOTOS)
Gillian Anderson may have left Dana Scully behind but "The X-Files" star still looks gorgeous.
The 44-year-old went classic glam at the Fashion Rules exhibition at Kensington Palace on Thursday, wearing a chic strapless WilliamVintage gown which featured a diagonal button-up bustier and an ankle-length pleated skirt.
But where was the "Hannibal" actress' fiery red locks? "The Fall" star seemed to want to leave the past firmly behind her and rocked honey blond hair which she piled high on her head in a messy, but elegant 'do.
Of course, no woman at the Queen of England's home can leave out accessories; the blue-eyed hottie wore a stunning diamond necklace, black peep-toe heels and a cute clutch which we're sure Kate Middleton would covet.
Speaking of the Duchess of Cambridge, wouldn't it have been wild if the royal had gone into labour at Kensington Palace and Gillian had to drive her to St. Mary's Hospital? Okay, we're just dreaming here, but it could be a good idea for a TV show and we would totally cast David Duchovny as Prince William. (Or maybe we just miss Mulder and Scully a bit too much.)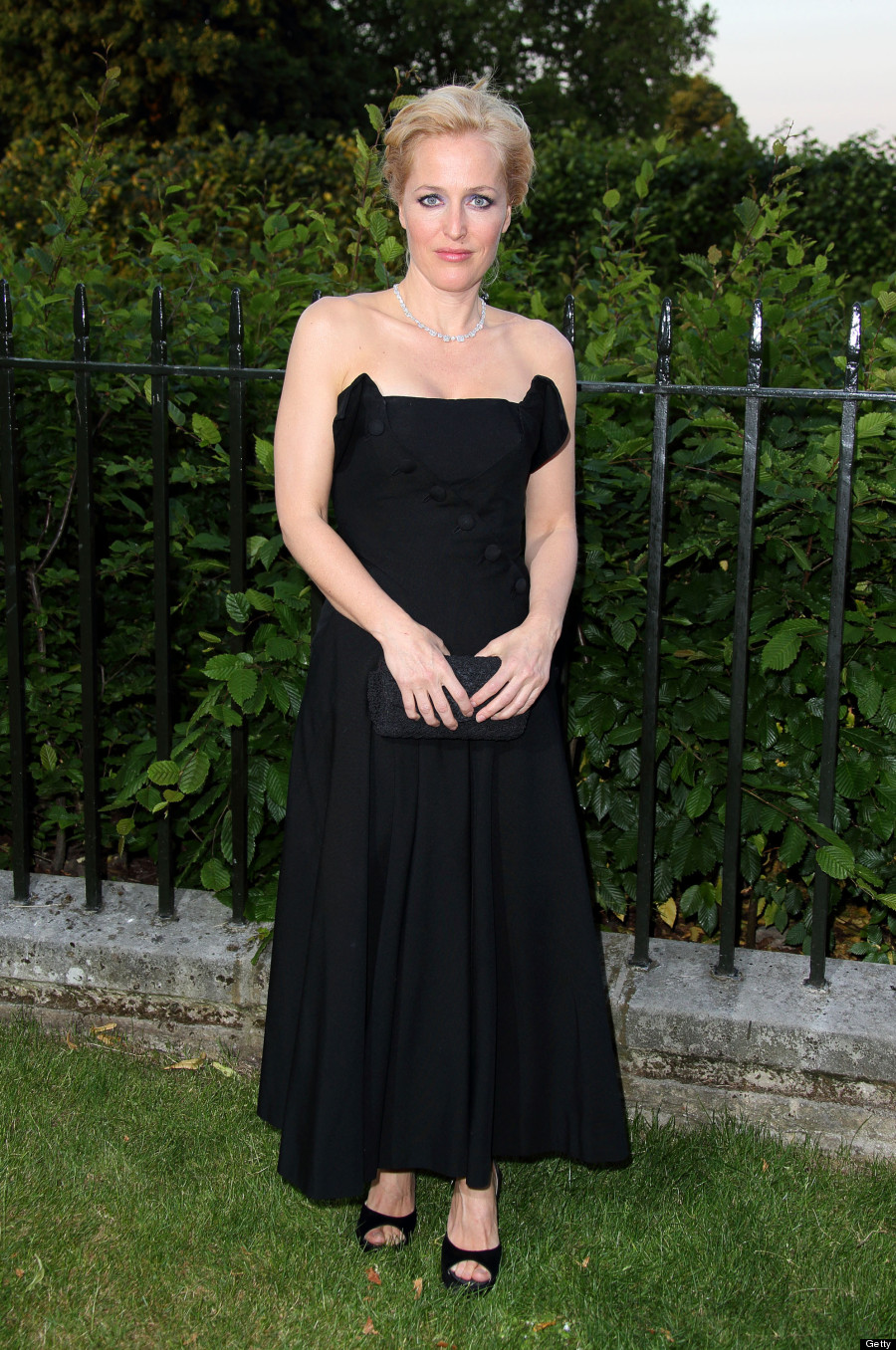 We love you, Gillian!
Gillian Anderson's On-Screen Style
The classic Scully power suit. You want the truth? It wasn't her hottest look ever.

Scully and Mulder: Too busy catching aliens to find a tailor.

Finally Scully shows a bit of flair with her fashion with a cute blue blouse.

Gorgeous red locks, a feathered fan and gloves? Yes, please!

Who is this beautiful flower child?

Don't ruin that gorgeous purple satin gown!

Red upon red upon red? Sure, why not?

What in the world is on her top?

Modern African safari.

A woman with a mission knows to wear a sexy skirt to get what she wants.

We bet a Canadian told her to wear this massive coat.

Never has a coat been sexier.

Ah, pinstripes. Safe, predictable and a bit boring except when you flash some cleavage.

We're not digging that outfit either.

The turtleneck-blazer combination was one of the worst fashion trends of the '90s.