Lea Michele, Cory Monteith's Girlfriend, Wants Privacy After Actor's Death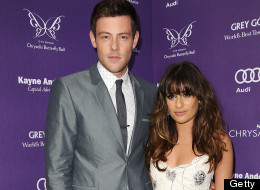 A representative for actress Lea Michele, the girlfriend of recently deceased actor Cory Monteith, has released a statement.
"We ask that everyone kindly respect Lea's privacy during this devastating time," the statement said, according to PerezHilton. com.
Monteith, 31, was found dead Saturday afternoon in a Vancouver hotel room.
He checked into the Fairmont Pacific Rim hotel on July 6 and was expected to check out on Saturday. When he didn't, staff entered his room and discovered his body, Vancouver Police said.
Authorities have not yet determined the cause of death. They have ruled out foul play, and an autopsy is scheduled for Monday.
Both Monteith and Michele starred on the hit TV show "Glee," and the pair had been dating since early 2012.
Monteith recently completed a stint in rehab, during which time Michele expressed her "love and support" for him.
See celebrity reaction to Cory Monteith's death
Celebrities React To Cory Monteith Death
The high-pitched country singer who sold millions of records through ever-present TV ads in the 1980s and 1990s and whose song saved the world in the film comedy "Mars Attacks!," died June 19, 2013 at a Florida hospital. He was 90.

Stapleton, who played Archie Bunker's wife Edith in the TV series "All in the Family," died May 31, 2013 in New York. She was 90. According to the Chicago Tribune, Stapleton's family announced she had died of natural causes.

Ray Manzarek, most known as a founding member of the '60s rock band "The Doors," died May 20, 2013. According to a message posted on the band's Facebook page, Manzarek died of bile duct cancer while in Rosenheim, Germany. He was 74.

Hanneman, a founding member of Slayer, died May 1, 2013 of liver failure. He was 49.

Chris Kelly, one-half of the 1990s rap duo Kris Kross, died May 1, 2013 of an apparent drug overdose. He was 34.

The country music legend died at 81 on April 26, 2013 at Vanderbilt University Medical Center in Nashville, Tennessee. He was hospitalized April 18 with fever and irregular blood pressure.

The folk singer and guitarist, who was the first performer at Woodstock, died on April 22, 2013 at age 72. He died of a heart attack in New Jersey, his family said in a statement.

The raunchy lead singer of the Australian rock band Divinyls whose hit "I Touch Myself" brought her international fame in the early 1990s, died at her home in New York City on April 21, 2013. She was 53 years old. "Christine Joy Amphlett succumbed to the effects of breast cancer and multiple sclerosis, diseases she vigorously fought with exceptional bravery and dignity," her musician husband Charley Drayton said in a statement.

Character actor Richard LeParmentier, who as a young Death Star commander learned the hard way that Darth Vader brooks no disrespect, died April 16, 2013. He was 66.

The comedic film and TV actor died on April 11, 2013 at the age of 87. He passed away of natural causes, surrounded by friends and family.

Former child star Annette Funicello died on April 8, 2013 at the age of 70. The actress, who is best remembered for her time as a Mouseketeer on "The Mickey Mouse Club" from 1955 to 1957, died from complications related to multiple sclerosis, which she was diagnosed with more than 20 years ago.

Legendary film critic Roger Ebert died April 4, 2013, at the age of 70. Two days prior, Ebert revealed on his blog that his cancer had returned and that he would be reducing his reviewing duties at the Chicago Sun-Times.

The 21-year-old "Buckwild" star was found dead in a truck in Sissonville, W. Va., along with two other bodies, on April 1, 2013. It was later said Gandee had died of carbon monoxide poisoning while "mudding," or off-roading through mud, in his 1984 Ford Bronco.

A masterful Grammy Award-winning engineer, arranger and producer whose platinum touch included recordings with Ray Charles, Billy Joel and Paul Simon, Ramone died March 30, 2013 of complications stemming from heart surgery. He was 79.

One of the great British stage actors of his generation, also known for playing grumpy Uncle Vernon in the fantastical "Harry Potter" movies. Griffiths died March 28, 2013, from complications following heart surgery. He was 65.

Former Iron Maiden drummer Clive Burr has died March 12, 2013. He was 56. Burr passed away in his sleep and had suffered poor heath for years after being diagnosed with multiple sclerosis.

A country singer-songwriter and original member of the Louisiana Hayride, King was best known for the 1962 hit "Wolverton Mountain." He died on March 7, 2013, at 90 years of age.

Peter Banks, the original guitarist for the British band Yes, died on March 7, 2013, at the age of 65. A post on his official website stated that Banks died from heart failure and was found in his London home after he didn't show up to a recording session. L-R: Peter Banks, Tony Kaye, Chris Squire, Bill Bruford, Jon Anderson - posed, group shot (Photo by Gilles Petard/Redferns)

The British rock guitarist and founder of the band "Ten Years After," who burst to stardom with a memorable Woodstock performance, died March 6, 2013. He was 68. A statement posted on Lee's official website said he died unexpectedly from complications following a routine surgical procedure. Lee's manager, Ron Rainey, said the guitarist died in Spain.

Bonnie Franklin, the pert, redheaded actress who won fame as a divorced mom on the long-running sitcom "One Day at a Time," has died March 1, 2013 due to complications from pancreatic cancer. She was 69.

Australian producer Adrian Thomas, better known as DJ Ajax, died on the day of his 42nd birthday, Feb. 28, 2013. The Sydney Morning Herald reported DJ Ajax died after he ran out onto a Melbourne road and was hit by an oncoming truck.

Former Motown vocalist Richard Street (top R), a member of the Temptations for 25 years, died on Feb. 27, 2013 at a hospital in Las Vegas after a short illness. He was 70.

Dale Robertson, an Oklahoma native who became a star of television and movie Westerns during the genre's heyday, died Feb. 26, 2013 Scripps Memorial Hospital in La Jolla, Calif., following a brief illness. He was 89.

Former Allman Brothers Band guitarist Dan Toler has died on Feb. 25, 2013, at the age of 65. He passed away in his sleep after a two-year battle with amyotrophic lateral sclerosis, better known as ALS or Lou Gehrig's disease.

Myers, the actor most known for playing Mr. Vernon Gaines on the NBC sitcom "A Different World," died on Feb. 19, 2013 at Charleston Medical Center in West Virginia after undergoing a heart-related emergency and falling into a coma. He was 76.

Harris (far right), a one-time member of legendary Motown group The Temptations, died on Feb. 18, 2013. According to the Baltimore Sun, Harris (born Otis Robert Harris, Jr.) lost his 14-year-long battle to prostate cancer after spending the last three months in the hospital. He was 62. Also in the photo: Richard Street, Melvin Franklin, Otis Williams and Dennis Edwards in 1972.

The country singer was found dead in her Heber Springs, Ark., home on Feb. 17, 2013. The Cleburne County sheriff said in a statement that preliminary autopsy results from Arkansas' state crime lab show McCready's death was a suicide from a single gunshot wound to the head.

Bass player Rick Huxley, one of the founding members of the Dave Clark Five, died on Feb. 11, 2013, at the age of 72. Though the band broke up in 1970, they were inducted into the Rock and Roll Hall of Fame in 2008.

John Kerr, the stage and film actor whose credits include the movie "South Pacific," the thriller "The Pit and the Pendulum" and a Tony Award-winning turn in "Tea and Sympathy," died on Feb. 9, 2013, at the age of 81. He passed away due to heart failure at Huntington Hospital in Pasadena, Calif.

Mark Balelo, an auction house owner featured on the A&E reality TV show "Storage Wars," was found dead on Feb. 11, 2013. He was 40. His death has been declared a suicide.

Jazz musician Donald Byrd, a leading hard-bop trumpeter of the 1950s who collaborated on dozens of albums with top artists of his time and later enjoyed commercial success with hit jazz-funk fusion records such as "Black Byrd," died on Feb. 4, 2013. He was 80. No details have been released regarding his death.

The British actor died on Feb. 1, 2013, just four days shy of his 62nd birthday. He is best known for playing villainous character Ethan Rayne on the hit series "Buffy The Vampire Slayer," but boasts a full resume and will also be remembered for his roles on "Babylon 5" and "Star Trek: Voyager."

O'Connor, Hugh Hefner's longtime secretary who appeared on the reality series "Girls Next Door," died on Jan. 27, 2013.

The actor, best known for his role as drug kingpin Proposition Joe on the critically acclaimed HBO series "The Wire," died January 17th, 2013, of apparent heart failure in his sleep at his home in Northeast Baltimore. He was 52.

Pauline Phillips, who as Dear Abby dispensed snappy, sometimes saucy advice to millions of newspaper readers around the world, died Jan. 16, 2013, in Minneapolis after a long battle with Alzheimer's. She was 94.

Ellis, the director of "Snakes on a Plane," died in South Africa on January 7, 2013. He was 60.

Seattle rapper Freddy E (real name Freddy E. Buhl) died on January 5, 2013, of an apparent self-inflicted gunshot wound. The 22-year-old is believed to have live tweeted the moments leading up to his apparent suicide.

Ned Wertimer (here seen on the left), who appeared on 11 seasons of "The Jeffersons" as Ralph The Doorman, died January 2, 2013, at the age of 89. Wertimer died following health complications at the Sherman Village Health Care Center in California.

Prominent feminist Mary Thom, a writer and former editor of Ms. magazine who also was an avid motorcyclist, crashed while riding on a highway and was killed, her nephew said Saturday, April 27. She was 68.