Canadian telecoms took in more revenue per wireless subscriber than telecoms in any other compared country, according to an international study — but it might be consumers' own habits driving up the prices.
The Wireless Matrix Report, from Bank of America and Merrill Lynch, was released earlier this year, but its data on the Canadian telecom industry is particularly relevant in the midst of a campaign by Telus to keep Verizon out of Canada and an industry ad campaign trying to convince Canadians that, contrary to popular opinion, cellphone services are reasonably priced here.
According to the report, telecom firms in Canada make more revenue per subscriber than in any other developed country (the study looked at 19 developed economies). The average take per customer here is $58.22 U.S. per month, with the U.S. coming in second, at just more than $50.
Compare that to Germany, where revenue per subscriber is less than $20 per month.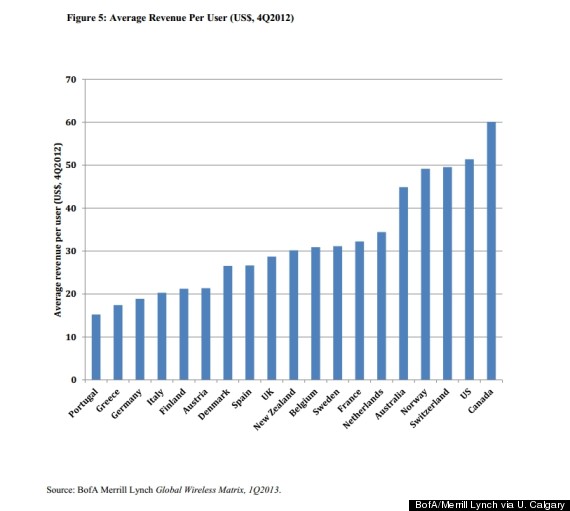 But it could be Canadians' own cellphone-use habits that are driving up those prices. According to the BofA/Merrill Lynch report, Canadians are the heaviest data users of any group surveyed, averaging more than 600 MB of data per month on their cellphones.
Only the U.S. comes close to Canada's record, at just under 600 MB per month. That's compared to about 200 MB per month in Australia and France.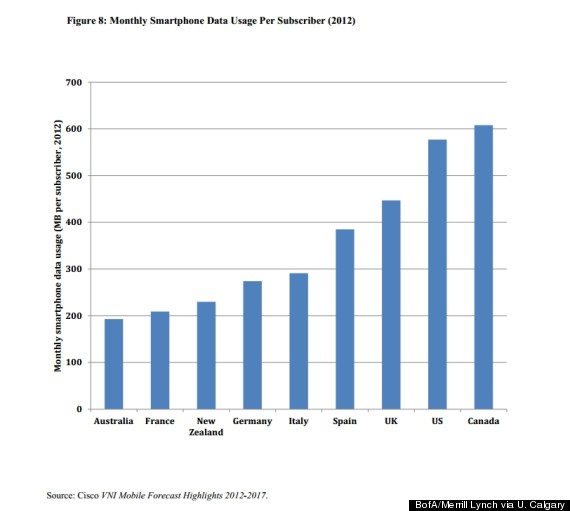 But we here at HuffPost Canada caution you to take this data with a grain of salt. Wireless prices are notoriously difficult to compare because pricing plans, bandwidth and overage fees (or lack thereof) mean there are no apples-to-apples comparisons out there.
And even with something as seemingly simple as comparing this year's prices to last year's, there seems to be no consensus.
Witness, for instance, the Wall Communications report, which the industry has been touting, showing a five- to 13-per-cent decline in wireless prices in Canada in the past year.
Then witness this J.D. Power & Associates report, from a few months earlier, showing the exact opposite — a 13-per-cent price increase over the same period.
Who's telling the truth? Your guess is as good as ours. The point is, this is notoriously difficult data to pin down.
But if the Wireless Matrix Report is any indicator at all, there may be one simple way to reduce your cellphone bill right now — stop using it so much.
Loading Slideshow
Window Phone

Designed by <a href="http://www.yankodesign.com/2009/08/18/phone-that-shames-the-weather-bureau/">Seunghan Song</a>, this "window phone" concept will reflect current weather conditions on the screen. To input text, you just blow on the screen to switch modes, then write with your finger as a stylus.

Cobalto

<a href="http://petitinvention.wordpress.com/2009/11/20/cobalto-zafiro/">Mac Funamizu's "Cobalto"</a> has taken the cell phone concept way into the future, with an almost all-glass design. The phone would feature 3D imaging that could make Google Maps even more useful, as demonstrated here.

Leaf Phone

<a href="http://www.behance.net/Gallery/leaf-phone/325190">Anastasia Zharkova's organic "Leaf Phone"</a> melds aesthetic creativity with functionality. The winding stem of the leaves could be wrapped around a user's arm, wrist, neck, or other body part.

Sticker Phone

<a href="http://www.yankodesign.com/2009/12/03/sticky-phone/">Liu Hsiang-Ling's "Sticker Phone"</a> has a solar panel on the back of the phone and a curved surface that will allow it to stick to a window via suction to charge. Plus, you won't lose your phone somewhere on your desk.

Kambala

A pop-up phone! <a href="http://www.yankodesign.com/2009/06/08/phone-ear-phone-phone/">Ilshat Garipov's "Kambala" </a> is a fascinating concept that features a center piece that can pop out to fit into your ear, making it an earphone. In theory, it will also have the ability to match your skin tone, rendering it almost invisible.

Packet

<a href="http://www.behance.net/Gallery/PACKET-phone/162229">Emir Rifat's "Packet" phone</a> won first place at the Istanbul Design Week 2007. The tiny phone starts off at 5 cm square, then folds out as needed for different functions.

Dial

<a href="http://www.yankodesign.com/2009/11/30/phone-fashion/">Jung Dae Hoon's "Dial"</a> concept takes the rotary phone of the 'good ol' days' and combines it with mobile technology and modern jewelry sensibilities.

Morph

Nokia's "Morph" phone uses nanotechnology to create a flexible body and transparent screen that can be molded to whatever shape is the most convenient for its user. The nanotech could even clean itself.

Natural Year Phone

People tend to keep cell phones for only two years, and <a href="http://www.yankodesign.com/2008/12/08/now-thats-a-grassy-phone/">Je-Hyun Kim's Natural Year Phone</a> concept takes that into consideration. The phone is designed to naturally biodegrade after the two years are up.

Fujitsu Contest "Pebble" Concept Phone

At first glance, <a href="http://www.engadget.com/2009/10/06/fujitsu-cellphone-design-contest-yields-mind-blowing-results-ha/">this entrant</a> into Fujitsu's cell phone design contest looks like an ordinary paperweight. Actually, it's a cleverly disguised phone. As the picture shows, the small black dot can be transformed into a keypad, media panel or web browser depending on what corner of the plastic handset you drag it to.

Mobile Script

<a href="http://www.industrialdesignserved.com/Gallery/Concept-Phone-aoeMobile-Scripta/244692">Aleksander Mukomelov's "Mobile Script"</a> phone starts with a stylish and sleek small screen, then reveals a larger touchscreen hidden within the phone's body to meet all of your media device needs.

Visual Sound

<a href="http://www.yankodesign.com/2010/01/25/deaf-phone/">Suhyun Kim's stylish "Visual Sound"</a> voice-to-text concept phone for deaf people is a huge step from current systems like teletypewriters.

Coca-Cola Powered Phone

Forget solar power, electricity, or fuel: <a href="http://www.huffingtonpost.com/2010/01/10/coke-powered-cellphone-am_n_416839.html">Daizi Zheng's concept phone</a> is powered by Coca-Cola.

Wearable Terminal

NTT DoCoMo's prototype "wearable terminal" brings us one step closer to being cyborgs. You stick your index finger in your ear to hear and speak through the microphone at the back of the wristband, then snap your fingers to connect or disconnect the call.

Pen Phone

This <a href="http://gizmodo.com/320328/pen-phone-design-is-smallest-yet">pen phone</a> is one of the thinnest and smallest phone designs yet. While it's designed to be connected mainly via a bluetooth headset, the top and bottom of the phone do include a receiver and earpiece.

Nokia Flexible Concept Phone

This Nokia concept is made of memory plastic that can be molded to fit around a wrist, for example, then can be heated to return to it's original shape.

Fujitsu Concept Phone

A concept phone from Fujitsu's cellphone design contest.