Earnings Of Famous Canadians: Justin Bieber, NHL Players Take Top Spots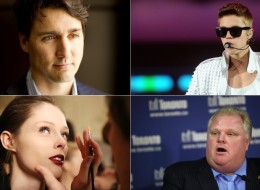 Maclean's magazine did some snooping around recently to uncover who earns what in Canada, in the process coming up with figures, and in some cases estimates, of what numerous famous Canadians earn.
Not surprisingly, celebrities -- entertainment and sports stars, especially those with an American audience -- outshone just about everyone else, save for some of Canada's more heftily compensated CEOs.
Still, it's interesting to see how little Canada's politicians and policymakers make next to those who found success in Hollywood or on the ice. Check out these earnings figures for some of Canada's most famous people:
What These Famous Canadians Earn
The former child star of Anne of Avonlea can earn millions making movies, but 2012 was a slow year for her, Maclean's reports. Busy raising a child, Polley likely only earned $100,000 in the form of an award for her documentary, Stories We Tell. NOTE: An earlier version of this slideshow identified Polley as the child star of Anne of Green Gables. We regret the error.

The mayor of Canada's largest city doesn't draw the largest mayoral salary. Calgary's Naheed Nenshi pulled in $201,839, while Mississauga's legendary Hazel McCallion pulled in $187,057.

The premier of Alberta raked in the largest salary of any premier last year. Ontario's Kathleen Wynne comes in secod, with a salary of $209,272. The range of premiers' salaries is pretty large; at the bottom end, Prince Edward Island's Joe Ghiz took in $136,438, and Darrell Pasloski, premier of Nunavut, took in only $87,631.

The man who would be prime minister earns $160,200 as a Member of Parliament, plus a $54,000 stipend for leading the Liberal Party. Add to that dividends from investments his father, Pierre, left him, plus book royalties and speaking engagement fees (which he has vowed not to charge anymore), and you get about $245,000 in total.

Canada's highest profile hockey commentator took in nearly twice what his Hockey Night in Canada partner, Ron MacLean, earned -- $429,000.

The former Canadian Idol contestant's "Call Me Maybe" was a breakout hit last summer, earning Jepsen millions in royalties.

The Toronto-born supermodel has made money from campaigns for Dior, Dolce & Gabbana, The Gap, Versace, and countless others, but is also making money off hosting Oxygen network's reality show The Face.

The Halifax-born actress has seen her earnings jump considerably since she left Trailer Park Boys to make movies like Inception and X-Men: The Last Stand.

Carrey used to command as much as $25 million per movie back in the day, i.e. two decades ago. How far the elastic-faced have fallen.

The Vancouver native and star of Superbad and Pineapple Express charges much less to appear in a Canadian movie - $250,000.

The Toronto native has seen some of his recent movies -- Crazy, Stupid Love and Drive -- make decent dough, and the actor is now reportedly earning in the seven figures. Not bad for a guy who's mostly made art-house films.

When he's not hosting the National Geographic Bee or chasing down robbers in San Francisco hotel rooms, Alex Trebek takes in a hefty annual sum for hosting Jeopardy, something he's done for 29 years at this point.

The Pittsurgh Penguins captain isn't actually the best-paid player in the NHL. Nashville Predators defenceman Shea Weber will take home $14 million this year, Macleans reports, while Tampa Bay's Vincent Lecavalier will earn $17.7 million.

With eight albums now under his belt, the Burnaby-born crooner is now raking in serious bucks in royalties.

Bieber's ego appears to have caught up with his earnings this year. He was widely accused of disrespecting his fans after showing up late to a London show, and got some nasty publicity with a drug bust on his tour bus. But that didn't stop the 19-year-old from from raking in some seriously big bucks.

THE HIGHEST-PAID CELEBRITIES

Estimated earnings: $110 million Notable project: Beats by Dr. Dre headphones

Estimated earnings: $115 million Notable project: Director, "Pirates of the Caribbean: On Stranger Tides"

Estimated earnings: $130 million Notable project: Co-founder of DreamWorks

Estimated earnings: $160 million Notable project: Director, Transformers: Dark of the Moon

Estimated earnings: $165 million Notable Project: Producer behind "The Dr. Oz Show," "Dr. Phil" and "Rachael Ray"