Justin Trudeau's Marijuana Admission Slammed As 'Poor Example' While Liberals Defend Leader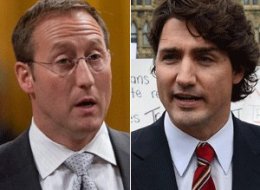 OTTAWA — As Conservatives pounced on Justin Trudeau's admission he smoked marijuana as an MP, saying it is proof he is unfit to govern, Liberal MPs say they believe the public wants an open and honest leader.
Justice Minister Peter MacKay denounced what he called a "profound lack of judgment" from the Liberal leader.
"By flouting the laws of Canada while holding elected office, he shows he is a poor example for all Canadians, particularly young ones," MacKay said in a statement. "Justin Trudeau is simply not the kind of leader our country needs."
Liberal Senator James Cowan defended Trudeau, calling MacKay's comments "ridiculous."
"I don't think that many Canadians will criticize Justin Trudeau for that, and will hold it against that he did what he did, or that he was honest enough to (say it)," the Liberal Senate leader said. "I think Mr. [Stephen] Harper could take a lesson in openness and candour."
Cowan said he thinks people who are turned off by politics will find Trudeau's comments refreshing.
The NDP leader's office told HuffPost Canada late Thursday afternoon that Thomas Mulcair has not smoked marijuana since he was elected to office. He was elected to National Assembly of Quebec in 1994.
In an interview, NDP justice critic Françoise Boivin suggested elected officials should uphold the law rather than admit to flouting it.
"I'm sure there will be kids saying, 'Hey if he does it, we can do it.'"
She said Trudeau's policy on marijuana has been difficult to follow and accused him of coming out with a popular stance to lure younger voters.
"It's more an attention grabber than a serious position," she said. The NDP supports decriminalizing possession of marijuana, while Trudeau moved to support the legalization of pot last November.
In an exclusive interview with The Huffington Post Canada, Trudeau said he last smoked marijuana about three years ago at his home in Montreal.
"We had a few good friends over for a dinner party, our kids were at their grandmother's for the night, and one of our friends lit a joint and passed it around. I had a puff," he said.
Trudeau told HuffPost he's smoked pot five or six times in his life. "It has never really done anything for me," he said. "When the joint went around the room, I usually passed it around to the next person," he said.
"(But) sometimes throughout my life, I've had a pull on it."
When asked about Trudeau's revelation, Harper, who is in Rankin Inlet, Nunavut, on his annual summer tour of northern Canada, said: "For Mr. Trudeau, I think those actions speak for themselves and I don't have anything to add."
Story continues below slideshow
Trudeau's 'Evolution' On Pot Legalization
In 2009, rookie MP Justin Trudeau votes for Bill C-15, which would have imposed mandatory minimum sentences for marijuana-related offences. The legislation passes the House of Commons with the support of both Tories and Liberals but dies after Parliament is prorogued.

In July of 2009, Trudeau is called a "f**cking hypocrite" by marijuana activist, the so-called "Prince of Pot" Marc Emery, who claims the Liberal MP smoked cannabis with him four or five times. "It really pisses me off when I see Justin Trudeau, who took big gaggers with me, is in Parliament actually voting for Bill C-15," Emery says.

In May of 2010, Trudeau tells Maclean's magazine that marijuana decriminalization is a step in the wrong direction. "It's not your mother's pot," he tells Mitchel Raphael of the stronger marijuana grown today. "I lived in Whistler for years and have seen the effects. We all need our brain cells to deal with our problems."

In an interview with ProjectRedDot from the floor of the 2012 Liberal Convention in January, Trudeau says he understands pot is not as dangerous as other legal products like alcohol or tobacco, but expresses concern marijuana still "disconnects" you from the world. "So I don't know that legalizing it – although I totally understand the arguments around removing the criminal elements – I don't know that it's entirely consistent with the society we're trying to build," he says.

Seventy-seven per cent of delegates at the 2012 Liberal convention tell the party's leadership they want a future Liberal government to legalize marijuana. "Frankly, the status quo doesn't work and that's what needs to change," says interim Grit leader Bob Rae. "The Liberal party is saying that the current laws do not work and that we need a new direction."

In November of 2012, not long after launching his leadership bid, Trudeau tells a group of Charlottetown high school students he is a "huge supporter" of marijuana decriminalization. "I think we have to recognize first and foremost that the war on drugs, as it exists right now, doesn't work," he says, adding that the next logical step may be legalization.

In January of 2013, Trudeau tells a crowd in Red Deer that he would seek the full legalization of marijuana in order to tax and regulate it, making it more difficult for young people to access. "When it's illegal and only available in the black market, someone pushing it doesn't check for ID," Trudeau says.

In April of 2013, Trudeau speaks to party members at the Liberal leadership showcase. His speech, titled "Hope and Hard Work," makes no mention of his marijuana policies but does attack the Tory tough-on crime agenda. "The Conservatives have forgotten about the value of service," he says. "The only time they talk about community service these days is when it's punishment for a crime."

About a week later, Trudeau wins the Liberal leadership with more than 80 per cent of the vote. His victory speech makes no mention of pot.

In July of 2013, Trudeau's pot remarks to a group of potential British Columbia voters quickly go viral. "I'm actually not in favour of decriminalizing cannabis -- I'm in favour of legalizing it. Tax and regulate. It's one of the only ways to keep it out of the hands of our kids because the current war on drugs, the current model isn't working," he says.

In July of 2013, Trudeau tweets that marijuana prohibition is "costly and unsafe."

In August of 2013, Trudeau Liberals launch an online petition calling for an end to marijuana prohibition. "Liberals believe in a smart on crime approach, targeting real criminals instead of ordinary Canadians," it reads.

UP NEXT: Gorgeous Shots Of Marijuana
Vancouver Liberal MP Hedy Fry told HuffPost she's always believed honesty does not hurt people.
"When people are looking at a leader of a political party or a member of Parliament or an elected official, I think that people want to know that that person is prepared to be honest with the public, and let the public make the decision," she said.
PEI Liberal MP Lawrence MacAulay said Canadians are ready for a politician who speaks openly but expects the Conservative machine to charge.
"They'll attack him as they always have because he's a threat to their leadership."
Fellow Liberal PEI MP Sean Casey said his leader's comments would be used against him but he believed it was a gamble worth taking.
"The usual suspects will seize this, and will probably use it to raise money," Casey, the party's justice critic, said. "But I frankly, don't think it's going to work. I think that the general public aren't on the same page as the Conservatives on this, and it will be a little bit like the frenzy they tried to create about him taking off his shirt [for a charity auction]."
Casey said Trudeau has been remarkably transparent, first by disclosing his finances and now his experience with marijuana.
"He has consistently said that he wants to do politics differently and the general public has been turned off by how politics has been done -- I honestly think this is a calculated gamble that will work. People are ready for it," Casey added.