Hugh Laurie's Vancouver Jazz Club Set Surprises Audience (PHOTO)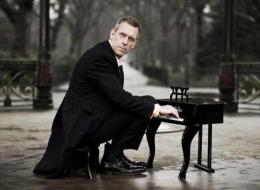 Hugh Laurie surprised Vancouver jazz cats Monday, playing an impromptu set at a Vancouver club.
"Lucky Vancouver," tweeted one jealous fan.
The British actor formerly of "House" fame, was reportedly all smiles at Kitsilano's Cellar Jazz Club on Monday – and audience members have the photos to prove it.
House is in the house! @HughLaurieBlues sits in @cellarjazz pic.twitter.com/iiwISYzKGs

— Vincent Lim (@VanJazzFan) August 27, 2013
Laurie isn't the first celebrity to pay a surprise visit to the Kitislano club: Pierce Brosnan once dropped by, owner Cory Weeds told Metro News.
But his late night musical foray didn't prevent the actor from turning up for work the next morning: on Tuesday, Laurie was spotted at the Vancouver Museum, which has been transformed into a 1950s set for the filming of "Tomorrowland," The Province reported.
Here's how Twitter users reacted to Laurie's jazzy visit:
Hugh Laurie Plays Vancouver Jazz Club
NEXT: Our Biggest Comedy Crushes

Because the only thing foxier than Tim from The Office is Jim from The Office.

The acerbic wit... the devilish glint in his eye... the ruthless pursuit of tabloid journalists... *sighs*.

Bossypants, funnypants, talentedpants, gorgeouspants.

The very epitome of '90s stand-up comedy heartthrobdom.

Like a good wine, he gets drunk easily just gets better with age.

Acting, writing and looking great in a suit and glasses... Is there NOTHING Higson can't do?

The woman of a thousand faces, all of them foxy.

Just when you thought the sexiest half of Flight Of The Conchords couldn't get any hotter - he went and won an Oscar.

Beenie Man's loss was our gain.

The best of Britain and Iran in one fabulous package. Also looks great as a cheerleader.

The puppydog-next-door good looks! The adorabilitiness! All this, plus, he looks great in specs.

The sexiest Python - without ever having to get naked and play the piano.

Funny, smart and you just know he's the sensitive type. Aww.

The cutest one in Bridesmaids and The Office - and probably the best dancer, too.

Sorry, but we couldn't separate them. Although Adam may be ahead by a whisker.

The cheekbones... The floppy hair... The entire nation swoons.

Comedian, actor, writer and director, and the sexiest one in The IT Crowd...

...well, apart from this fella.

Beautiful, funny - and so smart that she even won Celebrity Mastermind. Boom!

Because, in the words of the great jazz album: everybody digs Bill Bailey.

The half of Ricky Gervais And Stephen Merchant that it's OK to fancy.

For all those who like their comedians filthy, as well as funny.

Socialist, panelist, sexiest.

The bad boy to Rob Brydon's nice guy... and you know how much everyone likes a bad boy.

Three little words: our chief Bridesmaid.

The sexiest right-wing parody host since... Wait, we'll get back to you...

Still looking good, despite the lack of yellow dungarees and tiny pigtails.

One of the finest brains in comedy, hiding beneath the finest hair in comedy.

Two beautiful bombshells who have never, ever been afraid of looking silly. And nothing's sexier than that.

But especially Trey Parker. *swoons*

Funny, adorable and one of the best Oscars presenters of the modern era? Oh yes. She's a TRIPLE THREAT.

When he announced his engagement to Victoria Coren, a million brainy girls' hearts broke.

The warm, dreamy face of film and TV comedy... and the voice of Moe in The Simpsons.

Britain's hottest new sitcom star? Literally? Probably.

Sense of humour + cheeky face + a ridiculously successful Hollywood career = HAWT.

The most desirable ventriloquist since Shari Lewis - official.

Never knowingly not funny and sexy in every film he's in. Also: GLASSES.

If loving a vicar is wrong, we don't wanna be right.

He's cheeky! He's a chappy! The ladies love him! The men too, probably.

OK, OK, we admit it. We have a soft spot for anyone who does Ellen's Dance Dare.

In the words of Beyonce: All the single ladies? Form an orderly queue.

No need to explain your desire for this man. Even in French.

Because five nights a week isn't nearly enough.