Naomi Watts Channels Her Inner Princess At 'Diana' Premiere (PHOTOS)
If Princess Diana were watching Naomi Watts saunter around the red carpet on Thursday evening, we're sure she would give a royal nod of approval towards the actress' outfit.
Watts channeled her inner princess on Thursday at the premiere of her upcoming movie "Diana" in none other than London, where the late royal lived, wearing a simple but show-stopping white dress.
And though both women had/have excellent taste in clothes (how could we forget Diana's iconic pearl-encrusted gown?) that's where the similarities end.
The 44-year-old Watts flaunted her red carpet-ready bod in the dress which featured a thigh-high slit and a key-hole cutout which showed off "The Impossible" star's enviable assets.
While the People's Princess wasn't opposed to flashing some skin, Prince William and Harry's mum never wore her neckline too low or her skirt too high. After all, we are talking about the woman who danced with John Travolta wearing a fairly modest gown.
Having to embody the stylish icon would be hard for any actress but Watts seems to be keeping it all in stride, although she admitted to feeling a bit anxious as to how the princess will react.
Watts told the UK's Sunday Times:
"I do care deeply about how the princes feel, of course. I am a mum of two boys. But it was a story that was bound to be told at some point, and it's possibly fresher than people expected."
We can't wait to see the movie!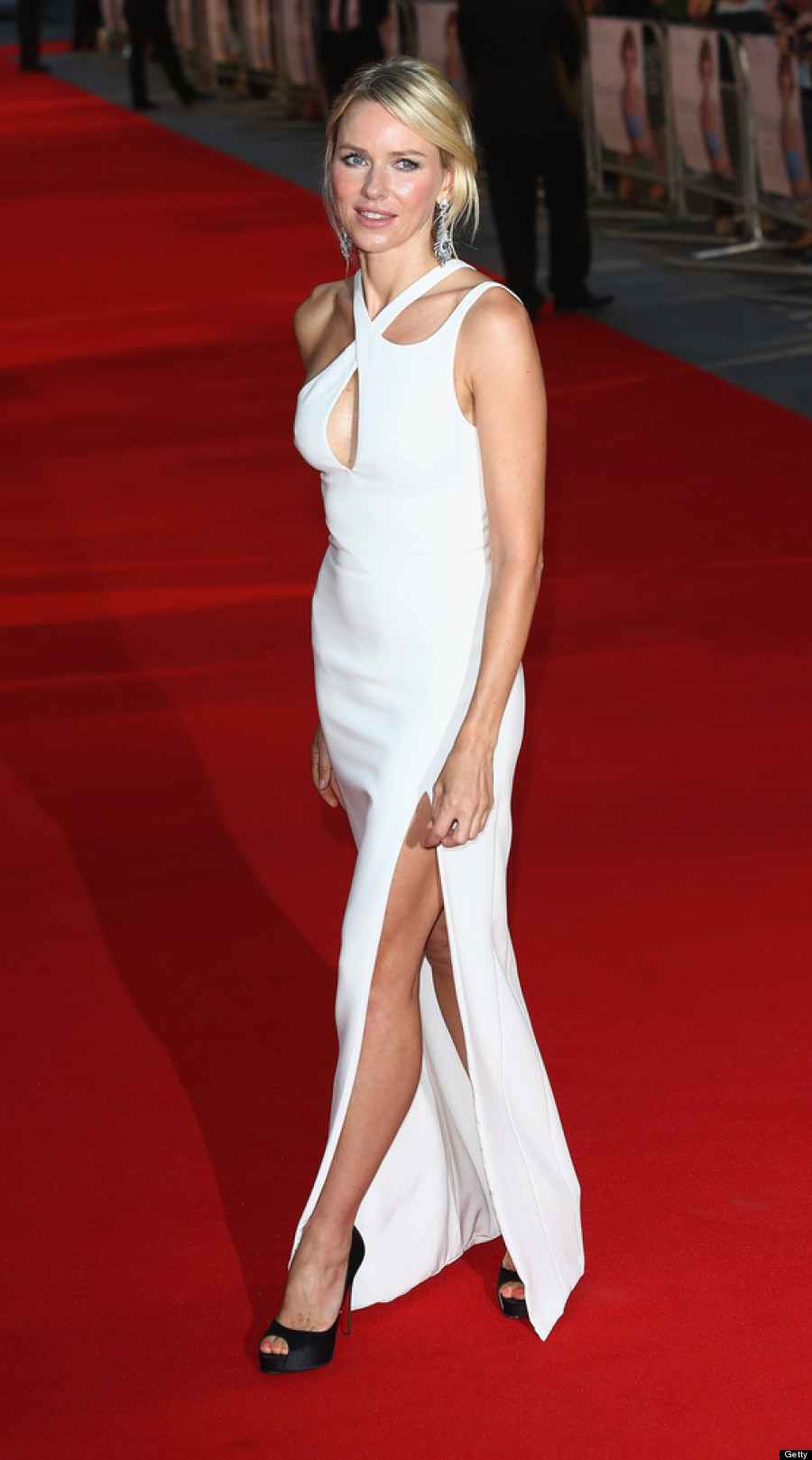 We miss you, Diana:
Princess Diana's Iconic Outfits
It was the LBD seen around the world. A 32-year-old Princess Di stole the show at the Superpentine Gallery benefit wearing a curve-hugging minidress and her famous pearl choker in 1994.

A heavily pregnant Diana watches Prince Charles play polo in 1982 in a long pink button-up nightgown. Even Di could make sleepwear look cute.

A sexy one-shoulder gown was the epitome of Di's flair for fashion. We can't picture Kate Middleton wearing anything like this.

This is the outfit that Di wore when she announced she was pregnant with her first child, Prince William, in 1981. We love the fringe!

The Princess of Wales wears a stunning one-shoulder white and silver gown designed by Catherine Walker. We wish we could wear massive tiaras too.

Di's great friend, the late fashion designer Gianni Versace, designed the Jackie Onassis-inspired pink suit and Philip Somerville designed her chic pillbox hat in 1995.

Every woman wanted to wear this navy velvet dress after Diana was photographed dancing with John Travolta in 1987 at the White House.

The Princess channels Grace Kelly while making an appearance at the Cannes Film Festival.

This sparkler, designed by Catherine Walker, makes us want to go to the disco.

Back when she was known as Lady Diana, before her marriage to Prince Charles, she rocked a piecrust frill, which became a Diana trademark.

It was the wedding dress that was copied around the world. Not only does the gown have the longest train for a royal wedding in history but it is also made of six fabrics including 100 yards of tulle crinoline, 25 yards of silk taffeta and 150 yards of netting for the veil.

Pink gingham trousers and a matching pink jumper? You go, girl!

The Princess favoured dresses that showed off her svelte frame. Di wore this Versace dress to a charity concert in Italy. We doubt the Queen would allow Kate Middleton to wear dresses like this.

Dubbed the "Elvis dress," Diana wore this pearl-encrusted bolero and gown at the British Fashion Awards in 1989.

As rumours of her romance with Prince Charles were beginning to swirl, a covered up Lady Diana Spencer was spotted leaving the Ritz Hotel in London after attending Princess Margaret's 50th birthday party in 1980. We love the hint of pleated pink under her coat.

Attack of the purple! Diana wore this beaded ball gown and her Spencer tiara at a banquet in London.

The lady is a vamp! Diana goes matchy-matchy in Argentina, 1995.

Diana knew the value of wearing a hat for sun protection. Of course, the hat had to match her suit.

Wearing another Catherine Walker creation, the Princess of Wales donned a strapless floral evening gown while in Australia, 1988.

Diana really did love to match her accessories to her dress.

She kind looks like a flight attendant, no?

Diana made military wear chic before Michael Jackson.

Even when she's dressed down, Diana still looks effortlessly chic in tanned slacks, loafers, a button-up white shirt and sunnies. Classic!

On the day they announced their engagement in 1981, Lady Di wore a blue blazer with a matching skirt and a white blouse with a chic neck bow, bought from Harrods, while Charles wore a traditional grey wool suit and tie.

Princess Di was rocking power suits way before Hillary Clinton.