Don't cry for Michelle Stafford. Ever since making the brave decision to exit her iconic role of Phyllis Newman earlier this year after 15-ish years on the number-one soap opera in North America, "The Young and the Restless," the two-time Emmy winner immediately found a new hit part: herself.
Writing, producing and starring on her own comedy web series, "The Stafford Project," the beloved soap opera superstar is not only poking fun at her clumsy charm, demanding single-mother duties, and wacky dating life, but she's also proving she can do more than lash out and cry on cue. Call it a "Staff injection" of LOL hilarity.
Co-starring her daughter, scene-stealing Natalia Stafford, 4, the project has already elicited interest from outside parties and has garnered viral hits galore, critical acclaim and notable high-profile guest stars (Kelly Preston for one, and more to be announced soon).
In a joint interview for HuffPost TV Canada and e-zine Soap Opera Uncensored, Stafford, 48, said she proactively created the surprise hit to prove to casting directors she could throw out a punchline with the best of 'em.
"Initially, my goal was to tell my story about getting pregnant with a surrogate -- and all that came along with that. But I also just wanted to do something comedic because I've worked hard on my skills. I mean, the daytime genre isn't the medium for comedy. Yes, you can be a light, funny character but it's not a comedic medium. The web show is really based on the shows I like watching, like "Curb Your Enthusiasm," "The Larry Sanders Show'"and anything Ricky Gervais does. Unfortunately, a lot of people don't think someone who has done a soap for 15 years is your go-to comedic chick. I wanted to put this out so I could be viewed as a comedic actress."
Be careful what you wish for, Stafford soon learned.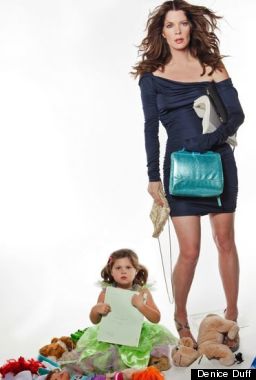 "It's wild now, because we have a lot of people interested in the project and it's gone to another level," she reports. "Now I'm like, 'S--t, what do we do now?!' We didn't prepare for so many people to take to it. When you're doing a show like this, you don't necessarily think of the outcome more than doing something truthful that people can relate to. There are so many people who want to jump on. We have a lot of production companies who want to take us to the next level saying, 'We want to package it and take it to Netflix.' We're like, 'Huh?' So, my partners and I made an agreement to finish the 10 episodes. This way no one can come in and f--k with it. We wanted a complete arc for this character, so people can see the season and get who this woman is. We didn't want anyone to come in and change anything because that's just the worst."
Despite "The Stafford Project" becoming a web sensation, fans are still clamouring for the Emmy winner to return to "Y&R." But that's not happening, which is why she recently tweeted the fact that she went on a "Scandal" audition.
"I know I shouldn't have tweeted that [considering the jinx rule]," she says. "But there are so many fans who tweet me daily about coming back to 'Y&R.' As much as I totally appreciate it, I've moved on. I guess because Phyllis is in a coma, I'd say about 35 percent of fans think I'll come out of it. I'm not, but watch "The Stafford Project." I don't want to hurt anyone's feelings but I'm doing other stuff."
After almost two decades of playing Phyllis, Stafford says life post-"Y&R" is just as busy -- just different. "It's weird, but I'm working a lot," she admits of the drastic schedule change. "It's different and harder. Working on a soap is dialogue-heavy, which is the difficult part. I went on vacation for a long time after I left 'Y&R,' which was really nice. With 'Y&R', I had a lot of certainty: I was getting a paycheque, security and lots of work. But I didn't want to be safe anymore. I think that was brought on by my sister's Stage 3 cancer and taking that journey with her. Being safe is really bulls--t because there is no such thing as 'safe.' I was really looking forward to jumping off the cliff..."
Luckily, the net appeared. Literally.
For more info from Stafford, specifically on her on- and off-screen reunion with former 'Y&R' rival Victoria Rowell, future upcoming "Stafford Project" guest stars and if she'll put herself up for Emmy consideration next year, read more of the interview in Soap Opera Uncensored.
Watch Episode 4 of 'The Stafford Project' co-starring Kelly Preston.
Like this article? Follow our Facebook page

Or follow us on Twitter
Follow @HuffPostCanada


Loading Slideshow
Laura Ceron, Chuny Márquez (15 Years)

Laura Ceron is one of six actors to appear in all 15 seasons of "ER." Ceron played Chuny Márquez starting in the Season 1 episode "Motherhood" and made her final appearance in the series finale "And In the End ..."

Larry Hagman, J.R. Ewing (16 years)

Larry Hagman started playing the infamous J.R. Ewing in 1978 when "Dallas" stormed TV airwaves. The show lasted until 1991 and had two TV movies, one in 1996 and the other in 1998, before being revived by TNT in 2012. Off and on, Hagman has been portraying J.R. for 16 years.

Vicki Lawrence, Thelma Mae Crowley-Harper (16 Years)

Vicki Lawrence originated the character of Mama on "The Carol Burnett Show" in 1974 in "The Family" sketch. The sketch got its own spinoff, "Mama's Family," in 1983. It lasted until 1990 and Lawrence reprising the character from time to time in her comedy acts.

S. Epatha Merkerson, Lt. Anita Van Buren (17 Years)

When Dann Florek departed "Law & Order" in 1993, he was replaced by S. Epatha Merkerson who played Lt. Anita Van Buren. Merkerson stayed with the show until the end, playing the same character for 17 years.

Richard Belzer, John Munch (19 Years)

Richard Belzer originated the role of John Munch on "Homicide: Life on the Street" in 1993. He's appeared on more than nine different shows as Detective Munch, including "Law & Order: SVU," where he's been a series regular for 14 seasons. Belzer has played Munch for 19 years.

Peter Falk, Columbo (19 Years)

Peter Falk became synonymous with the role of Columbo, one he played from 1968 all the way up until 2003. Falk took over the role of Columbo in the TV movie "Prescription: Murder." While he started playing the character in 1968, his appearances were not consecutive -- there were gaps in between episodes and seasons.

Dann Florek, Captain Cragen (19 Years)

Dann Florek first started playing Captain Cragen in 1990 on NBC's "Law & Order." After three seasons, Dick Wolf shook up the show and replaced Florek. He returned for an episode 1995 and again in a TV movie 1998. He joined "Law & Order: SVU" in 1999 and has been with the series since.

Kelsey Grammer, Frasier Crane (20 Years)

Kelsey Grammer originated the character of Frasier Crane on "Cheers" in 1984 and portrayed the character for 20 years on his spinoff, "Frasier," which ended in 2004. Grammer also played Frasier once again in 2008 for a Dr. Pepper commercial.

James Arness, Matt Dillon (20 Years)

James Arness starred in "Gunsmoke" from September 10, 1955, to March 31, 1975, the show's entire 20-year run. Arness also reprised the role of Matt Dillion in five TV movies from 1987 and 1994.

Voice Cast of "The Simpsons" (25 Years)

"The Simpsons" as a series started in 1989 on Fox, but the show originated as a short on "The Tracey Ullman" show in 1987. "The Simpsons" recently started its 24th season and has been renewed through Season 25.

Susan Flannery, Stephanie Forrester (25 Years)

Susan Flannery has been around soaps for years, but her longest run has been on "The Bold and the Beautiful" as matriarch Stephanie Forrester. She was one of the few remaining original actors to appear on the soap before news broke that she was leaving in 2012.

Suzanne Rogers, Maggie Horton (39 Years)

Suzanne Martin has been playing Maggie Horton on "Days Of Our Lives" since the show began in 1973. In 1979, Rogers won a Daytime Emmy for her work on the soap.

Susan Lucci, Erica Kane (41 Years)

Susan Lucci fended off stalkers, kidnappers, marriage proposals and every classic soap opera trope on "All My Children" as Erica Kane from 1970 right until the show ended in 2011. Lucci's 41-year run on the soap also netted her 18 Daytime Emmy nominations and one win.

Erika Slezak, Viki Lord (41 Years)

Like her "All My Children" counterpart, Erika Slezak spent 41 years on her ABC soap, "One Life to Live." While she didn't originate the role of Victoria Lord, Slezak took it over in 1971 and stuck around all the way through the very end in January 2012. She won six Daytime Emmys for her work.

Caroll Spinney, Oscar the Grouch/Big Bird (43 Years)

Caroll Spinney has been with "Sesame Street" from the start. He's played both Oscar the Grouch and Big Bird since 1969, a total of 43 years. He's won multiple Daytime Emmys for his work on "Sesame Street" and two Grammys for related recordings. In 2006, Spinney was awarded a lifetime achievement award from National Academy of Television Arts and Sciences.