Alberta is definitely worried about sexually transmitted infections.
The province has launched a new campaign targeting gonorrhea, with bar posters that feature attractive young people covered in snot.
"A cold isn't the only thing you could catch" is the tagline.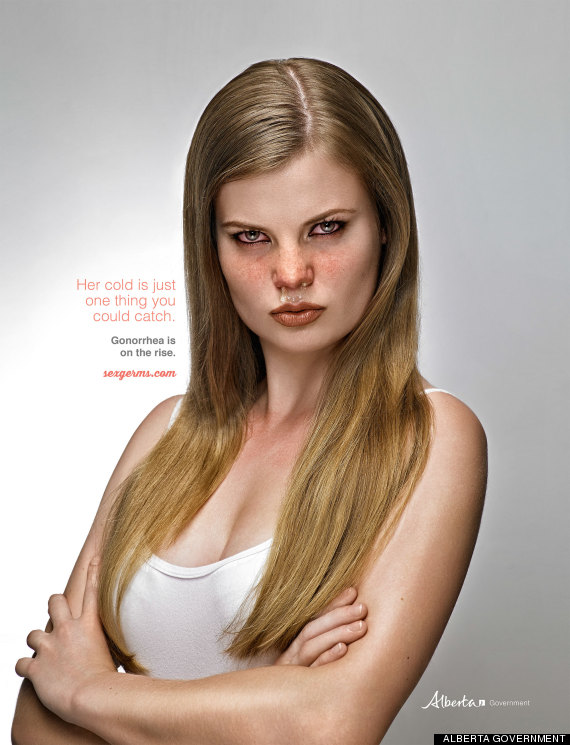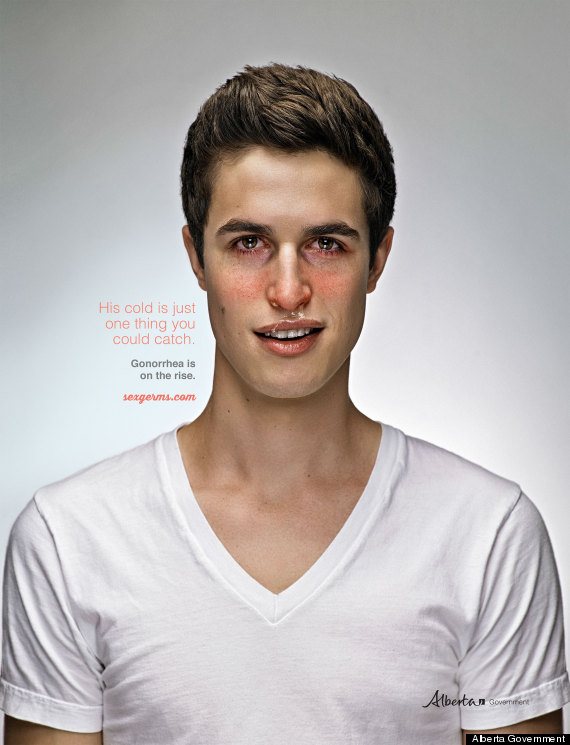 The posters have raised eyebrows, with Buzzfeed calling them "sexy." And while it's true the models look more like "Twilight" vampires than regular people, Alberta has good reason to devote ad dollars to the issue.
Despite a $2 million public awareness campaign in 2011, the rate for some sexually transmitted infections continues to increase. Gonorrhea and chlamydia are of particular concern at the moment.
The 2011 ad campaign may have had some effect though. It targeted Syphilis and rates of infection for that often-overlooked ailment are now dropping.
What do you think of the campaign? Share your thoughts in the comments.
With files from The Canadian Press
Related on HuffPost:
Loading Slideshow
NEXT: 10 Reasons You're Not Feeling Sex

Sleep

A Better Sleep Council survey found that <a href="http://www.huffingtonpost.com/2012/05/17/good-night-sleep_n_1525803.html" target="_blank">12 percent of people</a> would choose a night of solid snoozing over a night of sex. Sometimes you really ARE too tired.

Cellphones

Well done, Apple. Americans are officially more dependent on their iPhones than their sexual desires. Time reported in August 2011 that <a href="http://techland.time.com/2011/08/05/one-third-of-americans-would-choose-cellphones-over-sex/" target="_blank">33 percent of people surveyed by TeleNav</a> said they would give up sex for a week rather than disconnecting from their phone for a week.

Compliments

A 2011 study suggested that college-age men and women would <a href="http://well.blogs.nytimes.com/2011/01/11/choosing-self-esteem-over-sex-or-pizza/?_r=0" target="_blank">prefer to get an ego boost (by way of a compliment or an "A")</a> than have sex.

Bacon

We know that bacon is delicious -- especially when it's crispy -- but is it really worth giving up sex for? According to Canada.com, <a href="http://www.canada.com/health/Many+would+choose+bacon+over/2646366/story.html" target="_blank">43 percent of Canadians</a> said yes. We wonder whether Americans would agree.

Food In General

A 2012 survey from TODAY.com and Match.com discovered that <a href="http://www.today.com/food/survey-1-3-singles-would-choose-food-over-sex-857912?franchiseSlug=foodmain" target="_blank">39 percent of single women</a> would rather give up sex for a year than their favorite food. Honestly, it's a toss-up.

A Lighter Backpack

Given the choice between lugging textbooks around or remaining celibate for a year, <a href="http://www.today.com/id/43912964/ns/technology_and_science-tech_and_gadgets/#.UlRt42SfFGt" target="_blank">25 percent of college students</a> surveyed by education software company Kno in 2011 chose the latter.

The Internet

A <a href="http://www.cnn.com/2008/TECH/12/15/internet.sex.survey/index.html" target="_blank">2008 survey by Intel</a> found that 46 percent of women were willing to forgo sex for two weeks rather than lose their Internet access. Only 30 percent of men would make the same deal.

Youth

Not that many people said they'd trade sex for being young again, but <a href="http://www.huffingtonpost.com/2013/09/04/reverse-aging-survey_n_3868885.html" target="_blank">21 percent of women surveyed</a> by Elizabeth Arden in September 2013 reported that they'd give up sex for a whole year to slow down the aging process.