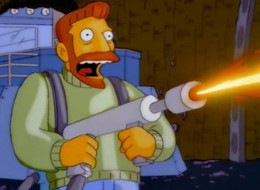 How would you like to wake up one day, and find that you're actually a robot created in a lab a few years ago, and all your memories are fake?
Or how would you like to wake up one morning and discover that the defense program meant to protect you from harm has come alive, and destroyed the world?
These are just a few of the nasty side effects of doing business in the world of fiction. Evil corporations have made their mark on everything from TV shows about vampires, to superhero comic books, to shoot-'em-up video games.
And over the years, quite a pantheon of evil corporations has built up, ranging in badness from the vapidly greedy to the apocalyptically genocidal.
Here are just some of the evil corporations we've come to hate, and why we love to hate them: