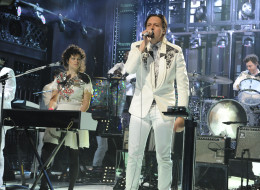 Arcade Fire's upcoming album Reflektor was slated for an Oct. 28 release. Unfortunately, someone leaked it. In response the band made the best of a bad situation and posted the entire album on their YouTube channel.
All 1 hour and 25 minutes of it. The Montreal band have even paired the album to vintage movie footage. We're not gonna say much more. Just hit play above and enjoy!
Pop's reigning queen of the delightfully odd recently revealed seven new songs off her forthcoming album-cum-iPhone-app, and everything we've heard so far suggests "ARTPOP" will be her most diverse outing yet. (She raps with T.I. and Twista and Too $hort makes an appearance!) A lot has changed since Gaga released "Born This Way" two years ago, and Katy Perry's "Roar" handily defeated Gaga's "Applause" in first-week singles sales, but anyone counting Gaga out is probably sorely mistaken.

We'd be remiss if we didn't point you in the direction of Ernest Baker's "Drake album about to be that _____ music" series of tweets (example: "had a conversation with the guy you cheated with to get the full details"), but honestly, we'd be lying if we weren't just plain excited for Aubrey Graham's third studio album. Every song that he's released this summer has been a hit in one capacity or another ("5AM in Toronto," "All Me," "Hold On, We're Going Home," "Started From the Bottom," "The Motion," etc.) and his remix to the Migos' "Versace" became the defining club hit of the summer. Count him out as many times as you want, but if this album impresses, there's no doubt that Drake will be remembered as one of this generation's most dynamic talents in rap.

You've already heard her "Roar," and whether or not Perry's lead single sounds too similar to Sara Bareilles' "Brave," one thing is for certain: Perry will return with some new version of Dr. Luke, Bonnie McKee and friend's golden cocktail of pop hits. Perry's messaging (the burning of her "Teenage Dream"-era wig, etc) seems a bit overbearing for music that has yet to surprise, but perhaps Katy Kat has some tricks up her sleeve.

In a year that's already seen LPs from some of rap's biggest names (Jay, Kanye) and most talked about newcomers (J. Cole, Meek Mill, Wale, etc.), Eminem's project remains something of a holy grail (a different one than JT was singing about). The wildly anticipated project will feature "Berzerk," Eminem's first solid single in a long time that doesn't sound like he's playing preacher. Expect some fire, but whether or not Rick Rubin can fully stoke the embers of Marshall's creative energy to full force remains to be seen.

"Lightning Bolt," Pearl Jam's 10th studio album and first since 2009, is obviously highly anticipated among the band's die hard fans, but it's the newbies who might want to take note. "I think it's a great representation of their work right now," producer Brendan O'Brien told Billboard. "If you like Pearl Jam, you'll love this. And if you haven't listened to Pearl Jam in awhile, I think it's going to bring you in. That's the whole idea." The album's lead single, "Mind Your Manners," is a good representation of that edict: the song is a straight-up rocker that also recalls the band's often experimental work on 1994's "Vitalogy."

There's neither a date nor a title for Beyonce's supposedly forthcoming fifth studio album, but we've seen glimpses of what it could sound like: Anthemic ("Grown Woman"), sugary ("Standing in the Sun") and perhaps even angry ("Bow Down," which likely wont' appear on the album). We've heard rumors of B having collected some of music's biggest heavy hitters around her for the effort, but no matter how many hits The-Dream puts to paper, it's Beyonce who's going to have to pull it all together and give the Beyhive something to rock with.

Oh, Miley. The young star has spent the summer mingling with rappers and slurring her way through songs about doing drugs and not stopping, so expect a handful of Mike Will Made It-produced strip club jams mixed with emotional sing-song anthems like "Wrecking Ball." Cyrus has done a good job of making sure all eyes are on her, and she hasn't done it in the most respectable way, but perhaps on Oct. 8 she'll make good on all the attention-seeking and put out something listenable.

JT couldn't just make one comeback album, he had to make too. Expect plenty of Timbaland's instantly recognizable drum work here, and though it's too early to really tell how the LP will sound, lead single "Take Back the Night" is a strong first offering.

Of all of the work Pharrell Williams has put in this year, "Feds Watching" might just be the most enduring product. The party anthem freakishly told you that you weren't the only one reading your emails and listening to your lover's voice on the phone before Edward Snowden and Glenn Greenwald got around to it, but that's not all surprising given that we're talking about the rapper who brought back leather pants and Versace tees a full year before every other rapper followed suit. Tauheed Epps isn't one to sleep on.

Tim Bergling's first studio album debuted as a bit of a downer. The Swedish phenom behind EDM's largest song of the past half-decade, "Levels," was headlining Miami's Ultra Music Festival when he stopped DJ'ing mid-set to allow for instruments and live performers to come on stage and work through "True," his major label LP that's an interesting blend of soul, folk and dance. The Aloe Blacc-assisted lead single "Wake Me Up" has been an interminable summer anthem, and a number of people who worked on the project have told us that Bergling seems to have pulled off the nearly impossible.

Alex Turner never really became John Lennon (or Paul McCartney), but he's turned into quite a charming Alex Turner. He's said he wants his album to get to a place where he can do things that would be seen as cheesy if they were done by others (his reference for this was Aaliyah, do with that what you will), while also making Real '70s Rock.

Like Lady Gaga, Britney hasn't released a true album since 2011. Unlike Lady Gaga, she's already delivered a full body of work and tried her hand at a number of other careers. There's no official confirmation that Britney's releasing an album on Sept. 17, but a countdown clock on her website suggests that something will happen on that date. And honestly, in a year that sees likes of Cher and Celine Dion chugging some honey tea and jumping back in the ring, why shouldn't Spears step out again?

Cher has been doing more than tweeting up a storm of wildly confusing and enthralling missives. She's also been prepping "Closer to the Truth," her 26th studio album. Cher told the world the LP the best she's ever done, and also hinted that it will most closely resemble 1998's "Believe." The lead single, "A Woman's World," saw the 67-year-old toss together a smattering of wigs and girl-power themes for a competent song that didn't turn too many heads. Stay tuned.

Celine Dion released the title track off her forthcoming LP earlier this week, and the track comes off as a refreshing lightning bolt of a single. The skittering dubstep combined with soaring vocals for something entirely new from Dion, but what's new isn't always popular on the internet, where the song was derided for sounding a bit too much like Beyonce or even Skylar Grey. It's still a refreshing tease, and one would be remiss to forget that Dion knows her way around a microphone.

If a TLC (sans the "L") album doesn't seem like something you're down with, feel free to scoop up Paul McCartney's "NEW," which is out the same week. Macca tapped the likes of Mark Ronson, Paul Epworth and Ethan Johns for the project. It remains to be seen if the Beatle will follow down the dance-inflected path he stepped on with "Out of Sight," his collaboration with the Bloody Beetroots.

A DJ Khaled album is a weird thing, because the producer doesn't seem to do much except get a crowd of usual suspects (Nicki, Wayne, Drake, Ross, Future, rinse, repeat) together for capable club anthems bookended by his incessantly shouted catchphrases ("We the best!" "I'm the best that ever did it!"). In a barrage of Instagram posts, Khaled promises the album will reveal what he has been "threw" and asks that we trust him ("jus kno"). "No New Friends" and "I Wanna Be With You" sound good enough, but unfortunately Khaled's iPhone snaps might be the best thing the producer has ever or will ever do.

Breezy's summer has been anything but, a cavalcade of accusations (some true, others, not) have derailed his do-good mission. The singer has gone so far as to suggest he'll withdraw from the music industry after "X," saying that he's tired of being famous for his "mistakes." "Fine China" impressed his fans and didn't exactly offend those who shy away from Brown's brand of R&B. He's used Aaliyah's voice ("Don't Think They Know") and tapped perennial feature Nicki MInaj ("Love More"), so it will be interesting to see how the rest of the LP includes the Michael Jackson, Stevie Wonder and Sam Cooke influence Brown claims inform the project.

It's hard not to love MIA, who took to Twitter with threats to leak her album and called out Interscope by name over release delays. (Shortly thereafter, the label set a date.) The "Bad Girls" singer seems to be staying mostly in her lane here, as "Bring the Noize" positioned her as the queen of an aggressively partying underground world. But there's always room for something new as well: On "Come Walk With Me," MIA spends half the track sing-songing her way through anti-party messages before flipping the record on its head with a thumping beat. Always fun, right?

The Roots don't really do collaboration albums that aren't worth at least one listen. Last year's "Wake Up!" saw Questlove's band teaming up with John Legend for a memorable outing, and Costello's voice seems like a wonderful foil for the Roots' funky jam-band sensibilities.

Dance music's enduring nice guy sings (for the first time) on his upcoming album's lead single, a bad idea that paid off shockingly well. In theory, DJing for millions of people over tens of years should endow Kaskade (born Ryan Raddon) with some insight into what it takes to make effective dance music, and his recent albums haven't disappointed. It's worth noting, as well, that Raddon took to Twitter to implore fans to consider not doing drugs in the wake of a string of deaths at dance music events. His reasoning was a refreshing burst of sincerity in a party-driven scene. (Raddon himself is sober.)

It's hard to know what's really coming out of the Arcade Fire camp, especially since James Murphy -- the producer who first said he wasn't involved -- hasn't had much to say except that everyone in the group got along well during the creative process. Time will tell.

Johnson dragged himself off a surf board for long enough to record his sixth studio album. His past four LPs have debuted in the Top 3 on Billboard's chart, with the last two debuting at No. 1, so there's a heavy level of anticipation here. But if there's anyone who can stay calm and deliver something sunny enough, though, it's Johnson.

It's been a a long time since anyone has had as exciting of a pop debut as that of Lorde, a teenager who burst onto the scene with "Royals." The track, a snarky tune that sets the best of Lorde's brooding voice against a simple, almost spare arrangement, went off like a gunshot in the blogosphere -- for good reason. Since then, the 16-year-old has released a string of competent tracks and an EP that went platinum three times in Australia -- all while meticulously controlling her image and messaging. Expect greatness.

This album marks John's first solo LP in seven years and will be split across 12 new songs and three interludes. "The Diving Board" is produced by T-Bone Burnett and comes with lyrics from John's longtime collaborator Bernie Taupin. "In many ways, I feel like I'm starting again, making records," John said when announcing the album. "Several years ago when beginning to work with T-Bone and being in the studio with Leon Russell for 'The Union,' I had to ask myself, 'What kind of music do I really want to make?', and I realized that I had to go back to go forward again. I needed to strip away the excesses and get back to the core of what I do as an artist."

The as-of-yet untitled project has already birthed Spanish ("Loco") and English ("Turn the Night Up") singles, a sign that Iglesias may be retracing his own footsteps (2010's "Euphoria was also bilingual). The album will feature Marc Taylor and the Cataracs and is produced by Iglesias' longtime collaborator Carlos Paucar.

It's nice to see sister act HAIM finally have their moment, especially on a project that seems as charming and powerful as "Days Are Gone." "Forever" and "The Wire" tease throwbacks to '70s rock, while the album's title track dips into classic R&B for influences. HAIM's will be a popular album, but don't expect it to be a one-note pop record.

Pop's darling returns with her first-ever holiday album, a mix of classics ("Silent Night") and original tunes for the season ("Underneath the Tree," "Wrapped in Red"). Reba McEntire and Trisha Yearwood stop by for features, giving the project a shot at being a classic Christmas effort.

Abel Tesfaye, the no longer mysterious R&B crooner behind prescription drug-laden bedroom tales of lust and … lust, ups the stakes on "Kiss Land." A heavier project with hints of industrialism, the album sees Tesfaye strive for something new. Blame it on the fact that his earlier work (split across three EPs which were re-released as "The Trilogy" last year), but the singer's voice is too consistently trying to be cool and seductive to approach intrigue. Still, Tesfaye's die-hard fans (however many of them are left), will be impressed with the LP.

It's a good time to be a pop rock band from the mid-oughts. Fall Out Boy blazed their way back into the fore earlier this year, and Panic! is wise to quickly line up behind them. The band doesn't have many of its original members left (the original guitarist and bassist left to form the Young Veins and the group's drummer has taken a break to fight drug addiction), so frontman Brandon Urie basically stands alone. The lead single, "This Is Gospel," serves up exactly what listeners want from Panic! They can get plenty more when they buy tickets to see Fall Out Boy. Urie and whoever he collects for the tour are opening.

In a blog he wrote for The Huffington Post, Sting describes his upcoming LP as a "musical play" and reveals its his first writing effort in eight years. "I'd lost the urge to create -- the urge that had driven me most of my life," he said. "But once I decided to turn these memories of my childhood into a narrative, and began to think of writing for other people -- for other characters, from other viewpoints apart from my own -- the songs came very quickly. I wasn't in the way anymore." As such, he hopes that the album whets the appetite of his listeners for the 2014 play.

It's hard to follow up a smash hit single when you don't have much else to stand on, but Icona Pop has done a commendable job of releasing songs that function nearly as well as "I Love It." Of their latest efforts, "All Night" and the Tupac-quoting "Girlfriend," it's the former that makes the most sense for their brand, and accordingly so, that's one that you'll be hearing the most of this fall.

While Nicki Minaj is probably rap's most featured when it comes to guest verses, Future's hooks are have become the glue that keeps the industry's biggest club hits together. His warbled, robotic voice goes further than T-Pain and drips emotion in way that approaches beauty. "Pluto," Future's 2012 album, was a bit bloated at 15 songs, but if he can match the intensity of "Same Damn Time" with the emotions of the work he put in on tracks like Rihanna's "Loveeee Song," Future could have something special on his hands.

Urban's eighth studio album features duets with Miranda Lambert and Eric Church and was written by over 30 scribe. Stargate, the duo behind Selena Gomez' "Come and Get It," Rihanna's "Diamonds" and a slew of other pop and urban hits, make an appearance ("Shame"), so don't expect typical Urban. The singer said he was inspired when he heard that Bono saw "Achtung Baby" as the opposite of "Joshua Tree." In a word, he told Billboard, the album will be full of "diversity."

The group made up of three brothers (Nathan, Caleb and Jared Followill) and their cousin Matthew ended their last tour abruptly amid rumors of turmoil, making "Mechanical Bull" a highly anticipated return to normalcy. Early reads say it's going to be great.

She's teamed up with the likes of Prince, so Janelle Monae is undoubtedly a force to be reckoned with. Miguel and Erykah Badu also stop by for appearances, pretty much guaranteeing that this is a can't-miss album.

"I don't even know if it's music we would want to listen to," Andrew VanWyngarden told Rolling Stone of MGMT's forthcoming third album. "It's just what's coming out of us. We didn't make a single compromise." That's probably an endorsement, but whether fans are ready for more of MGMT's brand of psychedelic rock (which, it's worth noting, varied wildly between their first and second albums), remains to be seen.

The famed trio remains down a member following the tragic death of Lisa "Left Eye" Lopes in 2002, but T-Boz and Chilli are forging ahead with a compilation album that will also feature some new material. Songs written by Ne-Yo ("Meant to Be") and Lady Gaga ("Posh Life") have already been contributed, but not that much else is known at this time.