Katy Perry Responds To Olivia Wise, Toronto Teen With Brain Cancer Who Sang 'Roar'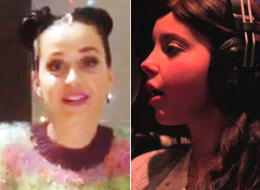 Katy Perry has perhaps seen a myriad of people covering her song "Roar," but few seemed to touch her more than a young Toronto girl named Olivia Wise who is battling brain cancer.
Wise recorded herself singing Perry's "Roar" on September 6 of this year. The YouTube clip (enbedded below) showing Wise in a recording studio performing the song was posted on Oct. 14 and has garnered over 150,000 hits thus far. "She couldn't walk or stand, she didn't have her full breath or the energy she used to, and she was managing her new pains and new limitations," the description says. "While her physical condition was rapidly fading, her spirit remained untouched."
This week, Perry responded via YouTube to Wise's rendition.
"Hey Olivia, it's Katy Perry here," the singer says to start. "I just wanted to reach back out to you and tell you that I saw your video and I was very moved and you sounded great. For being in the studio and making your wish to record that song, I thought that was really cool. I love you and a lot of people love you and that's why your video got to me and everybody that saw it. So I just wanted to send you some love and some light and tell you that I'm thinking about you. Thank you so much, keep roaring."
The Liv Wise Fund has been established in support of brain tumor research. So far the fund has raised $12,574.76 with a goal of $50,000. "Olivia is a fighter!" The fund's page says. "So Brave, So Courageous! She is our Inspiration, our HERO!!"
Best Make-A-Wish Stories Of All Time!
Suffering from neuro-blastoma, 7-year-old Maxwell Hinton only wanted one thing from the Make-A-Wish Foundation: To blow up a building. "I watch 'MythBusters' and they inspired me to blow a building up," he explained. To watch Maxwell's wish come true, click here.

The governor of Colorado named May 14 "Princess Natalie Day" with the crowning of Princess Natalie Wertz, who was born with hypoplastic left heart syndrome. Her wish to become a princess came true, and her dad hopes that it will be the first of many realized dreams. "I think this does give her confidence. I think this gives her hope and motivation," he said. "I think it will give her, if nothing else, something to remember for a long long time." Read Princess Natalie's whole story, here.

In January WWE star John Cena was honored by the Make-A-Wish Foundation for granting the most wishes in the organization's history. "There's nothing greater than seeing a Make-A-Wish child and the Make-A-Wish family get so excited, get so happy and pretty much be welcomed into the escape that is the WWE," Cena told AZFamily.com. "That's pretty much what it's all about for me." Read the whole story, here.

For Chris Ramirez, the wishes didn't stop just because his cancer did. A year after beating a rare brain tumor, the 18-year-old was invited back to watch the L.A. Dodgers baseball team. He had tried out for the team thanks to Make-A-Wish, and was welcomed back graciously as a cancer survivor. "I feel lucky and the Dodgers gave me something to look forward to," Ramirez said. "They said I can always come back." Read the whole story, here.

In 2012 Rachel Murray, a Cleveland teenager undergoing chemotherapy got the surprise of a lifetime when she and her parents sat next to Rihanna at the Grammy's -- thanks to the Make-A-Wish Foundation. "I couldn't believe it when Rihanna walked up to me and said hello," Murray told WKYC.com. "I tried to remain calm but I know I was gushing as I asked for her autograph." Read the whole story, here.