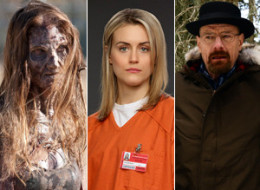 For all the grief travellers give airlines, we have to admit that carriers have made great strides with in-flight entertainment.
Considering the movies and music pre-loaded onto iPads you can rent, screens built into the back of chairs or the tried-and-true overhead monitors, flyers have plenty of glowing rectangles to keep their eyes and minds off the monotony of riding a plane.
But what's a screen without some enjoyable content to watch?
When it comes to choice and selection, travellers are either stuck between a movie they've already seen or another rerun of "Just For Laughs." Thankfully, with the proliferation of smartphones, tablets, laptops, in-flight Wi-Fi and relaxed rules on electronics, packing your own form of entertainment has never been easier.
Factor in the long flight times or unexpected delays at airports and what travellers have now is an opportunity to catch up on a few TV series. You know -- those series your friends are constantly posting ambiguous Facebook statuses about, the ones that have always piqued your interest, but you could never watch because of the lack of time? Yeah. Those series.
If you're not sure on where to start, Huffington Post Canada Travel has picked a few shows that will make those long hours disappear either for their content, format or addictiveness. Of course, when it comes to TV, everything boils down to personal taste, but hopefully there's something for everyone in this collection.
And if there isn't, let us know what you prefer to watch during long flights in the comments or on Twitter at @HPCaTravel.
10 Of The Best TV Shows To Watch On Long Flights
10 Of The Best TV Shows To Watch On Long Flights
Getting busted for drug-related offences is no laughing matter ... unless you're Piper Chapman (played by Taylor Schilling). "Orange Is The New Black" tells Chapman's tale, as she's sentenced to 15 months in prison for transporting drug money belonging to her former lesbian lover. If that sentence doesn't sell you on this show, you'd best move on. There's only one season out so far, consisting of 13 one-hour episodes, and it's only available on Netflix, so make use of those new in-flight electronic rules by streaming everything before Season 2 comes out next year.

It's without the Irish Drinking Song and the good ole' Ho Down, but "Whose Line Is It Anyway?" has returned and it has brought back all the laughs that made it so popular in the early 2000s. The revamped version of the show is only done its first season, but keeps the easily digestible format with fast-paced 30-minute episodes composed of short improvised sketches. Bonus points for starring Colin Mochrie.

What's to be said about "Breaking Bad" that hasn't been said already? If you've never watched an episode, a long flight is an ideal the time to start. You'll be amazed how the drama revolving around a former-cancer-stricken-chemistry-teacher-turned-meth-dealer and his former student could last five seasons, but start now and you'll wonder how all those hours flew by. That and you'll be well prepared for the spin-off series "Better Call Saul."

So perhaps you like raunchy humour mixed with spy adventures but are surrounded by kids on your flight. Well, good news: you can have your M-rated TV show and enjoy it too. The animated take on the life of Sterling Archer, a secret spy best described as a man with the body of James Bond with the mentality of the biggest douchebag you know, ought to get you out of trouble with any curious kids but provide you with enough smart, witty jokes to kill a few hours. Episodes are 30 minutes long with four seasons currently available.

So perhaps you're on a red-eye back home and can't fall asleep. A dark and (relatively) empty cabin makes the perfect atmosphere to watch a horror series. And that's where "American Horror Story" comes in. There's two seasons already out, but what makes the show unique is that each season is a stand-alone, self-contained miniseries, meaning that you can jump right into the second season without having seen the first. Whether you're interested in haunted houses, an asylum for the insane or witch and voodoo, there's something "American Horror Story" has to offer travelling horror fans.

If raunchy humour and horror isn't your thing, "The Legend of Korra" might be a better fit if you want to watch something with your kids while on vacation. The story continues the Avatar series, probably best known as that mediocre M. Night Shyamalan adaptation, but retains the fantastic storytelling and animation that made its predecessor "Avatar: The Last Airbender" so successful. Watching the first series isn't mandatory, but might help with the lore, and it adds to the immersion.

"Community" may have lost its way with the removal of series creator Dan Harmon, but news that he'll be back for Season 5 is what gives fans of the show reason to hope again. The series follows the story of Jeff Winger, a hot-shot lawyer who's sent to a community college after the Bar association discovered his bachelor's degree is fake. Episodes are 30 minutes long and very character-based, but if you can fall in love with the group then you'll enjoy Seasons 1-3. Trust us on this: it's a show that'll "Chang" your life forever.

If you find yourself on a six-hour flight, then you have just enough time to acquaint yourself with Season 1 of "The Walking Dead." The first season comes recommended not only because it sets the tone and mood for the show's protagonist Rick and his crew of survivors, but also because it's just six episodes long. Episodes are an hour in length, and filled with interesting characters, a healthy dose of action and yes, zombies. Lots of zombies.

Before Joss Whedon directed "The Avengers," he created "Firefly," a show best described as a mixture of science-fiction with a Western drama feel. Set in the year 2517, the show follows the the crew of the of the Serenity, a firefly-class spaceship, as they travel across the universe trying to make a new life for themselves. Despite being over 10 years old, the show has retained a strong cult following after it was cancelled during it's first-season run. Episodes are 44-minutes long, so it's possible to watch the entire series during a long-haul flight if you're curious to see why it's number five on TV Guide's list of shows that were cancelled too soon.

If you think travelling with your family can be crazy, perhaps a dose of "Modern Family" will put things in perspective. The show follows the lives of 12 family members, shot in a "mockumentary" style, where the cast regularly talk directly to the camera. It's smart, it's funny and whether it's commenting on same-sex marriage, remarriage or raising a family of five, "Modern Family" will make you glad you're not travelling with a group of 12 to Hawaii.
Like this article? Follow us on Twitter Follow @HPCaTravel