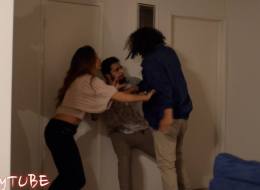 You might think you know what's about to happen in this video, but trust us, you have it all wrong.
We've seen all kinds of cheating pranks online, but this is something we weren't expecting. It starts much the way others do, with a hidden camera set up to fool one person — in this case, a boyfriend who is meant to walk in on his girlfriend with another guy on the couch. But when the boyfriend overreacts and gets a little violent, let's just say nobody expects what happened next.
The video above, which now has over 1 million views in two days, was posted by well-known YouTuber Yousef Saleh Erakat or fouseyTUBE as he is known online. And while most commenters agree the video is pretty hilarious, others aren't so pleased with the prank's originality. But hey, you can't please them all.
Just last week, YouTube prankster Roman Atwood thought it would be a good idea to fool his girlfriend on their 5th anniversary by telling her he was being unfaithful. Turns out, the tables turned and his girlfriend ended up admitting to a fake infidelity.
Were you fooled? Let us know in the comments below
Or follow us on Twitter Follow @HuffpostCaLiv