Kate Middleton Wears Festive Red For Queen Elizabeth II's Annual Christmas Lunch (PHOTOS)
Not even Kate Middleton can escape hanging out with her in-laws during the holidays.
The Duchess of Cambridge was spotted visiting Buckingham Palace with hubby Prince William on Wednesday for Queen Elizabeth II's annual Christmas lunch.
The Princess looked super festive in a bright red coat which looked very similar to an Armani coat she wore during a trip to Scotland in April but we can't be sure since the Duchess could only be seen from the waist up while riding in a car towards the palace.
This year's fun tradition is extra special for the royal family as it is the first time Prince George will be included in the festivities where he will no doubt be coddled by relatives Prince Charles, Duchess Camilla, Prince Edward, Princess Beatrice and of course, the Queen herself.
This pre-Christmas lunch is one of many traditions the Queen puts on before she leaves for Sandringham Estate where the royal family spends Christmas Day.
People magazine reports that for the past few weeks, more than 100 staff members have been preparing for the days-long party which begins on Christmas Eve.
We hope we get a Christmas card!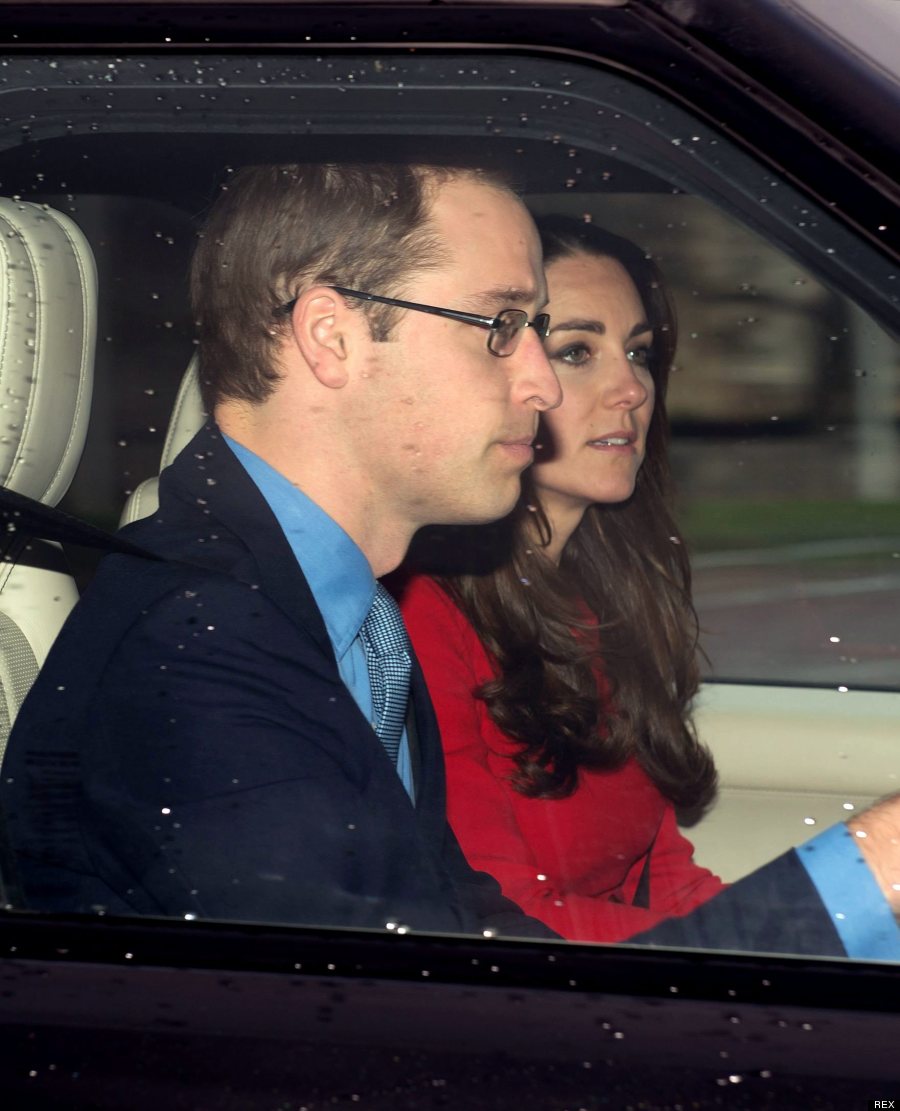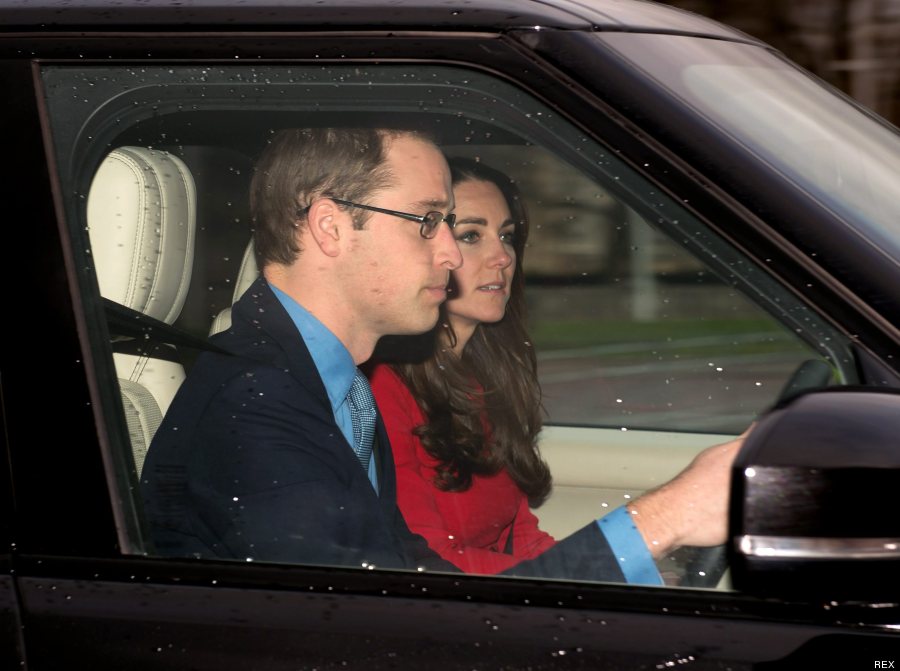 Kate has the best coat collection:
Catherine, Duchess of Cambridge smiles as she arrives for a visit to the Only Connect and ex-offenders projects on November 19, 2013 in London, England. (Photo by Chris Jackson/Getty Images)

At a visit to the Emirates Arena on April 4, 2013 in Glasgow, Scotland. (Photo by Danny Lawson - WPA Pool/Getty Images)

At City Hall on March 8, 2011 in Belfast, Northern Ireland. The Royal Couple are visiting Northern Ireland as part of a tour of the country that a couple of weeks ago took them to St Andrews University in Scotland and Anglesey in North Wales to launch a lifeboat. (Photo by Chris Jackson/Getty Images)

At a Garden Party in the grounds of Buckingham Palace hosted by Queen Elizabeth II on May 22, 2013. (Photo by John Stillwell - WPA Pool/Getty Images)

At a visit to Naomi House Children's Hospice on April 29, 2013 near Winchester, Hampshire, England. (Photo by David Parker/WPA Pool/Getty Images)

At the National Review of Queen's Scouts at Windsor Castle on April 21, 2013 in Windsor, England. (Photo by Ben Gurr - WPA Pool/Getty Images)

At the Astute-class Submarine Building at BAE Systems on April 5, 2013 in Barrow-in-Furness, United Kingdom. (Photo by Chris Jackson-Pool/Getty Images)

At a St Patrick's Day parade by the 1st Battalion Irish Guards as they visit Aldershot Barracks on St Patrick's Day on March 17, 2013 in Aldershot, England. (Photo by Toby Melville - WPA Pool/Getty Images)

Leaving the King Edward VII hospital where she has been treated for hyperemesis gravidarum, extreme morning sickness at King Edward VII Hospital on December 6, 2012 in London, England. (Photo by Fred Duval/Getty Images)

At Cambridge station to pay an official visit to Cambridge with Prince William, Duke of Cambridge on November 28, 2012 in Cambridge, England. (Photo by Leon Neal - WPA Pool/Getty Images)

At Newcastle Civic Centre on October 10, 2012 in Newcastle Upon Tyne, England. (Photo by Samir Hussein/Getty Images)

At Elswick Park where she visited a community garden on October 10, 2012 in Newcastle Upon Tyne, England. (Photo by Samir Hussein/Getty Images)

At the official launch of The Football Association's National Football Centre at St George's Park on October 9, 2012 in Burton-upon-Trent, England. (Photo by Chris Jackson - Pool /The FA via Getty Images)

At a plaque unveiling, as London Mayor Boris Johnson (2nd R) looks on outside Fortnum & Mason store on March 1, 2012 in London, England. (Photo by Toby Melville - WPA Pool/Getty Images)

At Alder Hey Children's Hospital on February 14, 2012 in Liverpool, England. The Duchess of Cambridge is in Liverpool visiting charities in the city without husband Prince William who is serving in the Falklands. (Photo by Paul Edwards - WPA Pool/Getty Images)

In this Friday April 11, 2008. file photo, Britain's Prince William and his girlfriend Kate Middleton walk together at RAF Cranwell, England, after William received his RAF wings from his father the Prince of Wales. (AP Photo/Michael Dunlea, pool, file)

AYRSHIRE, UNITED KINGDOM- MARCH 05: Catherine, Duchess of Cambridge, known as the Countess of Strathearn when in Scotland during a visit to Dumfries House on March 05, 2013 in Ayrshire, Scotland. The Duke and Duchess of Cambridge braved the bitter cold to attend the opening of an outdoor centre in Scotland today. The couple joined the Prince of Wales at Dumfries House in Ayrshire where Charles has led a regeneration project since 2007. Hundreds of locals and 600 members of youth groups including the Girl Guides and Scouts turned out for the official opening of the Tamar Manoukin Outdoor Centre. (Photo by Danny Lawson - WPA Pool/Getty Images)

CHARLOTTETOWN, PE - JULY 04: Catherine, Duchess of Cambridge looks on as Prince William, Duke of Cambridge takes part in helicopter manouvres called 'water birding' across Dalvay lake on July 4, 2011 in Charlottetown, Canada. The newly married Royal Couple are on the fifth day of their first joint overseas tour. The 12 day visit to North America is taking in some of the more remote areas of the country such as Prince Edward Island, Yellowknife and Calgary. The Royal couple started off their tour by joining millions of Canadians in taking part in Canada Day celebrations which mark Canada's 144th Birthday. (Photo by Arthur Edwards - Pool/Getty Images)

CHELTENHAM, ENGLAND - MARCH 14: Kate Middleton, girlfriend of Prince William, arrives at Cheltenham Racecourse on March 14, 2008, in Cheltenham, England. Today was the fourth day of The Annual National Hunt Festival held at the Gloucestershire track. (Photo by Getty Images/Getty Images)

LONDON, ENGLAND - NOVEMBER 19: Catherine, Duchess of Cambridge smiles as she arrives for a visit to the Only Connect and ex-offenders projects on November 19, 2013 in London, England. (Photo by Chris Jackson/Getty Images)