American Apparel Puts Pubic Hair On Their Mannequins In Bid For Valentine's Day Push (PHOTOS)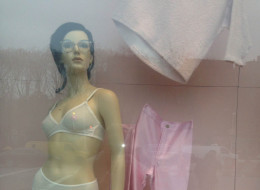 It would be too easy to make a bush joke out of this situation.
American Apparel (the company known for their provocative and a bit sexist advertisements) got the Internet talking again when photos of their unique store mannequins hit the Web.
Gothamist spotted a New York store's mannequins decked out with pubic hair (for reals) and documented the reaction of passers-by, who were "laughing." (No mention of whether these potential customers went into the East Houston Street store and bought the sheer undies which proudly showed off said bush.)
To figure out whether it was a joke or not (because you just never know in these prank-worthy times), our U.S. colleagues spoke with an associate at the store, who said that the mannequins went up early Thursday morning and were supposed to represent the "rawness and realness of sexuality" and help push sales for Valentine's Day. Note to boyfriends/husbands/lovers: Maybe it's just easier to get your significant other some flowers and chocolate?
But we're not surprised that the controversial American retailer is pushing the proverbial envelope: The company ruffled some feathers when they released a shirt illustrated by artist Petra Collins which featured a graphic of a woman's vagina while on her period and they are constantly being accused of exploiting women and sexualizing children in their advertisements which led to their ads being banned in the UK. (Let us also never forget the ad that clearly showed a young woman's pubic hair while modeling sheer panties.)
So, what do you think of these mannequins? Do they make you want to buy American Apparel underwear?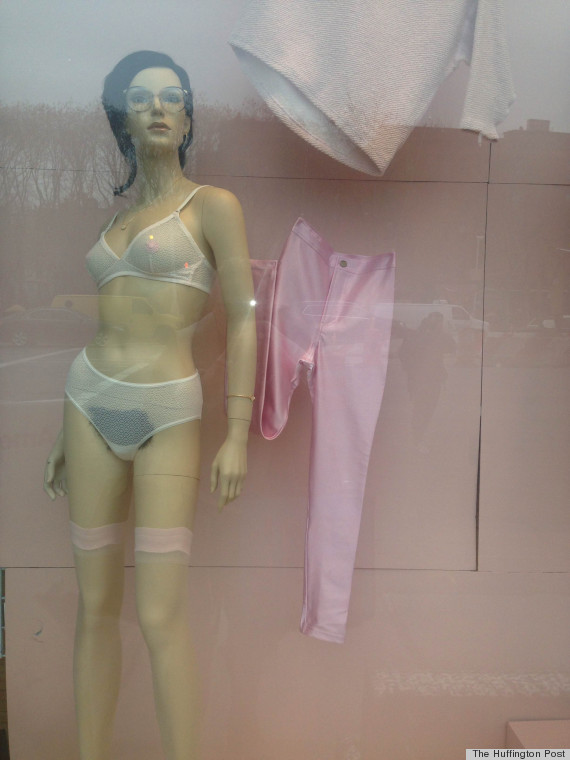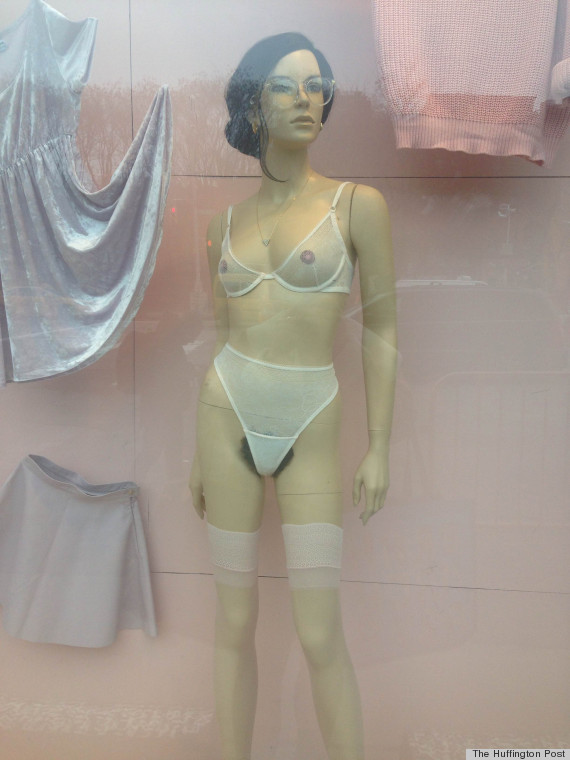 American Apparel isn't the only company who likes to shock:
100 Ads That Got People Talking
Levis.

Saatchi and Saatchi's campaign for The Conservative Party ahead of the 1979 general election.

Durex.

Sisley fashion brand.

Sean John's Unforgivable Woman fragrance.

Linford Christie stars in Kleenex's tissue advert.

Lynx.

BMW.

BaF's anti-domestic violence ad.

Red Tape menswear fashion brand.

Controversial French anti-smoking advert,

MacDonald's.

QSOL service provider.

NSPCC

A German MacDonald's advert.

Heinz.

Cadbury's.

Miquita Oliver in Women's Aid advert.

Advert for Chicolate chocolate substitute.

Skin Burn, anti-smoking ad

Barnardo's.

Tipalet cigarette advert.

Benetton

TG4 television program entitled 'Paisean Faisean'.

Courage beer.

Budweiser.

Barcardi rum.

Amnesty International

Skyy alcoholic drink.

Amnesty International

Amnesty International

Anti binge-drinking advert

Van Heusen

BMW

Pitney-Bowes Postage Meter

Government anti-drug driving advert

Anti-abortion advert

Advert against verbal abuse

Fabrica

Benson & Hedges

American Apparel

Amnesty International

Post-It

An M&C Saatchi advert for St Matthew's in the City in Aukland, New Zealand.

Israel is still angry that the supermodel didn't serve in the army, and they are even more angry that she is in a tourism video for the country.

Wonderbra's infamous advert.