It's one of the most blantant, and quite frankly, shocking instances of racism we've ever seen in the fashion industry.
Russian editor (and street style fav) Miroslava Duma's new online magazine Buro 247 published a photo shoot that featured Dasha Zhukova, the Russian editor-in-chief of Garage magazine, sitting on a half-naked black woman (actually, a mannequin) who's filling in for a chair. Gross, right?
Unfortunately, the image showed up just in time for Martin Luther King day, which was celebrated in the U.S. on Monday. Sigh.
The photo shoot has naturally caused a lot of backlash and anger, which made the editors of the site crop the black woman out of the photo.
Duma posted the photo to her Instagram page before taking it down and posting an apology:
It reads,
"Dear all, Buro24/7.ru team and I personally would like to express our sincerest apology to anyone who we have offended and hurt. It was absolutely not our intention. We are against racisim or gender inequality or anything that infringes upon anyone's rights. We love, respect and look up to people regardless of their race, gender or social status. The chair in the photo should only be seen as a piece of art which was created by British Pop-Artist Allen Jones, and not as any form of racial discrimination. In our eyes everyone is equal. And we love everybody."
But not everyone is buying the apology. Claire Sulmers, the editor of FashionBombDaily.com, writes that the photo's message is of "white dominance and superiority, articulated in a seemingly serene yet overtly degrading way."
We couldn't agree more with this statement and unfortunately this is just one instance among so many that keep popping up in the fashion industry, where it seems as if using black women as props is seen as "art."
Just recently, we've seen fashion editors wear blackface in the name of fun, fashion magazines using models with blackface and appalling photo shoots where black people are used as slaves and servants to white models.
In an industry where Fashion Weeks are just "getting whiter" and seasoned supermodels say the lack of diversity in fashion is worrying, it's clear there is still a long way to go.
What do you think of this photo? Would you consider it racist? Sound off in the comments below.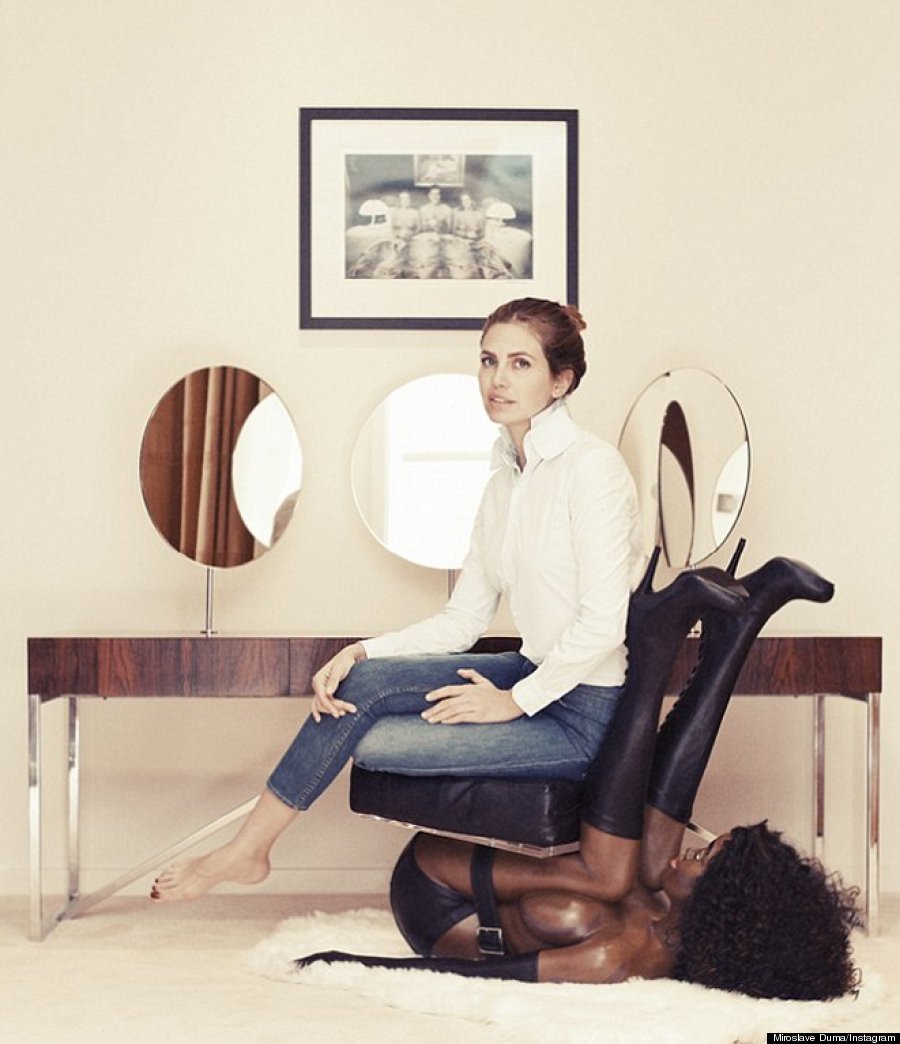 Also on HuffPost:
Loading Slideshow
Oprah is racially profiled in a Swiss store

During an interview with Entertainment Tonight, Winfrey was asked if she had personally experienced racism. She responded with an anecdote about a clerk at a shop in Switzerland who had recently refused to show her an expensive bag, even though she repeated her request multiple times. "That one will cost too much, you won't be able to afford that," Winfrey claimed the clerk told her. <a href="http://www.huffingtonpost.com/2013/08/14/oprah-swiss-racist-interview_n_3759144.html?utm_hp_ref=oprah" target="_blank">Read the full story, here.</a>

Paula Deen and the N-word

The 66-year-old chef a<a href="http://www.huffingtonpost.com/2013/06/25/paula-deen-smithfield-endorsement-over-company-drops-deen-in-wake-of-racist-remarks_n_3495314.html" target="_blank">nd Food Network star admitted in a </a>deposition in a discrimination lawsuit that she used racial slurs in the past. Deen was asked under oath if she had ever used the N-word. "Yes, of course," Deen said, though she added, "It's been a very long time."

Racist tweet from the Atlanta Journal-Constitution

Yes, <a href="http://www.huffingtonpost.com/2013/10/23/atlanta-journal-constitution-racist-tweet_n_4150222.html?utm_hp_ref=black-voices&ir=Black%20Voices" target="_blank">racist tweets will get you in trouble.</a> AJC posted this, deleted it, and had to apologize.

Jordan Davis shooter rants about killing 'thugs'

<a href="http://www.huffingtonpost.com/2013/10/18/jordan-davis-shooter-michael-dunn_n_4123805.html" target="_blank">Michael Dunn, the Florida man charged with shooting 17-year-old Jordan Davis after an argument over loud music, </a>is currently awaiting trial and maintaining that he acted in self-defense the night of the fatal confrontation. In several letters reportedly written from jail, and obtained by News4Jax, Dunn rants about killing "thugs" so "they take the hint and change their behavior," black-on-white crime and the liberal media.

Black college student claims he was arrested for buying designer belt

<a href="http://www.huffingtonpost.com/2013/10/23/trayon-christian-lawsuit-barneys-new-york-nypd_n_4148490.html?utm_hp_ref=black-voices" target="_blank">Barneys New York and the New York Police Department have been slapped with a lawsuit by Trayon Christian</a>, a college student from Queens, who was arrested at the luxury department store in April. "His only crime was being a young black man," Michael Palillo, Christian's attorney, told The New York Post. The Post reports that the 19-year-old was at the store buying a $350 Salvatore Ferragamo belt, but following the purchase, he was stopped by undercover officers that were allegedly called on by a Barneys sales clerk who believed the transaction was fraudulent.

Young woman hosts "African" themed 21st birthday, posts racist photos

A young Australian woman<a href="http://www.huffingtonpost.com/2013/10/21/african-themed-21st-birthday_n_4138573.html?utm_hp_ref=tw" target="_blank"> hosted an "African" themed 21st birthday party</a>. Afterwards, she shared photos that show attendees In blackface and KKK costumes.

Black woman allegedly fired from "Hooters" due to her blonde highlights

A <a href="http://www.huffingtonpost.com/2013/10/22/farryn-johnson-fired-hooters-blond-highlights-_n_4142108.html?utm_hp_ref=black-voices" target="_blank">black woman was allegedly fired from her job because of her blonde highlights.</a> Farryn Johnson told Maryland's CBS News affiliate that she was let go from her job as a waitress at Hooters due to '"improper image" after the 25-year-old refused to remove blonde highlights from her dark brown hair. "They specifically said, 'Black women don't have blonde in their hair, so you need to take it out,'" Johnson told CBS.

Ohio School Apologizes After Attempting To Ban 'Afro-Puffs' And 'Twisted Braids'

<a href="http://www.huffingtonpost.com/2013/06/25/ohio-school-afro-puff-horizon-science-academy_n_3498954.html" target="_blank">An Ohio charter school attempted to ban </a>"afro-puffs and small twisted braids."

Obama as Hitler Billboard

WANE-TV<a href="http://www.huffingtonpost.com/2013/10/15/obama-hitler-billboard-indiana_n_4101322.html" target="_blank"> shared an image of the billboard, which is said to flash with the words "Impeach Obama."</a>

Another Black Shopper Accuses Barneys And NYPD Of Racism

Kayla Phillips, a 21-year-old nursing student from Brooklyn, <a href="http://www.huffingtonpost.com/2013/10/24/barneys-racism-kayla-phillips_n_4155176.html" target="_blank">told the Daily News</a> that she was stopped by police after purchasing a $2,500 Céline bag at the store on February 28. After buying the luxury item with the money from a tax return, the woman left the Madison Avenue store. Three blocks away, she says she was surrounded by four undercover police officers -- two white, one African American and one Asian -- at a nearby subway station.

Company Policy Requires Missouri Woman To Cut Her Dreadlocks To Keep Her Job

Ashley Davis, a 24-year-old from St. Peters, Mo.,<a href="http://www.huffingtonpost.com/2013/10/24/new-company-policy-forces-woman-to-cut-dreadlocks_n_4159369.html?utm_hp_ref=black-voices" target="_blank"> said a change in her company's policy now requires her to cut off her dreadlocks. </a> "I've only been there for two months, and they came up with a policy. I feel like it's degrading," she said.

Macy's Gets Slapped With Racial Discrimination Lawsuit By Black Shopper

The New York Post reports that actor Robert Brown, who's most known for his starring role opposite Sean Connery in the film "Finding Forrester," <a href="http://www.huffingtonpost.com/2013/10/25/macys-racial-discrimination-lawsuit-black-shopper_n_4164823.html?utm_hp_ref=black-voices" target="_blank">has filled a civil suit for an unspecified sum against the luxury retail store and the New York Police Department</a>, citing that he was unlawfully searched by undercover police officers on June 8, 2013. The 29 year old, who is black, was stopped after making a purchase at the Sunglass Hut store located inside Macy's flagship location in New York's Herald Square

Trayvon Martin, George Zimmerman Halloween Costumes

A group costume<a href="http://www.huffingtonpost.com/2013/10/28/trayvon-zimmerman-halloween-costume_n_4170528.html" target="_blank"> features a man dressed as Martin</a>, wearing blackface and a blood-stained hoodie, and a man portraying Zimmerman, wearing a shirt that reads "Neighborhood Watch." In a photo uploaded to the Facebook account of Caitlin Cimeno, the woman in the picture, the man portraying Zimmerman has fashioned a gun out of his right hand and has pointed it at the man dressed as Martin.

Is this sign racist?

An Arkansas town with a reportedly dark past rooted in racial discrimination is pushing back after an "anti-racist" billboard<a href="http://www.huffingtonpost.com/2013/11/07/harrison-arkansas-antiracist-code-word-antiwhite_n_4227769.html" target="_blank"> went up on a major roadway there last month.</a> Someone in Harrison, Ark., is paying $200 a month for an entire year to display this 12-by-24–foot sign with the message "Anti-Racist is a Code Word for Anti-White."