What Is A Cragel?
The hyperbole has begun. After the spectacular success of the Cronut last year, the latest Franken-pastry to take the media by storm is the Cragel which is already being touted as the pastry of 2014 less than a month into the new year.
Created out of Brooklyn bakery shop The Bagel Store, the Cragel is half bagel, half croissant and has gone viral after being picked up by major media and broadcast outlets including USA Today, The Daily Mail in the U.K., and The Late Show with David Letterman.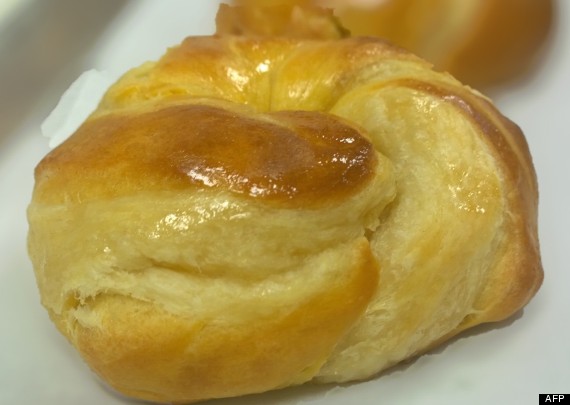 The brainchild of bakery owner Scot Rossillo, the Cragel is described as "a delicate, flaky, buttery croissant" baked into a bagel and costs $2.95 each.
But while the pastry has picked up steam, so far the Cragel doesn't seem to have inspired the same kind of pre-dawn lineups and black market mania seen by pastry chef Dominique Ansel's Cronut, the hybrid croissant-donut which took the world by storm spawning copycats from Europe to Asia.
It seems the foodspotting diviners at Andrew Freeman & Co. called it when they predicted that mash-up foods would become a major trend in 2014.
Also look out for crezels -- croissant-pretzels -- and piessants (pie croissants) to try and share some of the hybrid pastry spotlight.
Picky eaters beware, you may not see as many chicken options on menus anymore. Restaurants are honouring more adventurous eaters and diners' palates with a variety of meat options instead of relying on chicken dishes, which are often dubbed "safe."

Cobb salads will still be popular next year, but forget typical toppings like bacon and chicken breast, and think crispy avocados, jerk chicken and Scotch bonnet peppers.

You may start seeing highbrow peanut butter and jelly sandwiches taking over some joints. In 2014, chefs will be going back to childhood favourites and making high-end versions of classic comfort foods. Think truffle perogies or bacon-leek marmalade poached eggs.

Chefs are suddenly turning into mad scientists and whipping up some not-so-scary kitchen hybrids. We've already seen the popularity of the cronut in 2013, but trends forecast more ramen burgers, souffle and brioche hybrids and even dessert pizzas with Nutella.

Cupcakes and doughnuts won't be as popular going into 2014. Trend seekers are expecting ice cream sandwiches to get all the attention, and hey, we're not complaining.

We won't be seeing that many chips and dip dishes, but we can expect alternatives like fried potatoes, beef tender crisps or crostinis with dip.

Chefs are stepping away from basics like olive oil and getting their hands dirty with oil flavours like avocado, hazelnut and sesame seed. Even mixologists are getting into the groove with oil-enhanced cocktails.

Everything "old" is coming back in style. We're talking about the return of pickling, fermenting and homemade bread, so your grandparents should feel right at home.

Ice isn't just for chilling anymore. Bars will be more likely to infuse their ice cubes with herbs and other ingredients for cocktails.

Expect more vegetarian options and veggies sneaking into your favourite traditional meals and desserts. For example, some restaurants in New York are experimenting with chocolate and eggplant. We're interested.

The next time you want some slow roasted barbecue ribs, you won't have to wait around until the summer. Chefs are taking back classic barbecuing techniques and adding them to restaurant menus.

Yes. You read this right. In 2014, chefs will be experimenting with solid cocktails, or as we like to call them, heatwave healers.

So almond milk comes from ... almonds? Yes. Pasty chefs are going vegan and sticking to nuttier flavours of milk like almond and pecan to make their delectable dishes.

Salmon and shrimp are so 2013 (as well as the decade previous). It looks like we're heading towards restaurant menus featuring everything under the sea, including sea beans and fish cheeks.

If you're looking for ways to cut back on your booze intake next year, this is the perfect concoction for you. Tea, both hot and cold, will be just as popular as alcoholic beverages.