A deer shot with an arrow is walking wounded in Maple Ridge and conservation officers are struggling to find it.
Karen Morris snapped a photo of the suffering animal in a neighbour's yard last Friday after it had apparently been shot with a crossbow, CBC News reported on Wednesday.
"Our neighbour saw it and said the arrow had either come out or snapped off, but it wasn't looking too well," she told the network.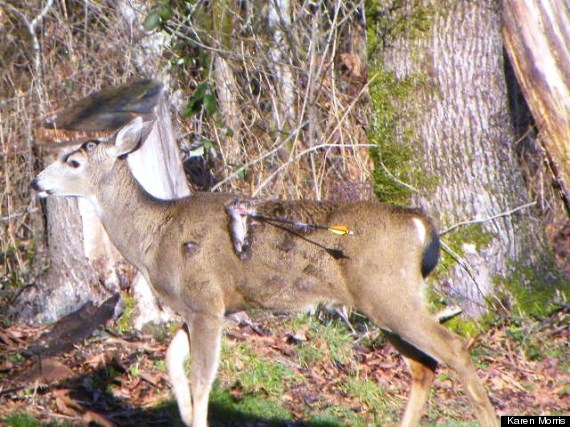 The deer has been hiding in a thicket near Horseman's Park at 224th Street since Jan. 21, The Maple Ridge News reported on Tuesday.
Mark Isaaks spotted the deer on his property last week and told the newspaper that it's looking worse for wear.
"It is extremely wounded and will eventually end up dying a slow and painful death," he said. "The arrow has broken off now and there's yellow pus oozing out of the wound."
Isaaks said he has spotted men wearing camouflage and carrying cross-bows through the park and private property, and is asking neighbours to watch out for "these villains."
He said he used to see four or five deer on his property but that has since fallen to two.
This wouldn't be the first time that deer have been wounded by arrows in the Fraser Valley city. "Urban poachers" have been known to shoot deer in closed hunting seasons, creating a huge safety concern, conservation officer Cody Ambrose told CBC radio, adding that similar incidents have happened in other parts of B.C. and across Canada.
"This could be for the thrill of doing it in a residential area. It could be for the meat," Ambrose said.
Wildlife officials in New Jersey managed to pull an arrow out of a deer's head after tranquilizing it in November 2013.
Also on HuffPost:
Loading Slideshow
Newborn fawn hiding in grass.

The sighting of an albino deer is a rare and magical moment.

Stags with antlers locked in battle during the rut.

Deer can jump over an 8-foot obstacle. Sometimes from a running start they can clear a bit more than that.

Two whitetail bucks venturing out during the rut.

A large stag stops by a truck.

The tails of these whitetail deer are ready to go up, a signal that danger is near.

Deer keep their distance and remain fully alert around humans.

A whitetail doe and buck.

Stags prepare to fight during the rut.

The majority of Key deer in the Florida Keys are found on two islands -- Big Pine and No Name Key

Whitetail deer getting ready to run.

Key deer fawn, about four weeks old.

Cornell ecologist Bernd Blossey sets a trail cam to record deer behavior.

Cornell ecologist Bernd Blossey observes how deer handle an unexpected threat.

Key Deer crossing sign.

Deer in front of house.