Justin Bieber Mugshot: Singer Arrested For DUI, Drag Racing (PHOTOS, VIDEOS)
Miami Beach police have released mug shots and arrest forms for singer Justin Bieber.
Bieber appears relatively put-together in the mugshot, with glassy eyes and mussed hair. See the full-sized mugshots below.
Justin Bieber was arrested and faces charges of driving under the influence and drag racing. Miami Beach confirmed the arrest of the 19-year-old Canadian singer on Thursday morning.
Front View: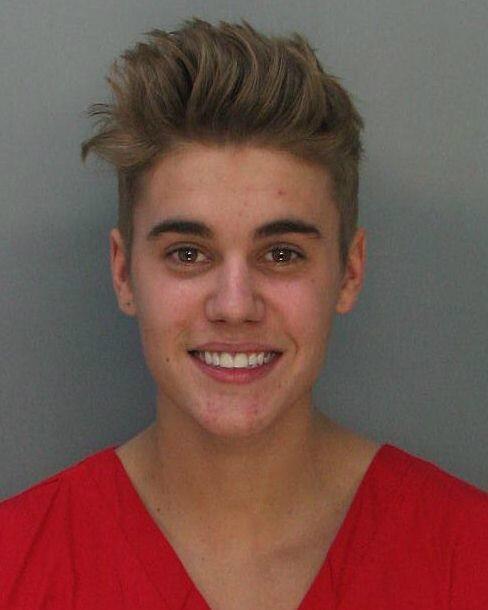 Side View: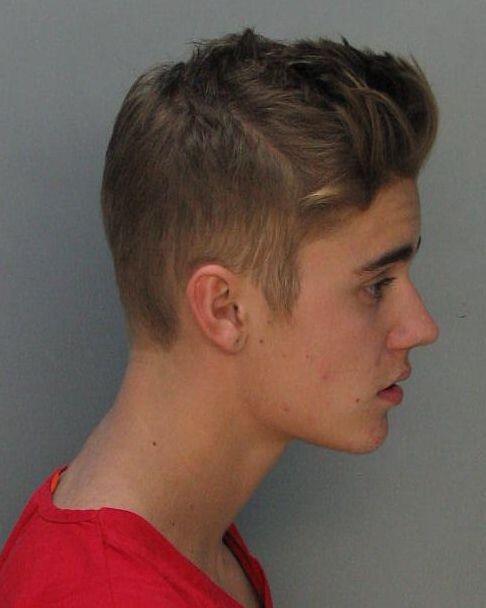 TMZ has acquired video of the arrest, showing Bieber's entourage and a yellow Lamborghini that the singer was reportedly renting.
This is not Bieber's first run in with the law this month. The Canadian teen idol had his home raided by police in California after the singer was accused of egging a home. Lil Za, a singer and friend of Bieber's, was arrested on cocaine possession.
Bieber's Best (Read: Worst) Moments of 2013
In an example of saying something you never should, Bieber tweeted that The Black Keys' Patrick Carney should be "slapped around haha." (Following Carney's statement that Bieber shouldn't be angry over a lack of Grammy because he's rich.) Great. So that's when Carney got equally irrational: changing his Twitter handle to "Justin Bieber" for a weekend in an attempt to rile the fanbase and prove his own comedic talents. The bad news? Justin's fans have a penchant for using "gay" as an insult. The good? Justin never wrote back.

After underage members of his entourage were turned away from Bieber's birthday, the now-19-year-old pop star tweeted the lowly, "Worst birthday ever." Not to turn this into a competition or anything, but until the guy he likes eggs his house on his birthday morning, Justin Bieber has got nothing on some of us.

Few of us can imagine being followed around by men fighting to take our picture all day every day, so ultimately, we'll never know how stressful, invasive, or terrible it can feel – especially at an age where rationality isn't exactly at a premium. So maybe we would've done this a lot sooner: jumped out a van to tell a pap we'd "fucking kill them" after they slagged us off. However, we are lowly mortals. Biebs has been in the industry since before puberty – so maybe it's time to tap into the Zen.

During a European stop this spring, Justin visited the Anne Frank House; the place in which the Frank family hid from the Nazis during the Holocaust (in case you hate history and have refused to learn about it until this point). So as one does, Bieber signed the guest book: "Anne was a great girl. Hopefully she would've been a belieber." Yikes. However, the wee pop star found an unlikely ally in Anne Frank's stepsister, who came to his defense following the fallout. "It's so childish," said 83-year-old Auschwitz survivor Eva Schloss. "He's a young man, and she's a young girl, and she liked film stars and music." And who are we to argue with that?

A stun gun and pot were found on Justin Bieber's bus in Sweden, according to Swedish police, which J-Biebs adamantly denied via Twitter -- sort of: "Some of the rumours about me…where do people even get this stuff. Whatever…back to the music." (Where do people get this stuff, Justin? Like, if I wanted a stun gun. Where do I get one, since it seems like you know?)

After backing out of a payment deal with an indoor skydiving facility in Las Vegas, Justin Bieber was effectively banned for life, likely making it the first time someone has ever screwed up that badly in Las Vegas. (Which arguably actually makes this an achievement.)

Listen, we've all not wanted to hold it, but none of us – none of us (not even the guy from high school who still drinks in the 7-11 parking lot) – would pee in a restaurant mop bucket, no matter how badly we needed to go. Why? Because we've all worked jobs that have involved using a mop bucket. Also: because we are not morphing into the entitled anti-Christ. However, most puzzling was Justin Bieber's outburst at the end of his "rest room" visit, declaring "Fuck Bill Clinton!" (And listen, buddy, we don't blame you if want to be married to Hillary, but peeing in mop buckets isn't how you win her heart.)

Or maybe not. Despite reports – and images – that Justin Bieber was spitting onto a group of fans from a Toronto balcony, he and his camp claimed that wasn't the case, and that he bought them hot chocolate and played new music for them instead. Either way, points lost for spitting over the balcony at all. You're an adult, son. Swallow your spit like the rest of us.

It was bad enough Justin Bieber seemingly jumped on the Blackhawks' Stanley Cup-winning bandwagon, but then he stood on the head of their logo, and touched the Stanley Cup with his bare hands. Fortunately for Bieber, the Blackhawks still come out looking worse: their name and logo still culturally misappropriates Native Americans, after all.

After being rushed by a man in a Toronto nightclub, Justin Bieber and his men sprang into action (read: his bodyguards took the man down, and Justin Bieber kicked at him), and a disaster was averted. However, more disastrous was the loss of Bieber's $40,000 gold chain. (So don't say he has everything, you guys.)

At some point during the year, Justin forgot he once recorded a Christmas album, and sanctioned himself badass enough to dabble in graffiti. However, the real problem was his penchant for racist imagery: his most recent "work" (an image of a monkey decked out in cold) arguably drew far too many parallels to racist imagery of the past. So while he was reportedly charged with vandalism, may the real lesson be "read books before doing anything else again, Justin Bieber."

For the record, there's absolutely nothing wrong with brothels. The sex industry is older than any of us, and in the case of Justin Bieber, he was simply participating in an age-old activity with a consenting woman who was doing her job. However, it was the messy and impromptu exit from the Brazilian brothel that made the whole thing an ordeal: rushed out under a bed sheet (from the brothel, so for the love of all that is good, please let it have been clean), Justin slinked out. But seriously bro, if you're old enough to go to a brothel, you're old enough to leave it like a grown up adult.

After Justin's pet monkey was left in Germany in March, it found solace in a German zoo – one now waiting for $11 000 from Bieber. Says the zoo's lawyer, "If Mr. Bieber will not settle his costs, the payment might have to be enforced when he will enter Germany again." That's all well and good, but I just can't believe that with his power and influence, Justin didn't get his monkey on Sprockets.