33 Gay And Straight Couples Get Married During Macklemore's 'Same Love' At The Grammys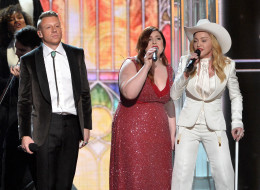 Macklemore and Ryan Lewis raised the stakes on water-cooler award show performances when they not only performed their same-sex marriage anthem "Same Love" with singer Mary Lambert but they also married 33 gay and straight couples on stage.
"This song is a love song not for some of us, but for all of us," said Queen Latifah in her introduction. "When we say music has the power to bring people together at the Grammys, we mean it." Latifah, who apparently has the power to conduct marriages vested in her by the state of California, the presided over the brief ceremony and after the happy couples exchanged rings, Madonna, of the infamous MTV VMAs make-out session with Britney, hobbled onstage to sing their first dance song, "Open Your Heart."
Sniff.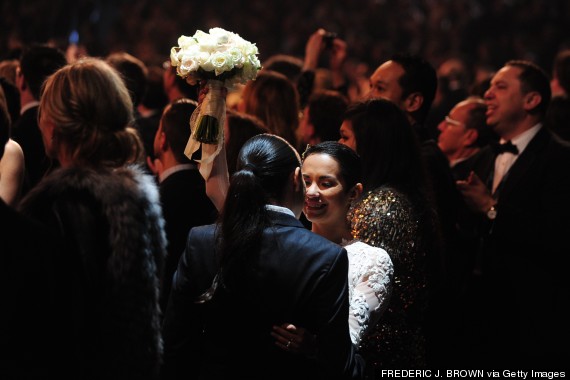 Best of The Grammy Awards 2014
LOS ANGELES, CA - JANUARY 26: Musician Thomas Bangalter of Daft Punk (R) accepts the Album of the Year award for 'Random Access Memories' from musician Yoko Ono (L) onstage during the 56th GRAMMY Awards at Staples Center on January 26, 2014 in Los Angeles, California. (Photo by Kevork Djansezian/Getty Images)

Winners for Best Record Of The Year 'Get Lucky' Daft Punk celebrate their award on stage for the 56th Grammy Awards at the Staples Center in Los Angeles, California, January 26, 2014. AFP PHOTO FREDERIC J. BROWN (Photo credit should read FREDERIC J. BROWN/AFP/Getty Images)

Pharrell Williams performs with Thomas Bangalter, background left, and Guy-Manuel de Homem-Christo of Daft Punk, at the 56th annual Grammy Awards at Staples Center on Sunday, Jan. 26, 2014, in Los Angeles. (Photo by Matt Sayles/Invision/AP)

And then Jay Z calls Grammy award a "sippy cup" for Blu.

Wait, one more...

We couldn't help but join in on the excitement.

Bruno Mars recibe el premio al mejor álbum pop vocal por "Unorthodox Jukebox" en la 56ª entrega anual de los Grammy en el Staples Center el domingo 26 de enero de 2014 en Los Angeles. (Foto Matt Sayles/Invision/AP)

Nile Rodgers, from second left, Pharrell Williams and Stevie Wonder perform at the 56th annual Grammy Awards at Staples Center on Sunday, Jan. 26, 2014, in Los Angeles. (Photo by Matt Sayles/Invision/AP)

Robin Thicke, centro, se presenta con Robert Lamm, izquierda, y Jason Scheff, de Chicago en la 56ª entrega anual de los Grammy en el Staples Center el domingo 26 de enero de 2014 en Los Angeles. (Foto Matt Sayles/Invision/AP)

Pharrell Williams, left, and Stevie Wonder perform at the 56th annual Grammy Awards at Staples Center on Sunday, Jan. 26, 2014, in Los Angeles. (Photo by Matt Sayles/Invision/AP)

Willie Nelson performs on stage at the 56th annual Grammy Awards at Staples Center on Sunday, Jan. 26, 2014, in Los Angeles. (Photo by Matt Sayles/Invision/AP)

Neil Patrick Harris introduces a performance by Pharrell Williams, Daft Punk and Stevie Wonder, at the 56th annual Grammy Awards at Staples Center on Sunday, Jan. 26, 2014, in Los Angeles. (Photo by Matt Sayles/Invision/AP)

Willie Nelson, left, and Kris Kristofferson perform on stage at the 56th annual Grammy Awards at Staples Center on Sunday, Jan. 26, 2014, in Los Angeles. (Photo by Matt Sayles/Invision/AP)

Kacey Musgraves accepts the award for best country album at the 56th annual GRAMMY Awards at Staples Center on Sunday, Jan. 26, 2014, in Los Angeles. (Photo by Matt Sayles/Invision/AP)

Paul McCartney, izquierda, y Ringo Starr durante su presentación en la 56ª entrega anual de los Grammy en el Staples Center el domingo 26 de enero de 2014 en Los Angeles. (Foto Matt Sayles/Invision/AP)

Paul McCartney performs "Queenie Eye" at the 56th annual Grammy Awards at Staples Center on Sunday, Jan. 26, 2014, in Los Angeles. (Photo by Matt Sayles/Invision/AP)

Kacey Musgraves performs at the 56th annual Grammy Awards at Staples Center on Sunday, Jan. 26, 2014, in Los Angeles. (Photo by Matt Sayles/Invision/AP)

Kendrick Lamar, left, and Dan Reynolds of Imagine Dragons perform at the 56th annual Grammy Awards at Staples Center on Sunday, Jan. 26, 2014, in Los Angeles. (Photo by Matt Sayles/Invision/AP)

Jamie Foxx, left, presents Jay-Z with the award for best rap/sung collaboration at the 56th annual Grammy Awards at Staples Center on Sunday, Jan. 26, 2014, in Los Angeles. (Photo by Matt Sayles/Invision/AP)

Ringo Starr performs "Photograph" at the 56th annual Grammy Awards at Staples Center on Sunday, Jan. 26, 2014, in Los Angeles. (Photo by Matt Sayles/Invision/AP)

Pink performs "Just Give Me a Reason" on stage at the 56th annual Grammy Awards at Staples Center on Sunday, Jan. 26, 2014, in Los Angeles. (Photo by Matt Sayles/Invision/AP)

Miguel, left, and Ariana Grande present the award for best pop solo performance at the 56th annual Grammy Awards at Staples Center on Sunday, Jan. 26, 2014, in Los Angeles. (Photo by Matt Sayles/Invision/AP)

Nate Ruess, left, and Pink perform "Just Give Me a Reason" at the 56th annual Grammy Awards at Staples Center on Sunday, Jan. 26, 2014, in Los Angeles. (Photo by Matt Sayles/Invision/AP)

Paul McCartney, left, and Dave Grohl, accept the award for best rock song for "Cut Me Some Slack" at the 56th annual Grammy Awards at Staples Center on Sunday, Jan. 26, 2014, in Los Angeles. (Photo by Matt Sayles/Invision/AP)

Taylor Swift performs "All Too Well" on stage at the 56th annual Grammy Awards at Staples Center on Sunday, Jan. 26, 2014, in Los Angeles. (Photo by Matt Sayles/Invision/AP)

Krist Novoselic, left, looks on as Paul McCartney, center left, and Dave Grohl, center right, accept the award for best rock song for "Cut Me Some Slack at the 56th annual Grammy Awards at Staples Center on Sunday, Jan. 26, 2014, in Los Angeles. (Photo by Matt Sayles/Invision/AP)

Taylor Swift performs "All of Me" at the 56th annual Grammy Awards at Staples Center on Sunday, Jan. 26, 2014, in Los Angeles. (Photo by Matt Sayles/Invision/AP)

Pharrell Williams, from left, Daft Punk and Nile Rodgers accept the award for best pop duo/group performance at the 56th annual Grammy Awards at Staples Center on Sunday, Jan. 26, 2014, in Los Angeles. (Photo by Matt Sayles/Invision/AP)

Katy Perry performs "Dark Horse" at the 56th annual Grammy Awards at Staples Center on Sunday, Jan. 26, 2014, in Los Angeles. (Photo by Matt Sayles/Invision/AP)

Katy Perry performs "Dark Horse" at the 56th annual Grammy Awards at Staples Center on Sunday, Jan. 26, 2014, in Los Angeles. (Photo by Matt Sayles/Invision/AP)

Lorde performs "Royals" at the 56th annual Grammy Awards at Staples Center on Sunday, Jan. 26, 2014, in Los Angeles. (Photo by Matt Sayles/Invision/AP)

Ryan Lewis, left, and Macklemore accept the award for best new artist at the 56th annual Grammy Awards at Staples Center on Sunday, Jan. 26, 2014, in Los Angeles. (Photo by Matt Sayles/Invision/AP)

Beyonce, left, and Jay-Z perform "Drunk in Love" at the 56th annual Grammy Awards at Staples Center on Sunday, Jan. 26, 2014, in Los Angeles. (Photo by Matt Sayles/Invision/AP)

LOS ANGELES, CA - JANUARY 26: (L-R) Actress Paula Patton, singer Robin Thicke and guest attend the 56th GRAMMY Awards at Staples Center on January 26, 2014 in Los Angeles, California. (Photo by Christopher Polk/Getty Images)

Paul Williams poses in the press room with the award for album of the year for Daft Punk's "Random Access Memories" at the 56th annual Grammy Awards at Staples Center on Sunday, Jan. 26, 2014, in Los Angeles. (Photo by Dan Steinberg/Invision/AP)

Members of Imagine Dragons, from left, Ben McKee, Ben Reynolds, Wayne Sermon and Dan Platzman pose in the press room with the award for best rock performance for "Radioactive" at the 56th annual Grammy Awards at Staples Center on Sunday, Jan. 26, 2014, in Los Angeles. (Photo by Dan Steinberg/Invision/AP)

Mary Lambert poses in the press room at the 56th annual Grammy Awards at Staples Center on Sunday, Jan. 26, 2014, in Los Angeles. (Photo by Dan Steinberg/Invision/AP)

Ryan Lewis, left, and Macklemore pose in the press room with their awards for best rap performance and best rap song, for "Thrift Shop," best rap album for "The Heist" and best new artist at the 56th annual Grammy Awards at Staples Center on Sunday, Jan. 26, 2014, in Los Angeles. (Photo by Dan Steinberg/Invision/AP)

Nile Rodgers poses in the press room with the awards for best pop duo/group performance and record of the year for "Get Lucky" and Album of the year for "Random Access Memories" at the 56th annual Grammy Awards at Staples Center on Sunday, Jan. 26, 2014, in Los Angeles. (Photo by Dan Steinberg/Invision/AP)

Olivia Harrison, from left, Alicia Keys and Yoko Ono speak on stage at the 56th annual Grammy Awards at Staples Center on Sunday, Jan. 26, 2014, in Los Angeles. (Photo by Matt Sayles/Invision/AP)

Performers, from left, Macklemore, Mary Lambert, Madonna, Ryan Lewis and Queen Latifah appear on stage during a performance of "Same Love" at the 56th annual Grammy Awards at Staples Center on Sunday, Jan. 26, 2014, in Los Angeles. (Photo by Matt Sayles/Invision/AP)

Lang Lang, left, and James Hetfield of Metallica, perform "One" at the 56th annual Grammy Awards at Staples Center on Sunday, Jan. 26, 2014, in Los Angeles. (Photo by Matt Sayles/Invision/AP)

Kacey Musgraves poses in the press room with the awards for best country album for "Same Trailer Different Park" and best country song for "Merry Go Round" at the 56th annual Grammy Awards at Staples Center on Sunday, Jan. 26, 2014, in Los Angeles. (Photo by Dan Steinberg/Invision/AP)

Kirk Hammett of Metallica performs "One" on stage at the 56th annual Grammy Awards at Staples Center on Sunday, Jan. 26, 2014, in Los Angeles. (Photo by Matt Sayles/Invision/AP)

Jared Leto speaks on stage at the 56th annual Grammy Awards at Staples Center on Sunday, Jan. 26, 2014, in Los Angeles. (Photo by Matt Sayles/Invision/AP)

Carole King, left, and Sara Bareilles presents the award for song of the year at the 56th annual Grammy Awards at Staples Center on Sunday, Jan. 26, 2014, in Los Angeles. (Photo by Matt Sayles/Invision/AP)

Stevie Wonder, left, and Pharrell Williams perform at the 56th annual Grammy Awards at Staples Center on Sunday, Jan. 26, 2014, in Los Angeles. (Photo by Matt Sayles/Invision/AP)

Thomas Bangalter, left, and Guy-Manuel de Homem-Christo of Daft Punk perform at the 56th annual Grammy Awards at Staples Center on Sunday, Jan. 26, 2014, in Los Angeles. (Photo by Matt Sayles/Invision/AP)

Willie Nelson, foreground from left, Kris Kristofferson, Merle Haggard and Blake Shelton, perform on stage at the 56th annual Grammy Awards at Staples Center on Sunday, Jan. 26, 2014, in Los Angeles. (Photo by Matt Sayles/Invision/AP)

Neil Patrick Harris introduces a performance by Pharrell Williams, Daft Punk and Stevie Wonder, at the 56th annual Grammy Awards at Staples Center on Sunday, Jan. 26, 2014, in Los Angeles. (Photo by Matt Sayles/Invision/AP)

Tony Iommi, from left, Ozzy Osbourne and Geezer Butler speak on stage at the 56th annual Grammy Awards at Staples Center on Sunday, Jan. 26, 2014, in Los Angeles. (Photo by Matt Sayles/Invision/AP)

Lorde accepts the award for best pop solo performance for "Royals" at the 56th annual Grammy Awards at Staples Center on Sunday, Jan. 26, 2014, in Los Angeles. (Photo by Matt Sayles/Invision/AP)

Pink performs "Just Give Me a Reason" on stage at the 56th annual Grammy Awards at Staples Center on Sunday, Jan. 26, 2014, in Los Angeles. (Photo by Matt Sayles/Invision/AP)

Ozzy Osbourne arrives at the 56th annual Grammy Awards at Staples Center on Sunday, Jan. 26, 2014, in Los Angeles. (Photo by Jordan Strauss/Invision/AP)

Katy Perry performs "Dark Horse" at the 56th annual Grammy Awards at Staples Center on Sunday, Jan. 26, 2014, in Los Angeles. (Photo by Matt Sayles/Invision/AP)

Krist Novoselic, left, and Dave Grohl arrive at the 56th annual Grammy Awards at Staples Center on Sunday, Jan. 26, 2014, in Los Angeles. (Photo by Jordan Strauss/Invision/AP)