Joe Namath's Super Bowl Coat vs. IKEA Monkey vs. Macklemore: Who Wore It Better? (PHOTO)
Who'da thunk football great Joe Namath would end up in a fashion face-off? And yet, here we are.
The AFL/NFL icon Namath made a huge splash in the opening moments of Sunday's Super Bowl XLVIII when he appeared on the field at the MetLife Stadium in New Jersey for the coin toss wearing a rather voluminous fur coat -- with a hood, no less.
Namath then proceeded to fumble the coin toss between the Seattle Seahawks and Denver Broncos by attempting to toss the coin before either team had called heads or tails.
Didn't matter, as all eyes were on that ostentatious coat. We couldn't help compare Namath to a couple of other icons that instantly came to mind: Thrift-shop master Macklemore and our very own IKEA monkey.
What do you think? Vote or comment below the photo, and see what others thought of Namath's coat: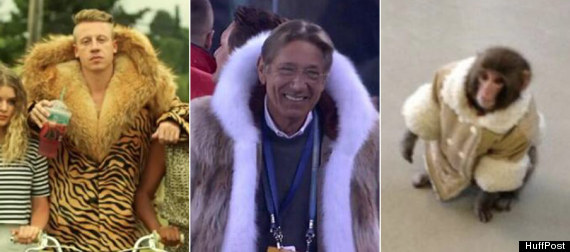 Of course, Namath, known as Broadway Joe, has been rocking the furs since his prime in the 1960s. Love the kicks in the photo below, too.
Joe had many furs: pic.twitter.com/JoHc8bogbf

— Tim O'Brien (@TimOBrien) February 2, 2014
Joe Namath. Keeping the fur coat tradition alive since the '60s. pic.twitter.com/CTie99dETO

— Andy Gray (@si_vault) February 2, 2014
Joe! Put some pants on!
The Twitters could not stop talking about Joe's coat:
@JKonradNB

Jim Konrad
Keeping score. Lame game. Lame commercials. Bruno mars love ballad. Best thing about the super bowl is Joe Namath's coat.
@bobwojnowski

Bob Wojnowski
Only thing that saves this Super Bowl is if Peyton Manning comes out for the second half wearing Joe Namath's coat.

@ChuckGarfien

Chuck Garfien
Someone get Joe Namath's fur coat. TheBroncos want to hide under it.

@lordrochester

glenn o'brien
Everybody's ragging on Joe Namath's fur coat, but he ate every one of those cougars.
Not surprisingly, PETA (People for the Ethical Treament Of Animals) was not impressed, and tweeted several times to Namath's account:

@peta

PETA
What do you think? Let us know in the comments below.