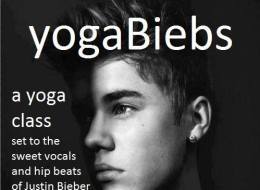 Baby, baby, baby, breathe. A Toronto mother, and self-proclaimed "shameless Belieber," has launched yogaBiebs, a yoga class "set to the sweet vocals and hip beats of Justin Bieber." Or so reads the 300 flyers that the 40-year-old plastered Toronto's west end with.
"I have two daughters. My youngest, who was in kindergarten in 2010, brought the Bieber home and I really loved the music. It was always indie bands and cool stuff for me before that," Rosanne McCollum tells HuffPost Canada Music.
Of course, Bieber's had a string of bad boy incidents since that 2010 heyday — most recently that felony egg raid and the charges for limo driver assault as well as DUI and resisting arrest — but she's not at all dismayed. "I actually think that the good that Justin Bieber does in the world is far bigger than these misdemeanors, in terms of his charity work and just the sheer enjoyment that he brings to all the fans."
But does this mother of two think her yogaBiebs class somewhat condones his behaviour? "Absolutely not. Appreciating the music and other aspects of who Justin Bieber is [doesn't] condone anything that is yet to be proven. Second of all, there's a difference between him as an artist and him as a person in his life. I wouldn't condone anything simply by enjoying his music as a playlist in a yoga class.
"So much that is reported about him turns out not to be true," McCollum adds. "There have been allegations that have been dropped in the past, for example the so-called spitting on a neighbour; there was no evidence of that whatsoever and the charges were dropped. But it didn't stop it becoming international news, as if it had happened. So it remains to be seen what will be proven.
(Note: police investigated and sent the spitting case, which also involved threats, to a prosecutor, who declined to pursue it, saying Bieber's actions were "disproportionate and immature, but since the neighbor had entered the property without invitation Bieber's actions did not rise to the level of a criminal threat.")
She outright dismisses the egg incident — "I think that's extremely suspicious. If there was any evidence that it was definitely Justin Bieber, we probably would've seen it by now" — and remains suspicious of the assault charge, too. "The limo driver, the initial reports were that Justin Bieber has nothing to do with it; it was his people. There's just so much speculation. I would wait and see and go with the facts that we do know."
McCollum, a certified yoga instructor in the Roncy neighbourhood for the past 14 years, had a trial yogaBiebs class last Wednesday at the Village Healing Centre, inside a 100-year-old church building that also holds the larger private studio Yoga Village.
"We did a 'dress rehearsal' that Wednesday and then it's going to be every Wednesday in that space for a little while," says McCollum, "but then there's also going to be a big event [Feb. 7] in Yoga Village that MTV will be filming and [VJ] Phoebe Dykstra will be taking that class."
McCollum, who has a tattoo of Bieber's hands in a heart shape on her shoulder, says that yoga music doesn't have to be all soothing and new age. While she personally hasn't previously offered classes with pop playlists, she says for years there have been classes to DJ and dance music. She once did a live tabla class with Ed Hanley from Autorickshaw.
The playlist for yogaBiebs does not include "Baby," the 19-year-old pop star's breakthrough hit. "A lot of the songs are from 'Journals,'" McCollum says of Bieber's late-2013 compilation album, "like 'One Life,' which has a very slow groove and it's very ethereal, and 'Bad Day,'" which has rhythm. I don't want to give away all my secrets."
One thing she does want to confirm, however, is that doing this class at this specific time is not because of Bieber's current media omnipresence.
"No, it's happenstance that it's just now. It's something that I've wanted to do for a long time and I know that there are fans, especially for the younger fans, for teenagers getting into yoga. It's a great time in your life to do that and the response that I've had so far from young people to this class is that they just want to work out to the stuff they like, too.
"It has nothing to do with him in the overly sensationalized tabloid press."
Justin Bieber Troublesome Moments
Justin had his first, very public, run in with the paps when he stuck his middle finger up to their cameras (and thus the world).

Justin felt the effect of his first paternity suit. He was accused of being the father of a 4-month-old baby boy with Mariah Yeater, but complied with a paternity test and proved his 'innocence'.

It may not sound like a big deal, but in May 2012 a definitely-not-21-year-old Justin confessed to "having a beer" for the first time. Two years later, and he's pretty much a regular in nightclubs (and stripclubs) around the world. In the same month, he also got into an altercation with a tabloid snapper, who reportedly blocked his car in when he left a cinema with Selena.

Justin's love of fast cars took a turn for the worse as he was accused of 'reckless driving'. He called 991 to complain about paparazzi chasing him but it turned out he wasn't so innocent himself. "Bieber was driving like a maniac. He was weaving in and out of traffic. There was hardly any space between cars as he weaved from lane to lane," an eyewitness, who just happens to be L.A. City Councilman Dennis Zine, said.

This image provided by the California Department of Motor Vehicles shows Christopher Guerra, the 29-year-old photographer who was struck and killed while trying to take photos of Justin Bieber's white Ferrari on Tuesday 1 January. Christopher's death spurred renewed debate over the dangers paparazzi can bring on themselves and the celebrities they chase. Justin wasn't driving his car at the time but it was no doubt a disturbing shock. In the same month, Justin was caught smoking a suspicious looking roll-up cigarette in a pic on a camera phone.

The O2 was forced to apologise to young fans after Justin was nearly two hours late on stage for his opening night at the venue. He failed to start his performance until nearly 10.30pm, which resulted in hundreds of fans and parents taking to Twitter to vent their anger. It was a school night, for heavens sake!

It all began getting a little 'Michael Jackson' when Justin donned a gas mask (natch) to go out for dinner at Mr Chow in London. The next day he was rushed to hospital after suffering breathing difficulties on stage at London's O2 Arena. Surely the two can't have been related?

Justin shocked monkeys, fans and animal rights activists when he abandoned his adorable monkey, Mally. The Capuchin monkey was seized by Munich customs when Bieber arrived in Germany as part of his world tour last month, as he did not have the correct paperwork. Justin then apparently decided he didn't want him back.

We really started to worry about Justin's ego when he speculated that teen Holocaust victim Anne Frank could have been a "Belieber" if she had survived the Nazis. A post on the official Anne Frank Facebook page described his visit to her former house: "Justin Bieber visited the Anne Frank House, together with his friends and guards. "Fans were waiting outside to see a glimpse of him. He stayed more than an hour in the museum. "In our guestbook he wrote: "Truly inspiring to be able to come here. Anne was a great girl. Hopefully she would have been a belieber.""

Swedish police confirmed that they had found drugs on board Justin's tour bus. Police raided the vehicle after an off-duty officer smelled marijuana coming from the vehicle while it was parked outside the Grand Hotel in Stockholm. This was just the first of many tour bus raids.

An Ohio DJ claimed Justin spat in his face while at a nightclub. According to the story reported by TMZ, the pop singer thought the man was taking photos of him. The DJ who accused Justin of spitting in his face, Addison Ulhaq, filed a police report against the singer, according to TMZ. He claims he got tested for Hepatitis because the incident left him with saliva in his eye, nose and mouth.

Justin was filmed climbing over a car during a nightclub brawl in The Hamptons, New York. The 'Baby' singer came under investigation by the NYPD following the fight at the South Pointe venue in the early hours. 22-year-old Wayne Rennalls was hospitalised after the altercation and suffered a black eye, bruised ribs and a cut lip. He later filed an assault claim. Footage showed Justin at the scene, however his rep told the New York Daily News: "Justin was not involved in any altercation." The bust up is said to have started in the roped-off VIP area - where the 19-year-old was seated with his entourage - but ended up in the club's car park.

Justin was reportedly smuggled out of a brothel in Brazil during some time off from his tour in the country. According to New York Post's Page Six, the 19-year-old singer and a friend spent three hours in the Centauros brothel in Rio de Janeiro.

Justin's potty mouth landed him in a whole load of trouble when his entourage was detained at Brisbane International Airport in Australia on suspicion of smuggling drugs. Beebs was given a verbal warning for using "inappropriate language" following a conversation with a female customs officer, The Sydney Daily Telegraph reported. He had allegedly refused to remove his hat and sunglasses during an inspection and also used insulting language toward the officer. Police had to threaten to arrest him, the newspaper said.

Move over spurned violinist on Britain's Got Talent, Justin had his own egg-gate when he allegedly egged his neighbour's house, causing $20,000 worth of damage. Justin was detained in his garage while police with a "felony search warrant" looked for evidence in his home They then arrested his friend Lil Za for cocaine possession during the raid. Bieber has not been connected to the cocaine, but he has been neither charged nor exonerated in the egg incident that promoted the search warrant.

All of Justin's troublesome behaviour culminated when he was arrested in Miami Beach for driving under the influence and drag racing. The Miami Beach Police released what is possibly the happiest-looking mugshot in Hollywood's Hall of Shame.

Justin didn't forget his admiring teenage fans as he left jail following his arrest for DUI and drag racing. The 19-year-old, wearing a black hoody and dark shades, climbed on top of a waiting black SUV outside the Turner Guilford Knight Correctional Center in Miami to greet his fans before being driven away. And in the process angered a whole load more people.

Justin landed himself in even MORE trouble after being charged with assaulting a limo driver. The singer handed himself in at a Toronto police station, where he was mobbed by fans and TV crews. According to the Toronto Police service, he will now appear in court on 11 March in connection with the incident, which saw him hit the driver in the back of the head several times last December.

Pilots hired by Justin Bieber to fly him to the Super Bowl have revealed they had to wear oxygen masks to overcome marijuana fumes on the flight. An official report into the incident also revealed how the troubled teen and his father were "extremely abusive" to a flight attendant.

After his arrest footage then emerged of Justin appearing to sway and stumble as he attempted to walk in a straight line for a sobriety test. The film was shot at a south Florida police station following his DUI arrest in January and reveals the 19-year-old singer also dropping to the ground to do pushups.