CSEC Headquarters' $1.2-Billion Price Tag Has Activists Outraged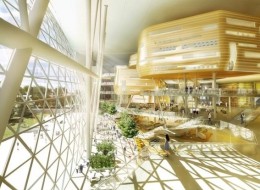 When the Harper government tables its latest budget Tuesday afternoon, it will include continued funding for a massive, opulent new headquarters for Canada's electronic spy agency, CSEC.
The $1.2-billion building on Ottawa's east side — dubbed the "spy palace" by critics and believed to be the most expensive government building ever constructed in Canada — has become a rallying point for activists protesting in the wake of allegations that CSEC has been spying on Canadians, in contravention of its mandate and possibly Canadian law.
More than 45 organizations, including OpenMedia, the Canadian Civil Liberties Association, Greenpeace and several unions, are launching a campaign Tuesday "to tell MPs to stop wasting billions on Canada's expensive online spying apparatus," according to a statement from OpenMedia.
Story continues below
CSEC's $1.2-Billion 'Spy Palace' In Ottawa
Canada's electronic eavesdropping agency, CSEC, is getting a new $1.2-billion headquarters in Ottawa, the most expensive government building ever built. Here are some illustrations of the finished building.

NEXT ON HUFFPOST: 24 SUSSEX DRIVE, THE PRIME MINISTER'S RESIDENCE

ALSO ON HUFFPOST: THE COOLEST HOUSES FOR SALE IN CANADA

This newly-built home just northwest of downtown Calgary not only looks cool and has excellent views of the city, it features some pretty slick amenities, such as built-in kitchen appliances, a 1,500-bottle wine cellar and five bedrooms across 5,300 square feet of living space.

This house in Montreal's old-money Westmount area was built in 1857 and, with its awesome wrap-around porch, may be the coolest heritage residential building for sale in Canada right now. It's actually three units -- a main house, a townhouse in the back and what's referred to as the "well house." Three bedrooms and two baths in the main house.

Can you say house with a view? This four-bedroom property features not only one of the best views out of anyone's living room window in the country, it also has an outdoor pool, sunk slightly below house level, with views all its own. Four bedrooms and an elevator in this house the realtor describes as an "amazing entertainment home."

Located in Vancouver's (now) prestigious neighbourhood of Kerrisdale, this house is described by the realtor as "an expression of West Coast Modernism." We're not sure what that means, but this house's situation next to an elegant outdoor pool is certainly eye-catching. Four bedrooms on 5,200 square feet of living space.

The coolest thing about this house is the location -- look at where it's sitting! Not for the faint of heart, this eight-year-old house sits perched 90 feet above the Atlantic Ocean on the Nova Scotia coast. Five bedrooms in this property that sits on 16 acres of land.

This house may look like a remade 19th-century train station, but look carefully: There's a two-car garage on one side. The house is actually only four years, and situated in pleasant Bedford, outside Halifax. The house features an elevator to the second floor, and a master bedroom with fireplace and six-piece ensuite bathroom.

Designed by Ottawa architect Barry Hobin, this 3,300-square-foot house near the city's ritzy Rockcliffe Park neighbourhood features a sixty-foot-high domed skylight and some pretty non-standard layouts.

From above, this house is shaped almost like a hexagon, but that's not the only cool thing about -- it's also located on an outer beach not far from St. John's. Dubbed "Burnt Island," the property is made of red cedar log and features three bedrooms in 3,100 square feet of living space.

This house's a unique take on the Roman column look is certainly controversial, but for those who do like the look, the home is a winner. Twelve thousand square feet of living space in this house with seven bedrooms, including two loft bedrooms, a rec room, an exercise room, a sauna and a wet bar.

The realtor describes this as a "modern day Mad Men entertainer's home," and there is definitely something "retro-modern" about this three-bedroom, 4,200-square-foot bungalow. The house has a "covered outdoor living room" -- only in Vancouver could you find that in Canada -- that features a pool with a hardtop.

This house that the realtor boasts was featured in Architectural Digest is something increasingly seen in the dense inner cores of Canadian cities -- modern architecture reflecting the traditional houses nearby. Promos for the house promise a "New York Upper East Side feel" in this five-bedroom property.

It may not look it from its industrial-modern design, but this house is, according to the realtor, a ravine oasis. Located in the city's upscale Lawrence Ave. area, the house features a 23-foot ceiling in the foyer, a glass spiral staircase, an indoor squash court and a sauna on 5,100 square feet of living space.

Not many pictures available of the exterior of this house, but just look at this pool! Possibly the awesomest indoor pool in a private residence in Canada. The rest of the house ain't bad, either: 12,000 square feet of living space, with nine bedrooms and 10 baths, a 25-foot-high ceiling at the main entrance, and underground car parking.

This is a huge house -- more than 8,500 square feet of living space. Besides the eye-catching front entrance, the house features a 22-foot barrel vaulted entrance and more than 500 feet of private waterfront. There's also a three-car garage.

The realtor promises an "indoor and outdoor lifestyle" in this oceanfront house in West Van. The house's three levels overlook a central atrium and the lower level features a heated swimming pool and jacuzzi. The house has an elevator, naturally, and a boat ramp.

Located about 100 kilometres outside Montreal, this summer "cottage" is located on a private peninsula on Lac du Nord. The house features an infinity pool, a wine cellar, and a movie theatre. And oh yeah, there are bedrooms too, six of them.
It's part of a multinational event, dubbed "The Day We Fight Back," meant to launch a new, ongoing campaign to bring government surveillance under control.
In the U.S., the campaign will focus on revelations that the National Security Agency has been involved in mass, warrantless surveillance of Americans' phone and internet activities.
In CSEC's new headquarters, the Canadian activist groups see a potent symbol of the growth of the surveillance state in recent years.
"We now have this dramatic, visual point of reference for CSEC — this grand piece of architecture rising in the east end — at a time when surveillance is becoming more and more of an issue," Ian MacLeod, an Ottawa Citizen reporter who covers national security issues, explained to CBC Radio last fall.
Government estimates place the official cost of the new CSEC headquarters at $867 million, but according to a CBC investigation last fall, the building's final cost will be closer to $1.2 billion. And when the $3-billion contract to operate the building for 20 years is added, the new HQ's cost soars past $4 billion.
As the CBC noted, the building has more floor space than Toronto's Air Canada Centre, and cost enough to build "several" large hospitals. It will house about 2,000 CSEC employees.
"Canadians are wasting billions of taxpayer dollars on a bloated spy bureaucracy that is monitoring our private lives," OpenMedia.ca executive director Steve Anderson said in a statement.
"It's time for common sense to prevail. We need to rein in CSEC and other security agencies before they get even more out of control. That's why we're calling on MPs to make a firm commitment to introduce pro-privacy legislation to protect the privacy of all residents of Canada."
Documents from Edward Snowden's trove of NSA data indicate that CSEC spied on Canadian travelers through WiFi hot spots at a major airport. The Harper government denies that the privacy of Canadians was invaded in the experiment, but privacy experts say the metadata collected by the CSEC would have exposed a great deal of private information about the targeted individuals.
The CSEC headquarters is being developed by Plenary Group Canada, an infrastructure company that specializes in government projects. The building is expected to be completed this year. Plenary Group boasts of the building's innovative green technologies.
"Walls of windows fill the facility with natural light and reduce the building's electricity consumption and rainwater collection ponds reduce the facility's consumption of water for irrigation," the company's fact sheet reads.
In an interview with CBC, former CSEC head John Adams admitted the building didn't need to be an "architectural wonder."
"But, you know, glass in this [CBC] building is the same price as glass in that [CSEC] building," he said. "That building is just going to look an awful lot better than this building … That facility is going to be quite magnificent."
Is it worth $1.2 billion to build a "magnificent" headquarters for Canada's electronic spy agency? Let us know in the comments below.