If Dale Carnegie was around to write a sequel to his 1936 classic, How to Win Friends and Influence People, surely exposing oneself to ridicule over social media would be among his platitudes.
Just look at what its done for a 20-year-old beautician from England.
At about 1:30 am on March 3, she sent a tweet from the heart, if not necessarily the brain.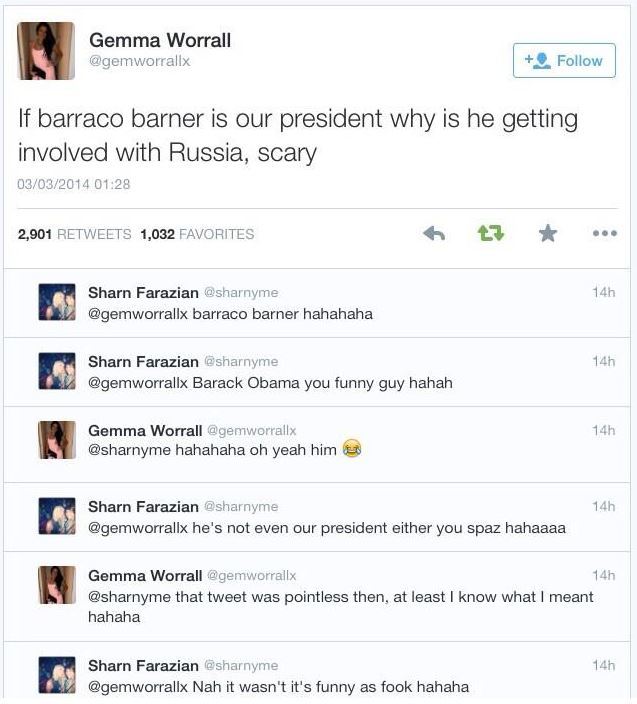 In less than 140 characters, Worrall managed to mangle the name of the American president, confuse him with Britain's own leader and become something of an internet sensation along the way. For better or for worse.
Within hours, she had been retweeted thousands of times.
By the next morning, she had gone supernova.
why am I waking up to shit loads of mentions because i spelt the presidents name wrong, worlds gone crazy.

— Gemma Worrall (@gemworrallx) March 4, 2014
Cue the mean headlines.
'Dizzy Brit becomes butt of Twitter jokes after hilarious tweet,' read the Mirror's March 5 headline.
The Daily Mail filed the episode under 'Dumb Britain.'
And, of course, social media.
London called.
@gemworrallx im reading about you in London,. this is weird! http://t.co/WvR0pcRHSN only you!

— Lauren Marshall (@laurynmarshall) March 3, 2014
And an Aussie tweeted morning salutations:
@gemworrallx Hey you've made our national news here in Australia! Congritulotions!!!!!

— AudioNoirOfficial (@AudioNoir) March 4, 2014
Belgium checked in:
@gemworrallx You made the Belgian newspaper! #Congratz http://t.co/0ufPYOTxCt

— Hans Mertens (@wattooto) March 4, 2014
The virtual slings and arrows -- none bear repeating here -- of outrageous misspellings came hard and fast.
Yet, in spite of being Twiticuled the world over, Worrall seems to have taken it all in stride.
some people find it funny, some people are getting personal.. either way I don't care I haven't stopped laughing at myself all day

— Gemma Worrall (@gemworrallx) March 3, 2014
Indeed, Worrall has since blamed the egregious misspelling -- but not the complete disengagement from factual reality -- on her iPhone's auto-correct feature.
"I'll admit I'm not into politics," she told the Blackpool Gazette. "I was watching the news and tried to act clever but it back-fired.
"I've had a lot of abuse about the tweet but only from people who don't know me."
So, what do you think? Unfairly pilloried in social media? Is Twitter just a big old bully?

Loading Slideshow
Kylie Jenner

Ashton Kutcher

Alicia Silverstone

Alicia Silverstone chews her son's food before spitting it directly into his mouth. #gross

Dane Cook

Kelly Osbourne

Dean McDermott

Dean McDermott accidentally <a href="http://twitter.com/#!/deanracer" target="_hplink">tweeted a photo of his son</a>, while wife Tori Spelling was topless in the background.

Jenny McCarthy

Kim Kardashian

Kim Kardashian tweeted a sneak peek at the photo shoot she was doing on April 12.

Khloe Kardashian

Courtney Stodden

This is actually a good day. We've never seen Courtney in pants!

Jessica Simpson

Meghan McCain

Meghan tweeted: "my 'spontaneous' night in is my Andy Warhol biography and takeout....I'm getting old"

P. Diddy

Kanye West

Case in point.

Sarah Silverman

Rihanna

<a href="http://www.huffingtonpost.com/2012/04/17/rihanna-strips-down-singer-bares-all-skinny-dipping_n_1431327.html" target="_hplink">Rihanna released more than 150 snapshots</a> from her own personal collection, including a few of her skinny dipping.

Lance Armstrong

Lance tweeted this back in March, showing off his taped-up scar after he had surgery to fix his broken collarbone

Katy Perry

Courtney Stodden

We've never been so offended by a day of the week.

Miley Cyrus

Miley Cyrus is far from naked here, but she managed to cause an Internet brouhaha late last month when her director, Adam Shankman, tweeted these snaps.

Katy Perry

Katy Perry posted a naked pic from the bathtub. Recovering from the flu, she tweeted an explanation of the pizza: "Why is it that after not eating for three days all I can think of is food...food is smiling at me...luring me with sexual seduction."

Lenny Kravitz

The bathtime fun continues. That's Lenny Kravitz and his bare rear end.

Pink

Lindsay Lohan

Lindsay Lohan tweeted this topless pic. "I'm THAT bored," she wrote.

John Mayer

Demi Moore

Ashton Kutcher snapped this picture of his wife Demi Moore and posted it on his Twitter feed when the pair were in the Caribbean for Bruce Willis' wedding.