Birthday Gifts For Boyfriend: What To Get Him On His Day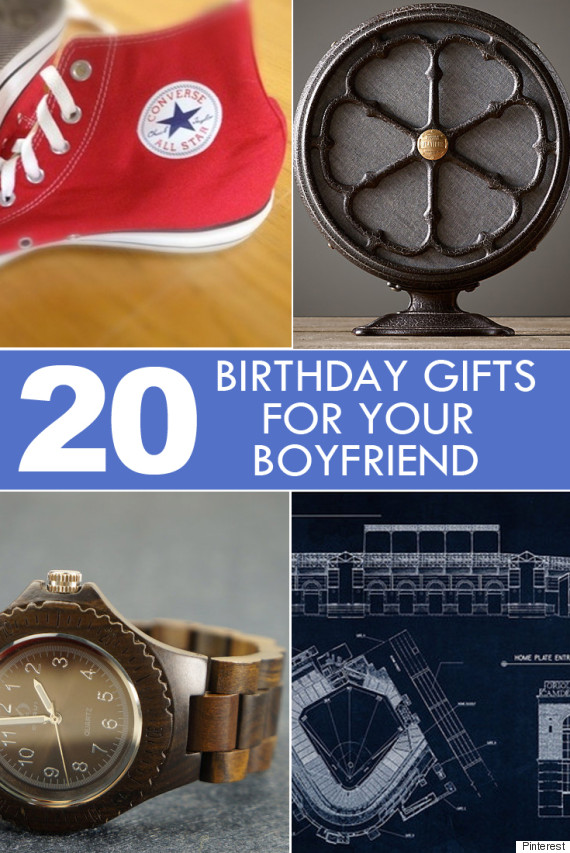 It might happen once a year, but that doesn't make buying a birthday gift for your boyfriend any easier. And if it's your first year celebrating the occasion together, that could mean setting a precedent for years to come.
One of the common tips for figuring out what to get someone as a gift is to make a list of the things he or she is interested in, then riff off that. Does your boyfriend love eating? Perhaps a food tour is in order. Does he want to hike every time it's over three degrees? A terrain-specific GPS device could be in order.
With that in mind, we've put together a few possibilities for personality types and hobbyists that we seem to come across a lot. Take us at face value or use these gifts as inspiration, and let us know what you ended up buying!
SEE: Great gifts for your boyfriend's birthday:
Birthday Gifts For Boyfriends
It will look cool in his/your place, and it might just make him feel like a superhero as he gets dressed for the day. Win-win. Batman pillow cover, $63, Etsy.

While this might not be the ideal business card holder for, say, a doctor or CFO, those working in more creative industries (we're talking advertising, media, programming, etc.), this leather case says 'take me seriously, but admire my style at the same time.' Leather business card holder, $48, Etsy.

This very cool blueprint of Oriole Park serves two functions: it makes for great art and it honours your boyfriend's love for baseball. They haven't done any hockey arenas yet, but we have our fingers crossed. Ballpark Blueprints, $54.

A good umbrella is hard to find, and even harder to enjoy (you know, because you always use it on a rainy day?). But this ultra-stylish rain cover might be the exception for your man, and he'll appreciate having something other than the boring miniature black umbrella he always loses. London Undercover Naval Stripe Umbrella, $230, Club Monaco.

If your guy is the type who always forgets where he last left his glasses, give him a place he can't forget — an elephant's trunk. Sure, it's slightly jokey, but oh so useful — and when unadorned, it looks like an interesting piece of art. Elephant nose eyeglass holder, $51, Etsy.

He's outdoorsy, and happy to just strap on some shoes and go. But this rather awesome device will show him the best routes, as well as the terrain and elevation, to make sure his hike is the best one possible. Garmin Etrex 20 GPS, $190, MEC.

He may be too embarrassed to ask his buddies to use coasters (who wants to be that fussy?), but give him a reason to pull these out, and whiskey rings will disappear instantly. Mixology coasters, $51, Uncommon Goods.

It's not enough that your man has a flask — he should have a flask that represents exactly who he'd like to be. So if that person happens to be a gin-swigging sailor, so be it. Porthole round flask, $100, Amazon.ca.

If he's constantly flying around the world from meeting to meeting (or for that matter, on the phone to those places), it will help him to know the time difference at a glance. And it will also help you in the same way, so you can time phone calls accordingly when he's gone. Time Zone Clock, $108, Indigo.

If he bikes to work every day, but doesn't want to invest in full-on bike shoes, these Retrofitz Converse (or any of the company's other options, including adding them to your own flat shoes) are a cooler form of footwear. Converse Chuck Taylor Hi-Tops, $165, Retrofitz.

It's not for everyone, but if your boyfriend likes to carry the old family photos around close to his heart, this gadget will scan slides right into your phone. Check out how it works at Lomography. Smartphone Film Scanner, $62, Uncommon Goods.

If your boyfriend talks a lot about resisting technological change (but has an Android, and a iPad, etc.), this pricey gift could make him the happiest he's been since modems got hooked up. The typewriter plugs into your computer or tablet and lets you get that clickety-clack feeling all over again. USB Typewriter, $930, Uncommon Goods.

This vintage speaker connects via Bluetooth to let the tunes and podcasts sound their very best — while looking thoroughly awesome in any living room. Vintage Speaker Mini, $149, Restoration Hardware.

No, not in the nudist sense of the word. But if your guy loves natural materials, this watch will complement his aesthetic beautifully. Wood watch, $67, Etsy.

You may be thinking a Popsicle maker is not a good gift, but if your boyfriend loves coming up with new inventions in the kitchen, he will really appreciate the challenge of this almost-instant cold treat maker that encourages desserts like strawberry cheesecake pops. Zoku Quick Pop Maker, $50, Williams Sonoma.

He might have all the gear in the world to set up his tent in the woods — but does he have a sleeping bag built for two? This gift is great because it also shows you're more than willing to camp out with him. Big Agnes Dream Island ‑9C Double System Sleeping Bag, $255, MEC

If he loves playing with all his toys at once, this remote control gives him access to all of it, from the TV to the PS3 to the stereo, from his phone. So you may say goodbye to touching the remote, but you will make him really, really happy. Logitech Harmony Smart Control, $129, Indigo.

Coming direct from the men behind "Epic Meal Time," this shirt works for any number of reasons. Namely, for his love of bacon. This could be presented alongside, say, breakfast in bed? T-Shirt Bacon Strips, $15, Epic Meal Time.

Beloved by guys who know their stuff, this cordless drill will be a stunning (and powerful) addition to your boyfriend's already crowded toolbox. M18 FUEL™ 1/2" Drill/Driver, $179, Amazon.

You know his wheels obsession started with something, and Hot Wheels was probably just that thing. Give him the tools to make his own miniature cars and embrace the joys of toys again. Hot Wheels Car Maker Playset, $80, Amazon.

NEXT: What to get your new boyfriend for Valentine's Day (or any occasion).

Looking to take trip in the near future? Let the New York Times plan it for you. "The New York Times 36 Hours: 150 Weekends in the USA & Canada," $40, amazon.ca.

It's nice to have your significant other's place start to feel a bit like home, without necessarily any commitment. Buy him a catchall for his watch, cufflinks, etc. to put on your bedstand (that he could just as easily take to his place if he prefers). Bull Catchall, $50, Red Envelope.

It's fun to play mixologist at home, so give him this in honour of trying out new ingredients and getting toasted. Cocktail Tool Box, $30, Urban Outfitters.

Let him show his love for video games on his cufflinks while the rest of the world just thinks they're a really cool family crest. Legend of Zelda Hylian Shield Cufflinks, $25, Etsy.

This one obviously is for the guy with a sense of humour (but why would you be dating him otherwise?). If he loves his cereal, you'll have the designated bowl for him in the morning. Man Dog Bowl, $25, SpencersOnline.com.

And speaking of cereal ... we're not saying he would need anything to make him feel sexier around you, but we love that this cereal is meant to boost sexual health — and health in general. Sexcereal for him, $30 for 3, sexcereal.com.

Monogrammed mugs are great, but you know what's better for your new love? A monogrammed mug that he can take to work with him after a late night with you. Personalized travel mug, $25, Etsy.

There are tons of gift cards you can buy for "experiences" — everything from a craft beer tour to private golf lessons to an in-home personal trainer. Plan ahead, and find something you'll both love. Check out TryThat.ca, Samba Days or LifeExperiences.ca for options.

Forget popcorn with your movie night — make it an evening of snow cones, where you can try out different flavours and then giggle about your brain freezes. Retro Snow Cone Machine, $60, Bed Bath & Beyond.

Men's underwear doesn't have quite the same number of options as women's, but you can provide him with a little pizzazz that only the two of you will know is there. Vibe Boxer Modern Fit, $32, Saxx.

Literally. Make him bacon roses for Valentine's Day with these instructions.

Too adorable for words, this mug's pixelated heart heats up when warm liquid hits it. Pixel Heart Heat Changing Mug, $12, ThinkGeek.com.

A razor might not seem like the most romantic of gifts, but many men aren't willing to buy themselves anything more than the disposable they got for free on the street. And besides, this is telling him you want to spend a whole lot of time next to his face. Schick Hydro 5 Power Select, $7, Walmart.

A serious(ish) flask for a serious(ish) man. Smathers & Branson Pointer Needlepoint Flask, $65, Amazon.com.

These pillows will not only appeal to the kid in him, but will also make his (or your) place look absolutely chic. Superman and Batman pillow covers, $18 each, Etsy.

An adorable and fun addition to any guy's game closet, this travel ping pong set will work equally well on your weekend getaway or while waiting for a table at a restaurant. Portable Ping Pong Set, $47, Uncommon Goods.

True, not too many people have a need for paperweights these days (paper? What's that?), but think of this as some super awesome decor for his desk, either at home or at the office (if management allows). F Bomb Paperweight, $53, Uncommon Goods.

If your guy is serious about his clothes, he's serious about his collars — which is why he'd love to get these monogrammed collar stays. And every time he straightens his tie, he'll be thinking of you. Engraved Collar Stays Set, $65, Neiman Marcus.

Not only is this puzzle a great way to spend a chilly Saturday afternoon, your guy will also be able to show off his musical prowess by showing you the real versions of the records he has on hand. Vinyl Collection 550 Pieces Puzzle, $27, Annie's Blue Ribbon General Store.

NEXT: Unexpectedly romantic gifts for Valentine's Day

Want to keep the good times coming for longer than just Valentine's Day? Sign your guy up for an "of the month" club for his favourite indulgence, whether it's peanut butter, salsa, neckties, or a whole slew more. Check out the options at Amazing Clubs.

Price: $69.37 Where to buy: Amazon.ca Romantic Gesture: Normally, giving your lover a waffle maker for Valentine's Day would cause serious injury…for you. But what if the waffle maker made cute little waffle hearts and you presented it as breakfast in bed with a personalized brunch menu? Such a thoughtful and romantic gift could lead to an afternoon delight.

Price: $99.99 Where to buy: Brookstone Romantic Gesture: It's now become a tired cliché to give a homemade coupon book with offers for "free personal massages". Give your honey's tired muscles a self-serve massage and free your hands for other things with the iNeed Pro Massager. Use the handles to easily move the heated massager up and down your back to target problem spots, or snap in place for convenient hands-free operation.

Price: $169.99 Where to buy: LG Romantic Gesture: Take your Valentine's Date for a sunset stroll and create a romantic memento – instantly. LG's Pocket Photo is a tiny device that connects to your smartphone through Bluetooth technology to printout photos on the spot, like a modern Polaroid camera. The device is completely ink-free and you have the option of adding photo filters and even QR codes. Make a tradition of it and commit to recording future Valentine's Day memories the same way with a scrapbook.

Price: $219 Where to buy: Sonos Romantic Gesture: If your valentine is into music, then the Sonos Play: 1 will be music to their ears – especially if you gift it along with a mix tape of favourite songs, with each track commemorating key moments in your relationship (the moment you first met, the moment you went out on your first date, the moment you proposed ...). This compact wireless speaker is perfect for playing the soundtrack of your love life in crystal clear sound. It is available in black or white and also comes with a free Sonos app, so she can access all her music in one place.

Price: ($99 to $129, available for iPad 2, 3rd and 4th gen, iPad Air, and Samsung Galaxy Tab 3 10.1) Where to buy: Belkin Romantic Gesture: The QODE Ultimate Keyboard Case will implicitly help your love life if your partner likes to take their tablet to bed. With a sleek, lightweight design, the Ultimate Keyboard Case offers great protection and a comfortable laptop-like keyboard all in one. It features innovative precision-hold magnets that secure tablets in three different positions and folds flat for comfortable handheld use too. This will allow her to type whatever she needs to type in bed faster and free up extra time to turn out the lights a few extra minutes earlier for additional bedroom activities.

Price: $74 Where to buy: Lampe Berger Romantic Gesture: If you can't afford to give your valentine tickets for a getaway to Paris, you can at least tell her you are saving up for a trip to the City of Love and offer her the sweet smells of Paris in the meantime. The Crystal Coral not only smells romantic, it looks romantic. Lampe Berger containers all look like works of expensive art, and this one in particular is made with gorgeous lacquered glass. The three natural colours of the satin glass (coral, frosted, glazed, marron glacé) show off its mineral shape beautifully. And it definitely is classier than lighting a match after you stink up the house … while trying to make Valentine's Day dinner, of course.

Price: $179.99 Where to buy: Panasonic Romantic Gesture: It might seem unromantic to give your girl a hairdryer for Valentine's Day – but not when it's a premium hairdryer with a sleek-looking quick dry nozzle. The hair dryer's Nanoe™ Technology penetrates deep into hair to maintain an optimum moisture balance which helps make hair strong and beautiful. You can seal the deal with dinner reservations to her favourite restaurant and a night out on the town. It would be a shame to stay home with her hair looking so good.

Price: $179.99 Where to buy: Panasonic Romantic Gesture: Facials might not sound romantic, but perhaps you're not thinking of the slightly sweaty and most dewy glow you'll get. The Ionic Facial Steamer's Nano-ionic steam penetrates the skin and hydrates the complexion, leaving both of you looking young and fresh. The spa experience only takes six minutes – leaving you both plenty of time to work on each other's nails next.

Price: For her - $48 (50ml), $68 (100ml); for him - $48 (50ml), $68 (100ml) Where to buy: Available at www.thebay.com Romantic Gesture: Some couples like to think they are being cute by dressing in the same colours. Well, you can one-up them by being the couple that has the same sexy scent. Calvin Klein recently launched their new CK One Red Edition for Him & Her. The Her edition has an addictive floral-fruity fragrance and smells like watermelons, white amber and flowers. The Him version has a pear, suede, and ginger musk. If the two of you are really daring, you could then put on a pair of Calvin Klein jeans (only) and shoot your own provocative black and white CK ad.

Price: $29 Where to buy: available at Sephora, The Hudson's Bay & Shoppers Drug Mart across Canada Romantic Gesture: You know what they say — if you don't have a way with words, get your cosmetics to do the talking for you. The shower gel, body lotion, and shampoo ensemble in this gift set are inscribed with poetic phrases on them, so you can focus on being a man of action and preparing a relaxing bath for your sweetheart.

Price: $10.75 Where to buy: A724.com Romantic Gesture: Instead of just getting the typical red roses for Valentine's, how about USB red roses? The USB roses come in four ports and have a hi-speed data transfer rate of 480 Mbps connects. The roses can connect up to two devices without a power adapter and are compatible with both Mac and Windows devices. At the low price of just over $10, you have more than enough left over to present them alongside a bouquet of a dozen long stem roses.

Where to buy: http://www.toshiba.ca/productdetailpage.aspx?id=2147496259 Price: $599.99 Romantic Gesture: Why give your sweetie a dollar store Valentine's card when you can hand-write a romantic poem on their very own tablet? With the Excite Write tablet, you can draw and take notes with TruPen and a digitizer that feels just like writing with a ballpoint pen. TruPen offers smooth, no-slip writing with virtually no lag. Using Toshiba's TruNote app, you can toggle the pen to change the digital ink colour and use a digital eraser to clear your markings with a quick swipe. Once she's done using it to write handwritten love letters back to you, you can use the tablet's powerful image quality and speakers to catch up on Game of Thrones.

Price: $255.00 Where to buy: MEC Romantic Gesture: This is an excellent gift for the outdoorsy girl who is a) always cold and b) can't go to sleep without a snuggle. There will be no fighting over the covers with this sleeping bag. The top cover contains a layer of warm synthetic insulation, the bottom is non-insulated to keep it light. An integrated sleeve allows you to slide in your sleeping pads for warmth that you won't roll off of in the night. Built-in pockets keep your pillows in place too. Even if your girl isn't into camping, the super snug sleeping bag is good to have around in case of citywide winter blackouts.

Price: $17.49 Where to buy: Amazon.com Let's say you like someone but you aren't ready to take that next intimate step -- sharing your earphones. This little robot lets you share your favourite love songs from your smartphone, without also sharing earwax. It's not as romantic as John Cusack in Say Anything holding a boombox over his head, blaring "In Your Eyes" by Peter Gabriel, but you and your valentine can have your own musical moment, holding hands on the bus, listening to music together, oblivious to everyone else during the morning rush hour.

NEXT: 20 sexy gifts for him or her this Valentine's Day

What it is: I Dare You: 30 Sealed Seductions Why you'll want it: This game includes 30 cards, sealed seductively in envelopes, that dare partners to explore one another in new ways. Find it here.

What it is: Kama Sutra Gift Size Honey Dust Why you'll want it: You can use the feather to sensually apply a bit of honey dust to your partner's body to add a bit of sweetness to each kiss. Find it here.

What it is: Bijoux Silky Sensual Cuffs Why you'll want it: These silky cuffs offer a softer approach to bedroom games. Find it here.

What it is: Bow Garter Belt Why you'll want it: This Parisian-inspired boudoir accessory is equal parts risqué and elegant. Find it here.

What it is: LELO Indugle Me Pleasure Set Why you'll want it: This kit includes everything you'll need for an unforgettable Valentine's Day night; a silk blindfold, a feather teaser and a couples' massager. Find it here.

What it is: Lace Babydoll Why you'll want it: If there's anything sexier than seeing wearing nothing at all, it's wearing this provocative babydoll that screams seduction. Find it here.

What it is: '365 Sex Positions: A New Way Every Day for a Steamy, Erotic Year' Why you'll want it: With 365 positions, a couple seeking a more adventurous sex life is sure to find some wild, new ideas that will last until next Valentine's Day. Find it here.

What it is: Sex In The Shower Single Locking Suction Foot Rest Why you'll want it: Shower sex can be a turn-on, but slipping and falling isn't. Practice a different kind of safe sex with a foot rest that provides sure footing. Find it here.

What it is: Sugar N Spice Dice Game Why you'll want it: With three dice, one suggesting a racy activity, one suggesting a body part, and one suggesting a location, every roll will get your heart racing. Find it here.

What it is: Fishnet Stay Ups Why you'll want it: A girl who likes to show off her incredible legs can wear these thigh-high stockings on a Valentine's night out, and keep them on when everything else comes off. Find it here.

What it is: Passion Bath Salts & Sexual Game Why you'll want it: Bath time will get even steamier with sensual, scented bath salts and romantic suggestion cards. Find it here.

What it is: Oral Pleasure Warming Mints Why you'll want it: These warming 'cherry bomb' mints pack extra heat for his or her pleasure. Find it here.

What it is: Kama Sutra Spearmint Pleasure Balm Why you'll want it: This stimulating gel will with menthol and peppermint oil will leave your partner tingling wherever you touch them. Find it here.

What it is: Mini Heart Pheromone Candle Why you'll want it: Dim the lights and fire this up on Valentine's Day. This scented candle's wax, which contains pheromones, can be used as massage oil when warmed. Find it here.

What it is: Romantic or erotic coupons Why you'll want it: Customizable coupons, with messages like "Have your way with me" and "Choose your fantasy," are a cute (and inexpensive) way to ignite some Valentine's Day sparks. Find it here.

What it is: Body paints Why you'll want it: Sure, it'll get a bit messy, but finger painting never sounded like so much fun. As a bonus, the four paints in this kit are flavoured. Find it here.

What it is: A professional pole dancing kit Why you'll want it: This might not be for everyone, but dancing sexily for your partner can certainly get you both in the mood and provide you with an evening activity. This kit advertises itself as being very easy to put together and take back apart. Find it here.

What it is: A trio of erotic DVDs Why you'll want it: With so many porn videos out there, it's hard to find quality films that both of you will enjoy. These bestsellers are guaranteed to, well, make you stop watching them pretty quickly. Find it here.

What it is: Natural massage oil candle Why you'll want it: A deliciously scented candle that melts away into massage oil, this is a sexy, thoughtful gift that is particularly fabulous for those who love candles. Find it here.

What it is: Hello Touch wearable vibrator Why you'll want it: Touted as "the best sex toy ever invented" this is a vibrator unlike any other, as it allows for fingertip manipulation and pleasure — with tons of power, if you want it. Find it here.

What it is: LoveBumper H20-OHH Blanket Why you'll want it: A blanket doesn't sound like the sexiest of gifts, but this one — meant specifically to make sex in, let's say, more original spots like the kitchen more comfortable — has the best of both worlds. It looks innocent, but can lead to lots of naughty fun. Find it here.

What it is: Victoria's Secret Bombshell push-up bra, matching 'cheekini' panty and waist cincher Why you'll want it: There's no question this is one sexy get-up — without going all the way into costume territory. For women who love lingerie, this will be a fun outfit for a special occasion. Find it here.

What it is: VibroPod Digital Music Stimulator Vibe Why you'll want it: This toy is meant more for one person than two, so can work perfectly for long distance relationships. It hooks up to an iPod to vibrate in rhythm with songs, so we're imagining a complete package of playlist and Vibe, delivered just in time for February 14. Find it here.

What it is: Silicone Handmaiden G-Spot Seeker Why you'll want it: If you haven't figured out the magical g-spot yet, maybe this Valentine's Day is the time. This four-inch g-spot finder includes massaging tips and a silicone base. Find it here.

What it is: Aubade's bra and panties Why you'll want it: Sexy with a leopard print twist, Aubade's take on Valentine's Day fun can slip comfortably under a sweater and jeans — until later. Available at Linea Intima.

What it is: Low Temperature Drip Candles Why you'll want it: If you've ever tried to use "normal" candles for some dripping wax good times, you know things can get a tad hotter than you'd like. These options, in a three-pack, mean no emergency trips to the hospital (and a slightly uncomfortable explanation). Find it here.

What it is: Lia Anal Love Beads in Pink Why you'll want it: Just like being struck by Cupid's arrow, enjoy this sex toy, featuring a silky finish, with your loved one this Valentine's Day. Find it here.

What it is: Edible Body Pasties in Cinnamon Heart Why you'll want it: These pasties can make for a fun surprise when your partner least expects it (and they also come in strawberry, cherry, even beer). Find it here.

What it is: Freya's Taylor Charcoal Moulded Plunge Bra Why you'll want it: For fuller busted women who like a bit of coverage, this option still has plenty of sex appeal. Find it here.

What it is: Twinkle Lover's Riding Crop Why you'll want it: Perfect for the holidays, this heart-shaped wand is designed for the naughty lover in your life. Find it here.

What it is: The Fantasy Sex Deck Why you'll want it: If you and your partner are interested in finding more fun in the bedroom but aren't quite sure where to start, this deck gives you 50 options — and a built-in activity for Valentine's Day. Find it here.

What it is: Swiss Moo 7-Piece Chocolate Fondue Set Why you'll want it: Who doesn't like the idea of dessert in bed? This seven piece fondue set is the perfect way to spoil your lover with everything sweet. Find it here.

What it is: Bathtub Love Game Why you'll want it: Maybe a bubble bath together is one of your Valentine's Day traditions ... or maybe you just want it to become one. But these baubles that go in the tub will give you plenty of ideas for what to do after — or for that matter, during. Find it here.

What it is: Saxx Underwear's 24-Seven Boxer Why you'll want it: Men's underwear is all-too-often neglected, but why shouldn't he get something he feels great slipping into on Valentine's Day as well? This particular option from Saxx is known for its long-lasting comfort. Find it here.

What it is: WonderBra's chantilly lace bra and panties Why you'll want it: Because there's plenty of sex appeal here — with a price (approximately $40) that leaves plenty of room for other expenditures. Available at the Bay and department stores.

What it is: Sex Bomb Why you'll want it: It's all in the name. If you're just looking for a way to relax on the big day, take a hot bath with your loved one with these exploding (and scented) bath bombs. Find it here.

What it is: Rose Petals Why you'll want it: If you're idea of V-Day is all about the romance, start your evening right with a trail of rose petals for your partner. And hey, they may not be the real thing, but think about how many times you can reuse these. Find it here.

What it is: Freya's Ashlee Candy Moulded Plunge Bra, Suspenders And Panties Why you'll want it: This lingerie may look innocent, but the combination of suspenders, knee highs and a bra that's sexy no matter the colour will drive any partner crazy. Find it here.

What it is: Strawberry Body Point Why you'll want it: Get creative with this edible strawberry flavoured body paint that can be used to draw doodles, paint over sensitive areas, and eaten later. Find it here.

What it is: Sex in the Shower Dual Showerhead Why you'll want it: Because when it comes to hot showers, two heads are always better than one. Find it here.

What it is: I Rub My Duckie Why you'll want it: Maybe you're going away for a weekend and you're not sure how to spice up things in the shower. This waterproof (and frankly, unrecognizable) vibrator is the perfect addition to any mini vacation. Find it here.

What it is: Victoria's Secret Very Sexy Lover Lace demi bra and matching 'cheekini' panty Why you'll want it: It's hard to tell from this shot, but those 'cheekini' panties are the perfect offset to, well, the perfect butt. Admire, and be admired, we say. Find it here.

What it is: Cake Angel Food Body Butter Why you'll want it: Have your cake, and eat it too. Find it here.

What it is: Why you'll want it: Because sometimes, you just have to go back to the basics. This newly illustrated edition is a perfect gift for those who like a challenge. Find it here.

What it is: Victoria's Secret Very Sexy Rose Corset and matching 'cheekini' panty Why you'll want it: What is it about corsets that are so sexy, for both the wearer and the watcher? This one, with its oh-so-sweet pattern could likely work equally well under a dress or sweater as a sexy accent, but we think it would do just fine on its own too. Find it here.

What it is: MyPakage Weekday underwear Why you'll want it: Specifically designed to cradle the most delicate part of men's bodies, this underwear is soft, supple, and it doesn't hurt that it's pretty flattering from behind as well Find it here.

What it is: Purple Fantasy Bondage Tape Why you'll want it: Maybe you don't feel so confident in your ability to tie knots, or frankly, just like how much easier it is to use a tape roll. But for bondage purposes, this is simple, and yes, even reusable. Find it here.

What it is: Nature Lovin' Lube Honey Bear Why you'll want it: Some honey for your honey. This naturally sourced lube is equipped with health enhancing ingredients in a perfectly squeezable bottle. Find it here.

What it is: WonderBra's scalloped lace bra and microfibre brief Why you'll want it: The support, the coverage, and the pretty pattern — this is lingerie that any woman would feel beautiful and sexy in, and more than happy to show off. Available at wonderbra.ca.

What it is: G-Spot Finger Extender Why you'll want it: If size matters, today's your lucky day. This waterproof finger extender is the perfect toy for that extra special intimate experience. Find it here.

What it is: Sqweel Oral Sex Stimulator Why you'll want it: It doesn't vibrate and it doesn't thrust. But if the thought of multiple tongues gives you multiple fantasies, this is the perfect Valentine's Day gift for you and your loved one. Find it here.

What it is: Mini Liquid Love Why you'll want it: Forget liquid courage, this holiday is all about the love. This warming massaging lotion is available in chocolate cherry, passion fruit and blue raspberry. Find it here.

What it is: Celia Mesh Kimono Why you'll want it: The woman in your life will appreciate this mesh kimono robe, topped with lacing detail. Find it here.

What it is: Simone Perele's bra and panties Why you'll want it: If you're going to go with a theme, it doesn't get much more Valentine's-y than red and pink underwear with a lacy twist. Plus, it's rather gorgeous, isn't it? Available at Linea Intima.

What it is: The Kiss Lip Balm Why you'll want it: Before you lock those lips, freshen up with this vegan-based lip scrub and lip gloss. Find it here.

For the guy who wants to world to know how much he's in love with his other half. Get it here.

For the guy who isn't that into hearts. Get it here.

For the guy who likes to wear his heart on his chest. Get it here.

For the guy who likes to be reminded of you. Get it here.

Engrave your and your guy's birth locations on this cool cuff. Get it here.

For the guy who loves to display his affections. Get it here.

For the sentimental guy. Get it here.

Ok, so technically it's the lady who wears this, but the guy can appreciate his beautiful woman in it, so really, it's a gift for him. Get it here.

This cute accessory can work for men and babies! Get it here.

For the guy who takes things literally. Get it here.

If the guy has his own moustache, even better! Get it here.

The perfect his-and-hers gift. Get it here.

Because it's still cold on Valentine's Day and your man needs to bundle up! Get it here.

These handmade cross-stitched cufflinks are an adorable and thoughtful gift. Get it here.

For the guy who likes a good laugh. Get it here.

We've all heard a story about how so-and-so's father made the mistake of giving Mom a toaster/blender/vacuum. Yet, it still happens. Giving your partner anything that suggests that their place is in the kitchen is a sure way to discover that your place is sleeping on the couch. If it's commonly listed on a wedding gift registry, it's not a good Valentine's gift.

This is a gift for the giver more than the receiver. You know it, your girlfriend knows it, and the sales clerk at Victoria's Secret knows it. And please avoid the edible undies. A pair of granny panties and a box of Fruit Roll-Ups ultimately have the same function, and would go much further to show you care about her comfort. (Note: Do not buy your girlfriend granny panties and Fruit Roll-Ups.)

Her YouTube history is full of ah-dorable puppy videos that elicit frequent squeals of "aww, I want one!", but that isn't a cue for you to spring a spaniel on her. Long-term pet ownership is a major decision that you can't make for her. Unless you've seriously talked about this as a couple, you shouldn't be cutting breathing holes in a cardboard box anytime soon.

These are designed to be an afterthought, so much so that stores keep them at the check-out counter so you'll buy them on the way out. To put it another way: if you resort to this as a Valentine's Day gift, you've pretty much checked out of the relationship.

No-name bath sets are for office Secret Santa desperation, not the love of your life. If she's a fan of a particular brand or store, then a mini-haul of her favourites will be a hit. But the bar of purple soap in her shower isn't a directive for you to buy "lavender stuff." Rule of thumb: if it comes in a cellophane-wrapped basket and contains a free loofah, it's a cop-out.

Your partner may love tools as much as he loves you, but not just any hardware store purchase will please him. Yes, that name-brand mitre box is on sale, and you're pretty sure he doesn't have one. Thing is, he already has a mitre saw. So you've just purchased something that will only ever come in handy if he has to urgently install crown moulding during a power outage

Ever go to a carnival and see the guys carrying around the giant Rastafarian bananas they won for their girlfriends? And notice how as the evening goes on, those same guys look like they resent the stupid things more and more? You're begging for a long, drawn-out version of that. Sure, the teddy bear is cute at first. But on Feb. 15, the red lace heart it's holding is already out of date. And then you start wondering how long you have to keep it displayed on your dresser to prevent hurt feelings. Answer: forever.

This may have worked for Mother's Day after you blew your whole allowance on Garbage Pail Kids cards, but no matter what your financial situation, you'll have to do better than this. A stapled booklet of promises to give her a back rub, run her a bubble bath, or – even worse – do household chores is both cheap and easy. If you can't invest the cash, at least invest some time and effort.

"Happy Valentine's Day. Now get off the couch, tubby!" That's the message you're sending with an exercise bike or a gym membership. If they want to shape up, they'll do it when they're ready, and you can show your support by joining them or just encouraging them. In the meantime, leave their love handles alone.

You're not like some of those sappy, lovey-dovey, annoying couples, and you agree that Valentine's Day is a pretty dumb idea. But if you're ever going to express your love sincerely, this is the day. If one of you buys the hilarious novelty condoms and the other buys a thoughtful, elaborate gift? Think long and hard about how the night will end. (Spoiler alert: you won't need the condoms.)

WE ♥: It's the new era for the love note. These collar stays come in fun messages like, 'you have a big heart' to more adult ones like 'that tie will be useful.' Hidden Messages Collar Stays, available at redenvelope.com, $40

WE ♥: Keep the man in your life smelling fresh with this eco-friendly shaving kit, which includes beer-scented soap. Cigar Box Shaving Kit, available on Etsy, $42

WE ♥: The Mantry is a man's answer to a pantry — just with more delicious finds. The membership-based site sends you six to eight artisan and craft foods a month. Memberships start at $75

WE ♥: This crystal decanter is perfect for anyone who loves a good post-work drink — or just a fancy piece of décor in their house.Nambe Tilt 3-Piece Decanter Set, available at Bed, Bath & Beyond, $200

WE ♥: If you're tired of hearing your partner's taste in music, give him his own space in which to experiment. These small-sized docks not only change colour, but you can also customize colours and songs as different clock modes. iHome Colour-Changing Alarm Clock Speaker, available at Best Buy, $48

WE ♥: Miss the warm weather? So do we. If the man in your life misses everything about shorts, BBQs and riding his bike, treat him to this burger maker that lets you add your own fillings. Mmm ... bacon-stuffed burger. Stuffed Hamburger Press, available at Williams-Sonoma, $15

WE ♥: For the guy who isn't challenged enough — or has a serious obsession with video games, the Wii U includes a touch screen controller and interactive games. Nintendo Wii U, available at Future Shop, $350

WE ♥: Face it, some men don't like change. If the man in your life doesn't want the latest smartphone or fancy gadget, melt his heart with this retro phone receiver. Retro Phone Receiver, available at Urban Outfitters, $28

WE ♥: It's fair to say most men think they know everything about beer. To keep him busy for the rest of the year, let him make his own! Beer Making Kit, available at Chapters/Indigo, $50

WE ♥: Maybe the hockey lover in your life shed a tear during this NHL lockout, but we already know how excited he is about the return of the sport. At least this gift will ensure hockey will never leave him — unless it's in the laundry. College Concepts Montreal Canadiens, available at the NHL store, $18

WE ♥: If he loves his tablet, he'll want to protect the goods. This leather case from Coach will also keep him trendy (and there's a whole slew of colours to choose from). Bleecker Leather iPad Case, available at Coach, $198

WE ♥: This R2-D2 fold-up chair will make anyone on your list feel like a kid again. Star Wars R2-D2 Folding Armchair, available at ThinkGeek.com, $40

WE ♥: This band claims to track your burned calories and steps — ideal for the guy who is always on the run or the guy who's started his new year on a healthy note. Nike FuelBand, available at Nike, $150

WE ♥: It's a two-in-one: A little something for you and a little something for him. The Lelo pleasure set includes a couples' vibrator, feather teaser and blindfold. Indulge Me Pleasure Set, available at the Stag Shop, $114

WE ♥: Even though Canada Day is seven months away, this bag lets anyone keep a bit of patriotism around all the time. CBC Radio Canada Mobile Recording Shoulder Bag, available at Chapters/Indigo, $40

WE ♥: At one point or another, most of us wanted to be some type of action star or superhero. If the man in your life loves movies, this collector's set includes all 21 James Bond films to indulge in his spy fantasies. James Bond Ultimate Collector's Set, available on Amazon.ca, from $150

WE ♥: Ugly shower curtains, your time is up. This fun (and kind of creepy) black and white curtain features 30 faces with awesome facial hair. Mustache Shower Curtain, available at Urban Outfitters, $24

WE ♥: Maybe he's into photography or just likes taking photos of himself. Nikon's new Coolpix camera features smartphone-like abilities, including an option to email your photos to your friends (so cool) and a built-in GPS system. Coolpix S800c, available at Black's Photography, $280

WE ♥: The bad news is, Canada has one official baseball team in the MLB, but the good news is, the Toronto Blue Jays have an exciting season coming up. If the guy in your life is a fan of baseball, or just wants a night out in Toronto, Blue Jays tickets are a great idea. But get on it — the first few games are almost sold out. Blue Jays Season Tickets, available at TicketMaster.com, prices depend on date

WE ♥: These personalized pint glasses look good in any home bar — or kitchen cabinet. Monogrammed Pint Glass, available at Williams-Sonoma, $51 to $59

WE ♥: Even Gandalf would approve. This limited edition Hobbit-themed Moleskine notebook is the perfect way to stay on top of your notes, doodles and lists in 2013. Bonus: it includes a map of Wilderland. Moleskine, available at Chapters/Indigo, $30

WE ♥: Every touchdown, every play and every win wrapped up in a 45-hour action-packed DVD set. Warning, he may love you a little too much after this one. NFL Super Bowl Collection, available at Amazon.ca, $91

WE ♥: Let's get cooking. The 4-Hour Chef isn't just a cookbook, it's a collection of secrets from the world's greatest chefs and tips on how to become a fast learner in almost anything. The 4-Hour Chef, available at Indigo/Chapters, $27

WE ♥: Here's another one you can use together: The Rosetta Stone language kit lets you and your partner learn basic vocabulary and communication skills, along with basic sentence structure. Also, feel free to use your imagination (and internet connection) — we can't promise any dirty words are included. Rosetta Stone Spanish, available at Chapters/Indigo, $500

WE ♥: Every guy needs their own personal space. This gym bag is equipped with a mat holder, a compartment for sweaty clothes and exterior pockets. Training Duffel, available at Lululemon, $108
Visit HuffPost Canada Living's profile on Pinterest.